Summer Fun! 2016 - May 12th 2016
LEGO Ninjago Misfortunes Keep
Description: The LEGO NINJAGO saga continues with new building sets that are loaded with features and functions to provide hours of building and role-play fun. Children can recreate scenes from the popular NINJAGO TV series in anticipation of the new season which premiers June 9th on Cartoon Network.

Misfortune's Keep, the Sky Pirates airship, features an opening cockpit, rotating engines with turning Ninja-blade propellers, disc shooters and a private jet. The set also comes with 6 minifigures, including fan favorites Jay, Lloyd and Kai.

Children can also experience the action by participating in this summer's nationwide NINJAGO tour. Preregister today at XX (microsite) to reserve your child's spot and chance to win a trip for four to LEGOLAND California by competing in physical and mental challenges.)
Product Images: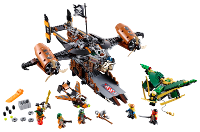 Age: 9+ years
Suggested Retail Price: $79.99
Availability: Available on shop.lego.com and toy stores, including LEGO brand retail stores nationwide
Company: LEGO
Website: shop.lego.com
Space Scooter
A new way to ride
Description: Other scooters work by putting one foot on the floor and kicking the scooter forward. Which is slow and tiring. But with a Space Scooter, you ride with both feet on board! Its unique Pump & Go action is so easy - all you do is put your foot to the pump and rock backwards and forwards in a teeter totter motio.

A Space Scooter is faster and less tiring than a traditional scooter, so you can go much further, much faster. It makes exercise fun and is a great way for people of all ages to enjoy being outdoors - away from their TVs and computers. Space Scooter is 1) loads of fun, 2) a better way to get around, and 3) the path to a healthier lifestyle.

Fully ASTM compliant. Wheel safety lock to prevent rolling back. Made with steel and aluminum, durable for everyday use. 1-year warranty.
Product Images: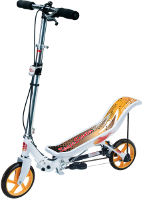 Age: X360 - 5-8 years; X580 - 8+ years
Suggested Retail Price: $149.99
Availability: The transforming characters are currently available at Mass, with a full line of Super Wings Toys coming in March, 2016
Company: SpaceScooter Inc.
Website: spacescooter-usa.com
Mobo Tot
Description: The Mobo Tot is a fun little cruiser that is ergonomically-designed for children 2-5 years old.

This award winning cruiser has an innovative, new style including a unique rear-wheel steering system that can play an integral role in the development of your toddler's motor skills, muscle strength, and hand-eye coordination.

The Mobo Tot helps stimulate your child's imagination while providing a safe and durable ride.

Not only does it have a chainless chassis for outstanding reliability, but also includes a reverse function for easy maneuverability, and builds confidence in children of all levels while offering an exciting ride.

The high-quality, sturdy adjustable frame that grows with your child provides fun and excitement on the Mobo Tot for years to come. Let your child "Cruise in Style" with Mobo Tot and start an adventure today!
Product Images: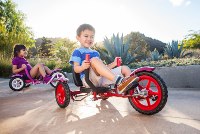 Age: 2-5 Years
Suggested Retail Price: $99
Availability: Target - June
Company:
Website:
Crinkle and Roar Lion
Description: This adorable Crinkle & Roar Lion is part of VTech's extensive range of more than 100 Baby, Infant and Preschool learning products, each designed for a child's unique age and developmental stage. The Crinkle & Roar Lion features lots of colorful buttons, cheerful sounds and tactile fabrics for little hands to discover.

Developed with critical insight from VTech's Expert Panel of education and development experts, the Crinkle & Roar Lion delivers experiences that help children with their development, such as introducing shapes, colors and letters and featuring a baby-safe mirror to help build self-awareness.

The Crinkle & Roar Lion is also the perfect take-along toy and can be easily attached to carriers, strollers, car seats and more.
Product Images: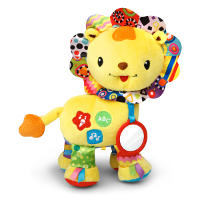 Age: 0+ years
Suggested Retail Price: $14.99
Availability: Now at major retailers
Company: VTech
Website: www.vtechkids.com
Kurio Xtreme 2
Description: Kurio Xtreme 2 is the safest, full-featured Android tablet built especially for kids. It will keep kids entertained all summer long—on road trips, airplanes or even on a rainy day! - while also keeping them safe, so that parents can enjoy summer vacation too.

Kurio Xtreme 2 comes fully loaded with more than 60 apps, so it's ready to go right out of the box. Kids can play favorite games like Fruit Ninja and Subway Surfers, get active with body-controlled Kurio Motion games, read e-books, watch movies and YouTube Kids videos, and capture their summer fun by taking photos and videos. With parent-permission, kids can also access millions of more apps through the Google Play Store.

Parents, Xtreme 2 also comes with a free lifetime subscription to Kurio's best-in-class parental controls and their comprehensive Kurio Genius internet filtering system, so you'll know your kids are safe online.

This kid-tough tablet travels well too. It comes with a protective bumper and shatter-proof screen protector, plus, you get live, instant, 24/7 Kurio Support anywhere you go this summer. Live chat with a Kurio tech expert right from the tablet or choose Kurio SOS to have the technician remotely take over the tablet and fix it for you.

Kurio Xtreme 2 also has a built-in kickstand that's perfect for on-the-go entertainment, and you can even connect the tablet to the TV so everyone can join in on the fun.

Tech Specs: 7", Android 5.0 (Lollipop), Mediatek MTK8127 Quad-core processor, Wi-Fi, Bluetooth 4.0, 16 GB of internal memory (expandable by 32GB with microSD card), front and rear-facing cameras, micro HDMI and micro USB 2.0 ports.
Product Images: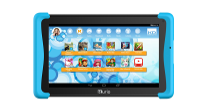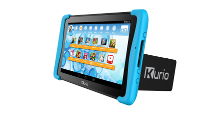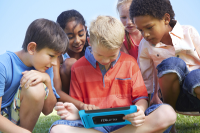 Age: 3+ Years
Suggested Retail Price: $99.99
Availability: Available in blue or pink at Toys"R"Us stores nationwide and online at www.ToysRus.com/Kurio
Company: Kurio
Website: www.ToysRus.com/Kurio
This SMT is sponsored by LEGO, SpaceScooter Inc., Mobo, VTech and Kurio.