Holiday Last Minute Gift Ideas - December 5th 2014
InnoTab MAX
Description: Built to grow with a child for years of learning fun, InnoTab MAX gives children the best of both learning worlds with a huge existing library of age-appropriate, educator-supported VTech learning content combined with carefully selected Android learning apps.

Featuring a powerful dual-core CPU with up to six times the processing power of previous generations and a high resolution 7" multi-touch screen, it is VTech's fastest Wi-Fi tablet yet.

InnoTab MAX comes with 15 onboard apps, including an enhanced version of Premium VTech Kid Connect, allowing children and parents to exchange voice and text messages between the tablet and a smartphone, with new features like family group chat and a multi-player game.

One free Toca Boca app and two additional free apps can be downloaded from the online Learning Lodge app store.
Product Images: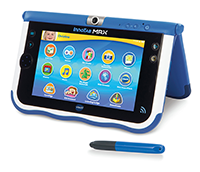 Age: 3-9 years
Suggested Retail Price: $109.99
Availability: October 2014
Company: VTech
Website: www.vtechkids.com
Feature Plush "Bee-Do" Fireman Minion Stuart
Description: Based on the Despicable Me animated movie series, the soft and huggable premium plush Bee-Do Fireman Minion Stuart is the latest and greatest addition to the multiple award winning Minion collection from Thinkway Toys!

Children and adults alike can now relive their favorite Despicable Me moments with "Bee-Do" Fireman Minion Stuart and his hilarious features.

Press the Fireman Minion's tummy to hear his original voice, SFX and "Bee-Do" siren with flashing head gear. Squeeze his right hand for normal chat mode and his left hand for added echo SFX.
Product Images: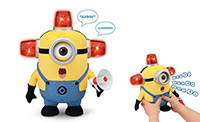 Age: 4+ years
Suggested Retail Price: $49.99
Availability: Currently available at Toys "R"" Us, Walmart, Amazon
Company: Thinkway Toys
Website: www.thinkwaytoys.com
Skylanders Trap Team
Description: Activision is redefining the toys to life phenomenon with yet another ground-breaking innovation, Skylanders Trap Team.

This newest installment of the Skylanders franchise reverses the magic of bringing toys to life - incredibly letting kids take characters out of the digital world into the physical world, effectively bringing life to toys.

Portal Masters capture the most wanted villains in all of Skylands using special Traps and can then send villains back into the game where they play as them in the fight for good. Skylanders Trap Team marks the first time a full AAA console game is available on select tablets as well as video game consoles.
Product Images: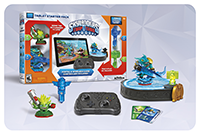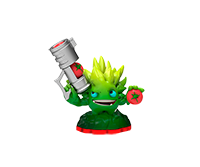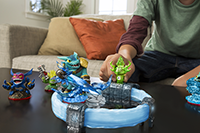 Age: all ages but ESRP is 10+ years
Suggested Retail Price: $79.99
Company: Activision
Website:
Y Fliker LIFT Scooter
Description: Y Fliker LIFT, the newest addition to Yvolution's Y Fliker range of innovative, three-wheeled self-propelling scooters, offers kids the most extreme ride yet. Riders can carve, drift, spin 360-degrees, and now, pop wheelies like never before-forwards and even sideways! Thanks to the scooter's patent-pending, revolutionary lift technology, all kids need to do is pick up speed, then simply lean back and "Lift." Like other Y Fliker scooters, this scooter is all kid-powered. Using the same motions as downhill skiing, riders only need to move their hips and legs from side to side to get going and keep moving. This cool ride features a sleek design, steel frame with internal break cables, free-spinning trick handle bar and an angled steering column for more extreme riding stance. It also has polyurethane wheels for a smooth ride, anti-vibration rubber hand grips for comfort, a quick response hand brake for safety, and a twist & fold mechanism for easy transport and storage.
Product Images: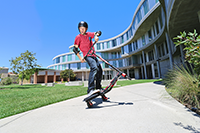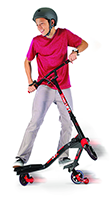 Age: 7+ years (max weight 220 lbs)
Suggested Retail Price: $149.99
Availability: Available exclusively at Toys'R'Us stores nationwide and online at www.Toysrus.com/Yvolution
Company: Yvolution
Website: www.Toysrus.com/Yvolution
Loopa Scooter
Description: The Loopa is an innovative 2-in-1 balance bike to scooter that grows with a child. In Balance Bike mode, children as young as 3 years old can begin to ride by simply walking and then progress to running and cruising as their motor skills develop. The bike's height-adjustable seat and shock absorbing wheels provide a comfy ride. Toddlers will build confidence as they learn to steer and balance, fundamental skills young children need to ride a traditional bicycle. Kids who ride balance bikes are more likely to start riding regular two-wheeled pedal bikes without the use of outdated training wheels or stabilizers. As the child grows, the Loopa can easily be converted to an early-stage two-wheeled scooter. This kid-powered scooter teaches critical coordination skills and lets kids enjoy scooting at their developmental age. Its rear-wheel brake allows for quick and easy stopping. In balance bike and scooter mode, Loopa's oversized wheels provide a smooth ride on any surface while adjustable handle bars ensure a perfect fit.
Product Images: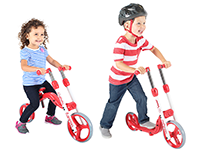 Age: 3+ years (max weight 66 lbs)
Suggested Retail Price: $79.99
Availability: Available exclusively at Toys'R'Us stores nationwide and online at www.Toysrus.com/Yvolution
Company: Yvolution
Website: www.Toysrus.com/Yvolution
Moustache Smash
Description: Find the match to your moustache.

If the card on the table matches your 'stache, SMASH it fast to win the card.

Smash the most moustache cards, and you win the game!
Product Images: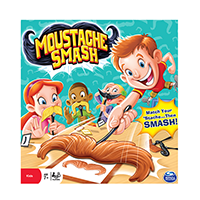 Age: 7+ years
Number of Players: 3-6
Suggested Retail Price: $15.99
Availability: Available EVERYWHERE (Walmart, Target, TRU, Kmart, Amazon)
Company: Spin Master
Website: www.spinmastergames.com
This SMT is sponsored by VTech, Thinkway Toys, Activision, Yvolution, Spin Master Games