Toy Fair Must Haves - 2014
VTech Smart Shots Sports Center
Description: VTech develops award-winning infant and preschool learning toys, and they work with Educational Experts to ensure that they are appropriate for children as they reach age and developmental milestones.

The Smart Shots Sports Center, which features a soccer goal and basketball hoop helps children develop physical and motor skills.

Kids can kick the soccer ball into the net to hear fun sounds or toss the basketball into the hoop where a magic sensor keeps score.

It also introduce shapes, numbers, opposites, and features sing-along-songs and has fun phrases and sound.

It provides children a great way to learn through play.
Product Images: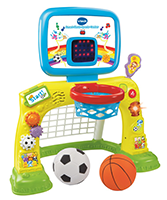 Age: 12-36 months
Suggested Retail Price: $39.99
Availability: Fall 2014
Company: VTech
Website: www.vtechkids.com/milestones
Razor Jr. Twisti toddler ride-on
Description: The Twisti toddler ride-on is the cutest bug that invites little movers to take a fun ride

With darling Little Buzz and Lady Buzz bumble bee designs, kids simply have a seat, rest their feet, and they're off - moving the handlebars side-to-side to propel themselves

Twisti's bright eyes follow along, moving back-and-forth for a real bug's eye view! Giggles are guaranteed!
Product Images: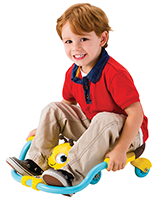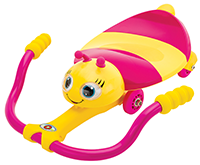 Age: 18+ months (up to 55 pounds)
Suggested Retail Price: $44.99
Availability: Spring 2014 at Target
Company: Razor
Website: www.razor.com
Activision Skylanders figures Trigger Happy, Fryno and Punk Shock
Description: Kids love Skylanders! This Spring, Activision is releasing three "must-have" Skylanders toys for the collector in your life. Fryno, Punk Shock, and Springtime Trigger Happy will be available in special Spring Edition packaging for a limited time only and while supplies last.

Skylanders are the perfect gift for kids birthdays or Easter baskets. The limited edition Springtime Trigger Happy, one of the most unique Skylanders available, features a completely new spring-themed design that comes to life in the game.

Winner of the 2013 Parents' Choice Award, Skylanders SWAP Force, the newest iteration the franchise is perfect for moms and dads looking for great value and family fun. Skylanders SWAP is available at major retailers for all gaming systems including: Wii, Xbox 360, PS4, Nintendo 3DS, as well as the next generation Wii U, Xbox One and PlayStation 4
Product Images: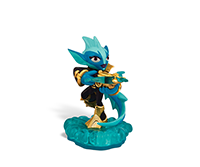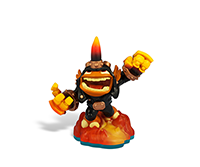 Age: 6-12 years
Suggested Retail Price: $9.99
Availability: Available at major retailers for all gaming systems
Company: Activision
Website: www.skylanders.com
Spirograph Design Sets (Spirograph Deluxe Set, Spirograph Design Tin, Super Spirograph)
Description: The Original Spirograph is back and better than ever! Precision engineered wheels and rings work with most all Pens, Markers and Pencils. Spirograph makes it easy for anyone to create Millions of intricate and beautiful designs.

Available in 3 sizes, Design Tin, Deluxe Set and the new Super-Spirograph, which features a "Golden", die-cast #50 wheel to commemorate the upcoming 50th anniversary of the invention of Spirograph

The Reusable Spiro-putty holds the pieces in place so there aren't any holes in your paper. Spiro-putty lets you draw Spirographs on all sorts of surfaces, like envelopes & cards.
Product Images: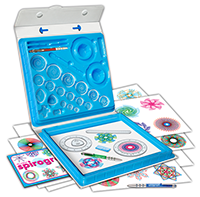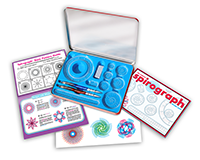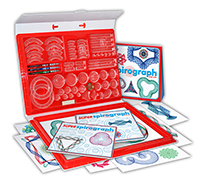 Age: 8+ years
Suggested Retail Price: Spirograph Deluxe Set - $24.99, Spirograph Design Tin - $14.99, Super Spirograph - $39.99
Availability: The Deluxe and Tin are available now. The 50th Anniversary Super Set with the metal gear will be available in August. Spirograph products are available at over 1,100 Specialty Toy Stores, Toys R Us , & Several On-line establishments.
Company: Kahootz Toys
Website: www.OriginalSpirograph.com
Teenage Mutant Ninja Turtles Half-Shell Heroes
Description: Parent of today's youngsters grew up with the Turtles. They love their fun-loving, unique personalities and are watching the animated TV show with their kids, enjoying that balance of action-adventure and brotherly humor.

Half-shell Heroes to the rescue! They're designed to be a child's first Teenage Mutant Ninja Turtles - a safe, fun way to put that "big boy brand in little boys' hands".

For the first time, kids as young as three can join in non-stop Ninja fun. The all-new Half Shell Heroes segment includes action figures, vehicles and playsets, which are designed and tested for safe play by younger children, with rounded edges and no small parts.

Half-shell Heroes feature the same Turtles and Mutants, but with brighter colors, softer expressions and play features that work with younger hands.

It allows little ones to enjoy open-ended imaginative play adventures with the whole family of Teenage Mutant Ninja Turtles heroes and mutants.
Product Images:
Age: 2+ years
Suggested Retail Price: $6.99 - $34.99
Availability: Fall 2014
Company:
Website: