Summer Fun 2023 SMT with Elizabeth Werner - August 15, 2023
Sensory Bright Line
Description: Brand new this month, Fisher-Price introduced the Sensory Bright line – a range of four new products for children ages 3 and older that allows them to create their own sensory experience that's as unique as they are – all available exclusively at Target!

If you aren't familiar with sensory play, it's an important tool for childhood development that allows for self-regulation, exploration, problem-solving, and creativity.

All of the new items can be played with on their own or added to the light station for even more ways to enhance the sensory experience.

For instance, with the Fisher-Price Sensory Bright Light Station kids can unleash their creativity using this interactive sensory table where they can adjust the lights, sounds, and music - use one of the six play modes - and play with a variety of textured buttons, dials, and switches to create their own personalized sensory play.

The line also offers other options for interactive sensory fun, including the Sensory Bright SpinnyScopes, Squish Scape and Squeeze 'n Sniffs.
Product Images: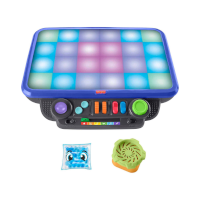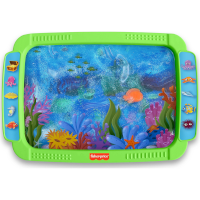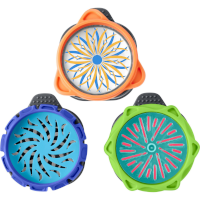 Age: 3+ year
Suggested Retail Price:
Fisher-Price Sensory Bright Light Station - $49.99
Fisher-Price Sensory Bright SpinnyScopes - $6.99
Fisher-Price Sensory Bright Squish Scape - $11.99
Fisher-Price Sensory Bright Squeeze 'n Sniffs - $10.99/2 pk

Availability: Available exclusively at Target (online and at retail)
Company: Fisher-Price
Website: target.com
Toniebox Starter Set along with Dr. Suess, National Geographic, and Roald Dahl Tonies
Description: The Toniebox is an imagination-building, screen-free digital listening experience that plays stories, songs, and more.

It uses figures to play different types of audio.

Tonies are available at Target, and the full assortment can be found at tonies.com.
Product Images: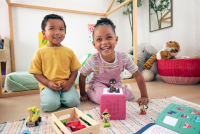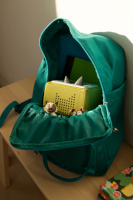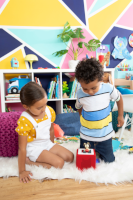 Age: 3-5 years
Suggested Retail Price: Toniebox Starter Set - $99; Individual Tonies range from $14.99-19.99
Availability: Available now on tonies.com and in store at Target
Company: Tonies
Website: us.tonies.com
Magic Adventures Telescope
Description: Discover things that are out of this world with the Magic Adventures Telescope!

Young astronomers can focus on the moon at night or nature during the day and be amazed at what they can see with up to 110x zoom on this real telescope.

Activate 100+ amazing videos and images, courtesy of NASA and the European Space Agency, that deepen space knowledge by exploring the solar system, star life cycles, constellations and more. Capture and save images of fascinating discoveries, play thrilling space-themed games and explore Cosmic Cards featuring striking visuals and out-of-this-world facts.
Product Images: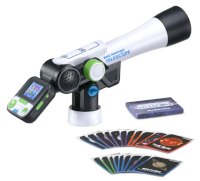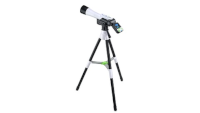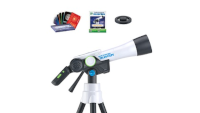 Age: 5-9 years
Suggested Retail Price: $99.99
Availability: Available now
Company: LeapFrog
Website: store.leapfrog.com/en-us/store/p/magic-adventures-telescope/_/A-prod80-614500
Gelly Roll Retractable
Description: For older students looking for new ways to express themselves, look no further than Gelly Roll Retractable: The Original Gel Ink ® - now in a retractable pen. This must-have writing, art, and craft tool comes in an array of special ink effects including Classic, White, Metallic and Stardust glitter inks.

The smooth ink flow is perfect for all your Back-to-School projects from note taking, journaling, scrapbooking and art projects to crafts, gifts and cards. Click on your creativity at home, at school, and everywhere in between, with vivid colors and ink effects.
Product Images: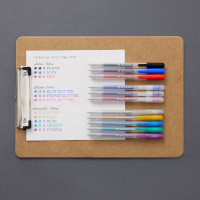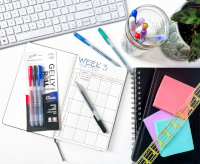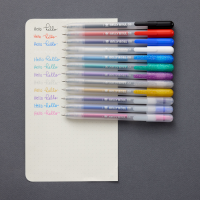 Age: 13+ years
Suggested Retail Price: $6.99
Availability: Available now at Michael's nationwide and Michaels.com
Company: Sakura
Website: www.michaels.com/product/gelly-roll-craft-medium-retractable-gel-pen-set-10715676
HOT POCKETS DELIWICH
Description: HOT POCKETS® is always cooking up something new including one of my favorites - DELIWICH™ sandwiches. This is the brand's first-ever offering that doesn't need a microwave. It makes school lunch easy, convenient and super delicious

HOT POCKETS® DELIWICH™ Sandwiches feature full slices of deli meat and cheese wrapped in a soft roll. They are frozen fresh and intentionally made to be taken on-the-go for a perfect thaw-and-eat lunch or afternoon snack.

Gone are the days of stale and soggy sandwiches. HOT POCKETS® DELIWICH™ delivers a fresh, delicious experience that's ready to enjoy by lunchtime – simply thaw from frozen for 2 hours at room temperature, or 4 hours in an insulated lunchbox.

HOT POCKETS® DELIWICH™ are available in four delicious varieties – Cheddar & Ham, Turkey & Colby, Cheese Melt and Pepperoni & Mozzarella. Available at retailers nationwide for $5.99 for a box of 4 (prices may vary by store).


Product Images: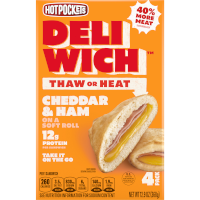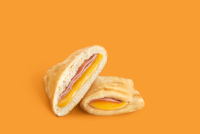 Age: Any age - kids, teens and adults
Suggested Retail Price: $5.99
Availability: Grocery retailers nationwide, right now
Company: Hot Pockets
Website: www.goodnes.com/hot-pockets/products/deli-wich/
This SMT is sponsored by Fisher-Price, Tonies, LeapFrog, Sakura and Hot Pockets.