Hottest Toy Trends 2023 SMT with Elizabeth Werner - March 6, 2023
Friends Autumn's House
Description: We have a whole new lineup of LEGO® Friends sets and this is Autumn's House, perfect for ages 7+. Autumn is one of eight new characters in Heartlake City and is the daughter of original character, Mia, who is all grown up.

Although Autumn was born with a limb difference, that doesn't stop her from being adventurous as an avid nature lover who deeply cares about the planet and animals.

You can get to know Autumn and the new cast of LEGO(R) Friends on LEGO YouTube channel with new episodes of The Next Chapter airing now.
Product Images: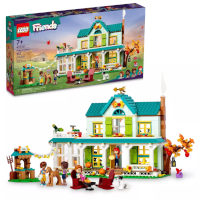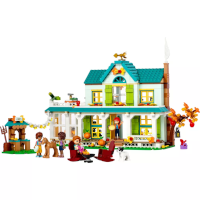 Age: 7+ years
Suggested Retail Price: $69.99
Availability: At LEGO.com, in LEGO Stores and at all major retailers and you can view the new series on YouTube.
Company: LEGO
Website: www.lego.com/en-us/product/autumn-s-house-41730
Sleepy Friends Collection
Description: Tonies just launched their new Sleepy Friends Collection of products to help families create better bedtime routines.

The Tonies® Sleepy Friends Night Light Tonie features beautifully composed melodies, a warm glow light, and the ability to record and play goodnight messages.

The Sleepy Friends Collection also includes two new Tonie characters – Sleepy Bear and Sleepy Sheep – that play sweet bedtime stories and soothing lullaby songs.
Product Images: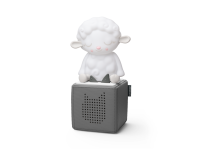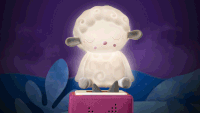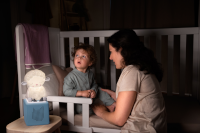 Age: 3+ years
Suggested Retail Price: Sleepy Friends Night Light Tonie - $39.99; Sleepy Bear and Sleepy Sheep Tonies - $17.99
Availability: tonies.com, Amazon and independent retailers
Company: Tonies
Website: us.tonies.com/collections/sleepy-friends
MGA's Miniverse
Description: MGA's Miniverse is the HOTTEST NEW product on the market. It's the only trend based collectible brand bringing highly detailed, fully functional everyday items into mini form! ….And it's the only brand where ACTIVITY meets collectability.

MGA's Miniverse, Make It Mini Food™ is the only mini food collectible that you can make and display. From mini donut boxes with actual mini donuts, to a mini carton of milk with actual liquid, there are over 100+ unique Make It Mini Food ingredients, packages, and kitchen accessories to collect and create your mini foods.

Each blind package comes with surprise ingredients and kitchen accessories as well as a recipe card to make your mini food. Once you've finished creating your mini food, set your finished dish in any UV Light or sunlight to set it. Once hardened display it! It is a perfect activity for all ages 8+.]
Product Images: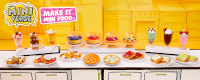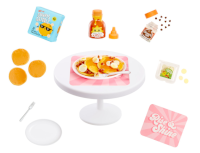 Age: 8+ years
Suggested Retail Price: $9.99
Availability: At Mass retailer Now
Company: MGA
Website: miniverse.mgae.com/#
Infinity game Board
Description: The Infinity Game Board revolutionizes game night! Arcade1Up has made a portable version of their popular digital board game table so you can play your favorite board games, along with activities, wherever you go!

Gone are the days of missing game pieces and board game boxes taking up closet space.

The Infinity Game Board is portable, compact and lightweight and has a nice big HD touchscreen (18.5") for easy viewing and interacting.

For the youngest in the house all the classics are included – Chutes and Ladders, Candy Land, Operation, Sorry, Connect Four and others.

Games the whole family can enjoy together including retro classics - Risk, Monopoly, Scrabble, Trivial Pursuit, Pandemic and Ticket to Ride.

Up to (6) players can play – either in the same location or online via Wi-Fi.
Product Images: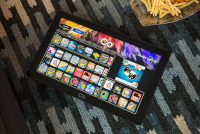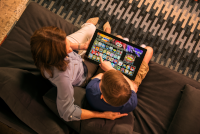 Age: With 100+ games and activities there is something for everyone – be it kids content for ages 3+ or content for adults and kids age 11+
Suggested Retail Price: $499.99
Availability: Will be available later this month at Arcade1up.com
Company: Arcade 1Up
Website: arcade1up.com
This SMT is sponsored by LEGO, Spin Master, Tonies, MGA and Arcade 1Up.