Holiday Black Friday 2022 SMT with Elizabeth Werner - November 14, 2022
7-in-1 Senses & Stages Developmental Gym
Description: With built-in features designed to nurture each developmental stage from birth to toddler, the 7-in-1 Senses & Stages Developmental Gym has activities to help build little ones' muscles, minds and senses from tummy time to ball-pit play!

An included developmental guide explains how to use each play zone and accessory to support your baby's growth, whether they're gazing at the overhead arches, exploring the linkable toys and removable musical xylophone or having a ball pit party.

When it's time to clean up, the mat and pillow are machine washable and all the balls store in the cute sloth bag.
Product Images: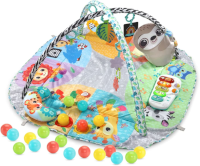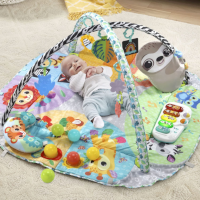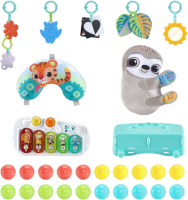 Age: Birth+ years
Suggested Retail Price: $79.99
Availability: Amazon, Walmart and Target
Company: VTech
Website: www.vtechkids.com/product/detail/20345/7_in_1_Senses_and_Stages_Developmental_Gym
My Pal Scout Smarty Paws
Description: My Pal Scout Smarty Paws™ makes the perfect friend for your little one with touch-sensitive paws that engage playful surprises, mindfulness exercises, silly reactions, music, games and more.

Scout's paws can also create magical moments for kids and caregivers when they hold hands with each other and the toy for a special interactive experience.

Scout can also be customized with a child's name, favorite food, color and animal, and will introduce first words, counting, feelings and emotions, making him a lovable childhood pal.
Product Images: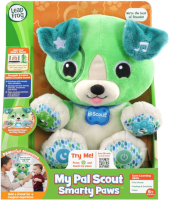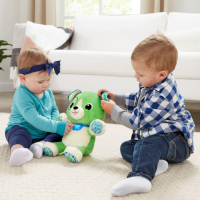 Age: 6+ months
Suggested Retail Price: $24.99
Availability: Now at Amazon, Walmart and Target
Company: LeapFrog
Website: store.leapfrog.com/en-us/store/p/my-pal-scout-smarty-paws/_/A-prod80-615000
Harry Potter Hogwarts Wizard's Chess
Description: The LEGO® Harry Potter™ Hogwarts™ Wizard's Chess set is a perfect gift and great value if you have multiple Harry Potter fans of all ages that you're shopping for. With this set you can play together in 2 ways – as an interactive real game of chess or you can role-play adventures from the magical Harry Potter movies.

Not only do you get 32 buildable chess pieces from the Harry Potter and the Sorcerers Stone, but it includes Harry Potter™, Hermione Granger™ and Ron Weasley™ minifigures, too!

This LEGO® set is for ages 10+, is great for the entire family of witches and wizard and retails for $60 at LEGO.com, LEGO Stores and other major retailers.
Product Images: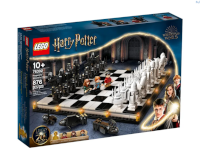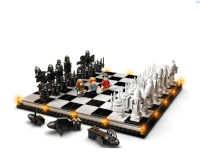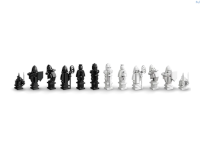 Age: 10+ years
Suggested Retail Price: $59.99 each
Availability: At LEGO.com, in LEGO Stores and at all major retailers.
Company: LEGO
Website: www.lego.com/en-us/product/hogwarts-wizard-s-chess-76392
Dexor Robot
Description: Dexor is the newest launch from Luki Lab where kids follow along with 10-year-old Derek, a regular kid living a secret life as a young inventor!

STEM authenticated set that features detailed graphic paperboard panels, bold plastic building links and a sticker sheet for customizing.

The pieces are compatible with other Dexor building sets so kids can get creative and make something unique to them.]
Product Images: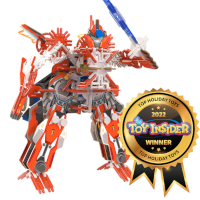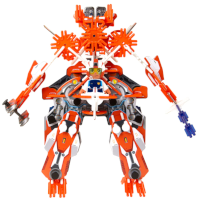 Age: 6+ years
Suggested Retail Price: $19.99
Availability: Available now on Amazon and lukilab.com
Company: Luki Lab
Website: lukilab.com/products/dexor-robot
Paypal Pay Later
Description: Holiday shopping can get stressful and toys and gift purchases can really add up. But there's a way to get into the holiday spirit and manage your budget. This season, checkout with PayPal Pay Later and select the payment option that works best for you.

Pay Later with PayPal gives you more flexibility on your purchases by letting you spread out payments over time, so you can buy the perfect gift and pay at a pace that works best for you and your budget.

Learn more at paypal.com/buynowpaylater
Product Images: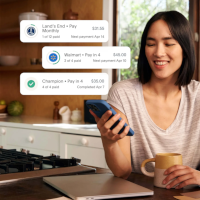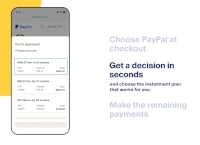 Age:
Suggested Retail Price:
Availability: paypal.com/buynowpaylater
Company: Paypal
Website: paypal.com/buynowpaylater
This SMT is sponsored by VTech, LeapFrog, LEGO, Luki Lab and PayPal.