Holiday Sneak Peaks 2022 SMT with Elizabeth Werner - November 7, 2022
LEGO Classic 90 Years of Play
Description: Children aged 5 and up can join adults and grandparents to recreate classic LEGO® toys with the LEGO Classic 90 Years of Play building set.

The LEGO Group is celebrating its 90th anniversary this year and the set explores 90 years of childhood toys for creative play and playful learning. The set comes with a rainbow of colorful LEGO pieces, 15 mini build recreations of iconic LEGO toys from across the years, plus extra bricks for free building!

Kids, adults and grandparents can enjoy endless hours of fun and nostalgia.
Product Images: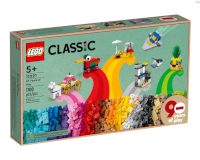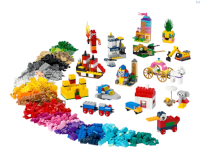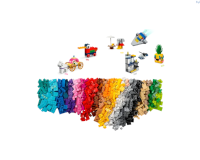 Age: 5+ years
Suggested Retail Price: $49.99
Availability: At LEGO.com, in LEGO Stores and at all major retailers.
Company: LEGO
Website: lego.com
VTech KidiGo NexTag
Description: WAY more than just tag, KidiGo NexTag is a high-tech spin on 20 different backyard games including capture the flag, freeze tag and hide-and-seek.

The four included electronic units with adjustable arm bands explain the easy-to-learn rules and keep track of who's it and who won – no referee required!

With a 120-foot range and no internet needed, kids can play one- and two-player games, have fun with the entire family, or go from four to eight players by combining two KidiGo NexTag systems!
Product Images: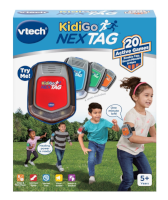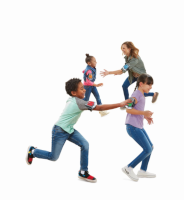 Age: 5+ years
Suggested Retail Price: $44.99
Availability: Amazon and Target (also Walmart.com but date TBD)
Company: VTech
Website: www.vtechkids.com/product/detail/20341/KidiGo_NexTag
Tonies & Toniebox
Description: The Toniebox is a screen-free entertainment system that plays your children's favorite songs and stories by placing a Tonie figure on top of the speaker box.

From Peppa Pig to Disney to Dr. Seuss, tonies has a growing collection that enable kids to listen, learn and play.

The Peppa Pig Toniebox Starter Set is available exclusively at Target, but the full tonies assortment is available at tonies.com
Product Images: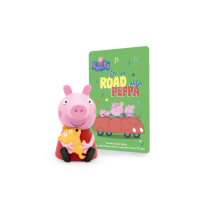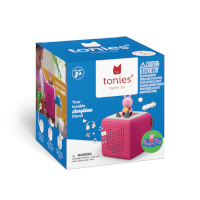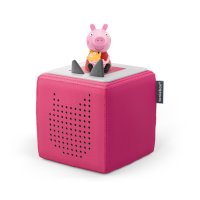 Age: 3+ years
Suggested Retail Price: $99.99 each
Availability: The Peppa Pig Toniebox Starter Set is available exclusively at Target, but the full tonies collection is available at tonies.com
Company: Tonies
Website: us.tonies.com/products/peppa-pig
Osmo Reading Adventure
Description: An interactive learn to read program developed with educators to build kids' reading skills and confidence. It combines hands-on learning and digital play with automatic speech recognition & AI technology to cover critical reading skills from K through 1st grade (5 to 7 years). Kids read physical story books, use an interactive crystal wand, and what they do gets translated into the digital world.

Kids team up with main characters Oliver and Nebula as they go on a magical reading journey. Oliver (a young talking dog) is enthusiastic, optimistic and learning how to read himself. Nebula knows everything there is to know about language and reading, but she'll need your child's voice to turn that language into magic.

Includes skill building games and activities focusing on phonics and sight reading, and adapts to meet the skill level of the player for a more dynamic, fun reading experience.

Game comes with the crystal wand, 4 story books, iOS app*, Osmo base and reflector, and requires a monthly subscription to receive more books. [*Reading Adventure is currently compatible with iOS]
Product Images: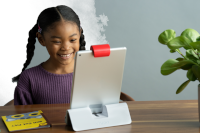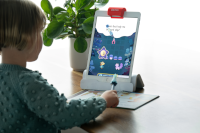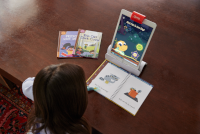 Age: 5-7 years
Suggested Retail Price: $25.00
Availability: Available at PlayOsmo.com, Amazon.
Company: Osmo
Website: PlayOsmo.com
Highlights Activity Kits (NEW! For Holiday 2022)
Description: Light-Up Superhero Supply Kit (mega maker), $49.99 Ages 6+ - We have the Light-Up Superhero Supply Kit here and it's filled with all of the supplies for kids to design their very own superhero cape, mask and gloves. The kit includes over 100 pieces including 4 LED lights to supercharge kids' creations and get them ready for super-hero activities!

Ribbons & Unicorn Craft Kit (make great things), $39.99 Ages 6+ - Hours of magical fun await inside the Ribbons & Unicorn Craft Kit. It's the perfect gift for unicorn lovers and comes complete with everything kids need to create and customize a unicorn wand, ribbon hoop and hair comb. All the materials store neatly in the carrying case.

Christmas Craft Collection Kit (winter wonderland), $29.99 Ages 5+ - Lastly, the Christmas craft kit will keep kids' spirits bright as they create mini Christmas trees, DIY Christmas ornaments and pompom pals! This festive kit also includes Winter Wonderland Epic Sticker Art — with a jumbo poster and over 350 repositionable Christmas stickers — plus more surprises to unwrap inside and a sling backpack to keep it all together. The new activity craft kits are thoughtfully designed to encourage kids to create their own magical keepsakes and come with all of the materials (and open ended activity guides) needed to create something special from start to finish. You can purchase them online at shop.highlights.com.
Product Images: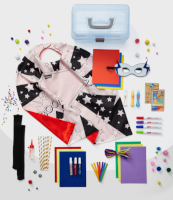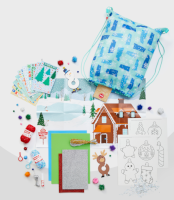 Age: 6+ years
Suggested Retail Price: $19.99-$49.99
Availability: shop.highlights.com/shop/kids-craft-kits
Company: Highlights
Website: shop.highlights.com/shop/kids-craft-kits
This SMT is sponsored by LEGO, VTech, Tonies, Osmo and Highlights.