Black Friday #1 2021 with Elizabeth Werner - November 15, 2021
Xbox Series S and Xbox Series X
Xbox Game Pass Ultimate
Xbox All Access
Description: This holiday season, the ultimate gift for the gamer in your life is Xbox Game Pass Ultimate: a flexible and affordable monthly membership that gives anyone access to over 100 high-quality games for just $14.99 a month. Xbox Game Pass Ultimate allows members to play both console and PC games, many of which can also be played via the cloud on console, PC, phones and tablets. Including family-friendly options like Minecraft and access to tons of favorites like FIFA and Madden NFL through EA Play, new games are added all the time – like Forza Horizon 5 and Halo Infinite – so there is something for everyone in the family to enjoy.

The two latest Xbox consoles are also available this season, offering gamers a next-generation gaming experience. The Xbox Series S is a great choice for families or someone looking for the speed you expect from the next generation of gaming at an affordable price point, delivering all-digital experience in the smallest Xbox ever for only $299. Xbox also has available the Xbox Series X, which is the fastest, most powerful Xbox ever, capable of native 4K gaming. Parents can download the Xbox Family Settings app for free to set screen time limits and manage what games are age-appropriate for their kids.

Xbox All Access includes everything you need to get started with Xbox, from your choice of Xbox console to an instant library of over 100 games, fall for one low monthly price with no upfront cost. Starting from $24.99 a month for 24 months, Xbox All Access allows you to select an Xbox Series S or Xbox Series X and receive 24 months of Xbox Game Pass Ultimate – that's over 100 high-quality console and PC games – with no upfront cost.
Product Images:
Age: All Ages
Suggested Retail Price:
Xbox Series S: $299.99 USD
Xbox Series X: $499.99 USD
Xbox Game Pass Ultimate: First month for $1 USD, then $14.99 USD/month
Xbox All Access: Starting from $24.99/mo for 24 months with no upfront cost (details here)
Availability: Both consoles are now available at retailers including Amazon, Target, Walmart, Best Buy, and the Microsoft Store. Consumers should check with local retailers for details on availability in their market.
Company: Xbox (Microsoft)
Website: xbox.com
Disney Toniebox Starter Sets
Description: Tonies is the award-winning, screen-free audio entertainment system designed just for kids ages 3 years old and up.

Exclusively available at Target, Disney Toniebox Starter Sets are great for young kids, featuring their favorite Disney and Pixar characters and stories.

Two bundles are available for Disney fans:
•The Red Toniebox set includes The Lion King, Toy Story, Monster's Inc. and Cars
•The Light Blue Toniebox set includes Frozen, The Little Mermaid, Moana and Cinderella.

The Toniebox is a soft, shockproof, five-inch cube made of durable fabric. It contains no screens, sharp corners or edges, ads, camera or a microphone, making it super simple, safe and fun for kids to use. The controls are simple ... young kids can adjust the volume, fast forward, rewind, skip chapters and more all on their own without help from an adult.

With seven hours of battery life and no need for Wi-Fi access after the initial set up, the Toniebox is an ideal storytime companion at home or while traveling and out and about.

The Toniebox comes to life when paired with the whimsical collection of Tonies figures, which are hand-painted characters with hours of stories to tell, songs to sing and worlds to explore.
Product Images: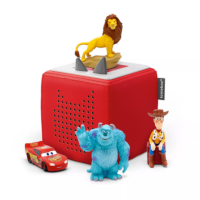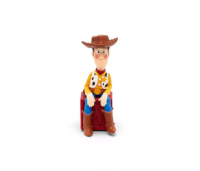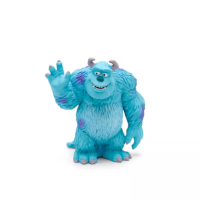 Age: 3+ years
Suggested Retail Price: Everyday Price - $129.99; Black Friday deal - $79.99 (11/25-26)
Availability: Target in-store and online
Company: Tonies
Website: tonies.com
Scribble Scrubbie Ocean Pets Lagoon Playset
Description: Dive into adventure with the award-winning Scribble Scrubbie Ocean Pet Lagoon Playset for endless underwater imagination!

Using the 6 included washable markers, kids can color and customize the shark, octopus, whale and clown fish pets. Then, it's time to dip them in the kid-powered Lagoon shower to wash their new pets in style and then recolor and play again and again.
Product Images: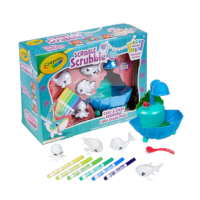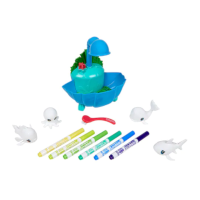 Age: 3+ years
Suggested Retail Price: $19.99 each
Availability: Retailers nationwide
Company: Crayola
Website: crayola.com
House Monsters
Description: If your socks are missing and the remote is gone, your leftovers are eaten and the fan is still on - when things happen in your house that you can't explain, The House Monsters may be the ones to blame!

There are 6 House Monsters to collect: Munchy, Dizzy, Fluffy, Drowsy, Sudsy and Bumpy!

Each House Monster arrives in its own personalized hiding box, perfect for kids to discover them in a fun unboxing experience. Open the box to reveal each House Monster plush character and I.D. collector card.
Product Images:
Age: 3+ years
Suggested Retail Price: $16.99
Availability: Available now, Amazon.com, House-Monsters.com and Walmart.com
Company: Luki Labs
Website: house-monsters.com
Hess Toy Trucks
Description: The 2021 Hess Cargo Plane and Jet is the latest release from the iconic Hess Toy Truck brand, which since 1964 has released one new model toy each year in time for the Holidays (a truck, car, helicopter and even spaceship). Hess is famous for their quality, detail and value price point.

It's easy to see why this new Cargo Plane and Jet is winning so many awards (Oppenheim, Mom's Choice, National Parenting Seal) – it's huge; and loaded with LED lights, button and motion activated sounds and all sorts of fun features like folding landing gear, opening rear cargo door and a hidden ramp.

The toys are ONLY available directly from Hess at HessToyTruck.com for $39.99 with free shipping and batteries included. They sell out every year, so don't wait to order yours.
Product Images:
Age: 3+ years
Suggested Retail Price: $39.99
Availability: Now, exclusively at HessToyTruck.com
Company: Hess
Website: hesstoytruck.com
This SMT is sponsored by Xbox (Microsoft), Tonies, Crayola, Luki Labs and Hess.