Toy Fair 2020 SMT with Elizabeth Werner - February 21, 2020
LEGO® DOTS Portfolio
Description: The LEGO DOTS Portfolio consists of Animal Picture Holders, Rainbow Jewelry Stand, Bracelets, Pineapple Pencil Holder and Extra DOTS.

A totally new way to play with LEGO® bricks, DOTS uses 2-D tiles and pattern play to invite kids to be bold, add color to their world and never stop creating!

The product assortment features customizable bracelets that are perfect for sharing with friends, a mini picture frame, animal picture holders, a rainbow jewelry stand and pineapple pencil holder that are adorably fun to tile.

You can also pick up a bag of extra DOTS to create even more design possibilities feature tiles with emojis, glitter and fun patterns.
Product Images: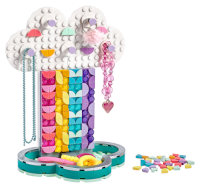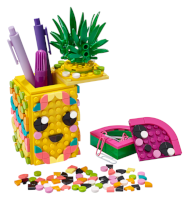 Age: 6+ years
Suggested Retail Price: $5-$20
Availability: Available starting March 1st 2020 on Lego.com and retailers like Jo-Ann, Michaels and Justice
Company: LEGO
Website: lego.com
KidiZoom® Creator Cam
Description: The most popular answer when kids are asked what they want to be when they grow up is a social media influencer!

The new KidiZoom Creator Cam is a high-definition video camera kit that offers everything kids need to be the star of their own video universe in a fun, safe, age-appropriate way.

It comes with a green screen and 20 animated backgrounds to create amazing special effects like being underwater or running from a dinosaur, as well as basic video editing capabilities.

It also comes with a mini tripod that converts into a handle – perfect to use with the camera's flip-up lens for selfie mode.

Whether kids are creating unboxing videos, giving tours, creating challenges or shooting how-to videos, parents control how they are shared via the included USB cable– there is no built-in wifi connection.

The camera includes a microSD card slot to increase the internal storage.
Product Images: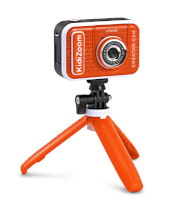 Age: 5+ years
Suggested Retail Price: $59.99 each
Availability: Fall 2020
Company: VTech
Website: vtechkids.com
Scribble Scrubbie Pets Grooming Truck and Scribble Scrubbie Pets Tattoo Shop
Description: Building on the popularity of Crayola Scribble Scrubbie Pets, Crayola introduces two new themes with the Scribble Scrubbie Pets Grooming Truck and Tattoo Shop!

These small and colorable pets are easy to color and clean, and kids will love their new life-like environments; a real working mobile grooming truck and a tattoo shop complete with a rotating chair.

The Crayola Scribble Scrubbie Pets Grooming Truck features a real working spray pump that allows kids to wash their pets, just like a real grooming truck! Suggested retail price of $19.99.

The Tattoo Shop comes with 3 Ultra-Clean Washable Stampers for kids to create colorful tattoos on their pets and clean with the included brush and tub. Suggested retail price of $14.99.
Product Images: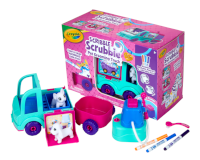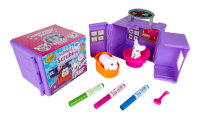 Age: 3+ years
Suggested Retail Price: Grooming Truck - $19.99; Tattoo Shop - $14.99
Availability: Available August 2020 at Crayola.com and all major retailers
Company: Crayola
Website: crayola.com
Electric Party Pop
Description: Multicolor LED light show on top of and below the deck starts when the motor is engaged.

Electronic throttle is foot-activated by a pressure sensor on the deck; to start, just step on and push off, the motor automatically engages.

Braking is through the rear fender brake, when it is engaged, power to the motor is automatically cut for reliable braking.
Product Images: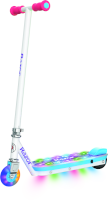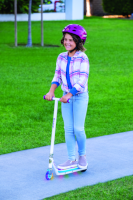 Age: 8+ years
Suggested Retail Price: $139.99
Availability: March 2020
Company: Razor
Website: razor.com
This SMT is sponsored by LEGO, VTech, Crayola and Razor.