Toy Fair Sneak Peak SMT with Elizabeth Werner - February 15, 2019
The LEGO Movie 2 Emmet's Dream House/Rescue Rocket!
Description: Inspired by the box-office hit The LEGO® Movie 2, this Emmet's Dream House/Rescue Rocket! building set joins a wide collection of 20 building sets and a line collectible LEGO minifigures that are all now available for fans to build their own movie-inspired stories.

This 2-in-1 Emmet's Dream House/Rescue Rocket! set features Emmet's home, which can be rebuilt into a rocket.

Favorite characters Emmet, Lucy, and Rex Dangestvest are represented in LEGO minifigure form, as well as a buildable Unikitty as Warrior Kitty, are all included to really let imaginations run wild in story-telling and role play.
Product Images: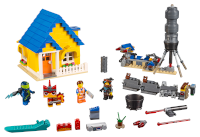 Age: 8+ years
Suggested Retail Price: $69.99
Availability: Now
Company: LEGO
Website: shop.lego.com/en-US/product/Emmet-s-Dream-House-Rescue-Rocket-70831
LeapFrog LeapBuilders ABC Smart House
Description: Build, create and learn with this interactive 61-piece house-themed block set.

Kids can use the easy-to-hold blocks to build a house and learn about the alphabet, objects around the house, colors and shapes as they build with the interactive electronic cube.

Insert the 20 double-sided learning blocks into the electronic cube and it will respond with fun sounds, educational songs and phrases that enhance building play with learning content.

For even more fun, try using learning blocks from other LeapBuilders® sets in the interactive cube to unlock additional content responses. Get building with smart blocks for smart kids!
Product Images: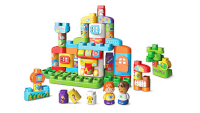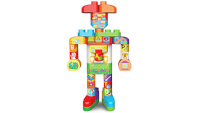 Age: 18+ months
Suggested Retail Price: $39.99
Availability: Now at Amazon; expanded availability later this year
Company: LeapFrog
Website: leapfrog.com
Glitter Dots
Description: Introducing Crayola Glitter Dots Creation Station (19.99), kids ages five and older can create with glitter in a whole new way, without all the mess! Glitter stays in the dot and not on your hands!

SQUISH, roll and make custom glitter dot creations using 84 dots to use on a variety of surfaces including paper, wood, craft foam, and more.

We also have $9.99 Activity Kits with 42 dots included to create keychains, stickers, mosaics, and sparkly signs. Refill packs are available for $4.99.
Product Images: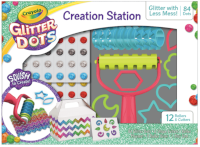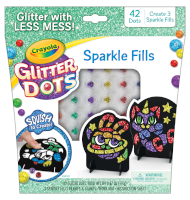 Age: 5+ years
Suggested Retail Price: $19.99 - Glitter Dots Creation Station; $9.99 - Glitter Dots Activity Kits; $4.99: Glitter Dots Single Packs
Availability: Available at Crayola.com and retailers nationwide in August 2019
Company: Crayola
Website: crayola.com
Who's Your Llama Series #2
Description: Kids will love collecting these adorable and funny llamas!

These llamas have unique personalities and styles!

Each llama has 1 of 4 silly features including winking, spitting, grinning, and sticking its tongue out.

Each llama comes with a feature and a soft, molded outfit and headpiece.

Llamas have articulated legs and measure 4-inches tall.

12 Llamas to collect in series #2: Hip Hop Llama, Peacock Llama, Lumberjack Llama, Safari Llama, Samba Llama, Mama Llama, Papa Llama, Baby Llama, Banana Llama, Mermaid Llama, Cosmo Llama, and Yoga Llama.

Who's Your Llama Mini Collectible Series #1:

•A collection of cute mini collectible llamas!

•Each one comes stored in a reusable camper with a collector's guide.

•There are 24 mini llamas to collect, all different colors and styles and six different colored campers.

•Kids will have fun trying to find the "chase" mini llama with the gold finish.

Who's Your Llama Plush Series #1

•Six adorable llama plush characters to collect including Lucha Llama, Trauma Llama, Fairy Llama, Dreamy Llama, Bahama Llama, and Twirly Llama.

•Each plush llama comes in a cute, non-removable outfit.

•They each measure approximately 6-inches tall.
Product Images: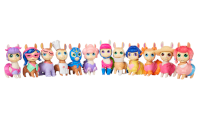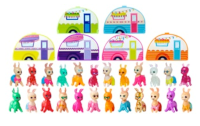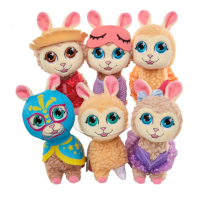 Age: 4+ years
Suggested Retail Price: Who's Your Llama - $6.99; Who's Your Llama Mini Collectible Series #1 - $3.99; Who's Your Llama Plush Series #1 - $7.99
Availability: Spring 2019
Company: Jakks Pacific
Website: www.jakks.com/whosyourllama/
Bianca City Life Dollhouse
Description: Dolls can live the high life in the city with the modern four-story Bianca City Life Dollhouse from KidKraft.

This unique slim silhouette house expands play upward, thus taking up less floor space.

Decorated with vibrant colors and urban graphics, this loft-style casa has a high energy vibe that really gets kids ready for adventures.

Visit the street-level boutique, café, gym or pet salon to get all your errands done.

Interactive features such as working string lights, a movable staircase, gliding elevator and a mini picture frame that really holds a picture, help to inject life into this structure with a 360 design for non-stop pretending.

With 25 accessories, the Bianca City Life Dollhouse lets kids decorate for contemporary living.
Product Images: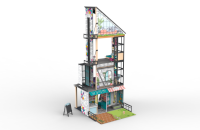 Age: 3+ years
Suggested Retail Price: $159.99
Availability: Summer 2019 at kidkraft.com
Company: KidKraft
Website: kidkraft.com
This SMT is sponsored by LEGO, Leap Frog, Crayola, Jakks Pacific and KidKraft.