Holiday Wrap-up SMT #2 with Elizabeth Werner - December 4, 2018
Furreal Ricky, The Trick-Lovin' Pup Set
Description: FURREAL RICKY, THE TRICK-LOVIN' PUP is the ultimate BFF companion for kids who will have a blast showing off his cool tricks to family and friends. Kids can help this clever pup to do fun tricks, from flipping his bone, to shaking "paws", and even shuffling eagerly for more! Feed him treats to reward him for his tricks, or pet his back for a job well done, but be careful…he might need a bathroom break!

This adorable pup responds to sound and touch with 100+ sound and motion combinations, and features sensors on his cheeks, nose, mouth, paw and back making interactions with this talented pup awesome!

After a day full of fun, FURREAL RICKY, THE TRICK-LOVIN' PUP pet loves to cuddle and give great doggie licks. His poseable legs make him the perfect pup for endless snuggles!

RICKY, THE TRICK-LOVIN' PUP pet includes a bone accessory, 18 doggie treats, and a treat pouch. Requires four" C" batteries, not included.
Product Images: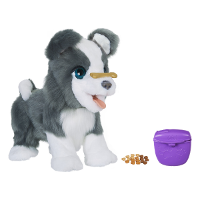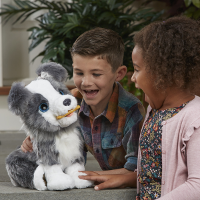 Age: 4+ years
Suggested Retail Price: $129.99
Availability: Most major retailers nationwide, Fall 2018
Company: Hasbro
Website: shop.hasbro.com/en-us/product/furreal-ricky-the-trick-lovin-pup:82FA383B-E009-4E75-8625-2F6F11A6B60D
SmART Sketcher Projector
Description: The smART sketcher Projector empowers kids and parents to turn photos from their smart devices into pictures.

By using the free smART sketcher app, pictures are filtered and transferred via Bluetooth to the projector. Instantly users will see their desired image projected onto paper and they can trace and color it like a pro.

They can also choose to draw from a pre-loaded SD card that is filled with a variety of images and activities including step-by-step drawings, learn-to-write letters and numbers, early spelling skills, and more.
Product Images: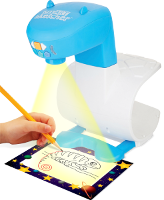 Age: 5+ years
Suggested Retail Price: $59.99
Availability: Online and in-store at Walmart
Company: Flycatcher
Website: www.smartsketcher.com
Arcade1Up
Description: Brace yourself to be plunged back in time to an era of adrenaline pumping, old school fun with Arcade1Up as it brings iconic arcade gaming back to you. Whether you are a retro junkie or curious to check out the hype – this is the perfect way to enjoy arcade play within your home, dorm room or office.

Titles: Pac-Man, Galaga, Street Fighter, Rampage, Centipede and Asteroids.

•Brings classic arcade gaming home.

•Stands just under 4 ft tall.

•Equipped with classic, original artwork.
Product Images:
Age: 13+ years
Suggested Retail Price: $299.99
Availability: Walmart, GameStop, Target, FYE, Best Buy (online only), Home Depot (Online only) and PR Richards & Son
Company: Tastemakers
Website: www.arcade1up.com
Chrono Bomb® Night Vision
Description: Kids get up-and-moving with Chrono Bomb® Night Vision!

The Mission: Cross the Laser Field Before It's Too Late. Kids turn off the lights for a thrilling nighttime mission! Using the clamps and 37-foot string to create a "laser" field to crawl through, kids wear UV light goggles to illuminate the string, and carefully make your way through the laser field.

Chrono Bomb Night Vision can still be played during the day with the lights on, just like the original…and as always, the game can be played over and over again, building new courses each time or trying to beat your time and master your favorite setup!
Product Images: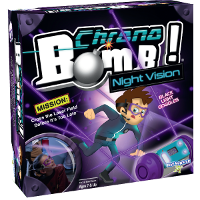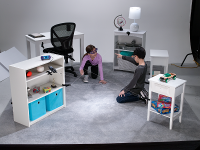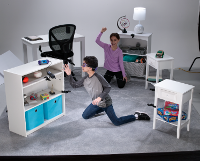 Age: 7+ years
Suggested Retail Price: $29.99
Availability: Walmart and Target
Company: PlayMonster
Website: www.playmonster.com/product/chrono-bomb-night-vision/
This SMT is sponsored by Hasbro, Flycatcher, Tastemakers and PlayMonster.