Holiday Sneak Peek with Elizabeth Werner - November 16, 2018
Rescue Runts
Description: Rescue Runts need a home to call their own! The super soft plush puppies arrive in their crate packaging with matted fur full of fleas, dirty paws, bandages, tears in their eyes and downturned ears.

Care for your Rescue Runt using the included grooming kit to pick out the fleas, remove the cast, clean the dirt from their paws, wipe away their tears and brush their messy fur. Perk up their ears to complete the transformation from ragged runt to perfect pet! Choose a name and write it on the collar to make the adoption official.

Just like any pet, Rescue Runts will need regular grooming, love and care so kids can engage in repeated animal rescue play. Rescue Runts' fur will become messy again over time, so brush them each day to keep them well-groomed. Dirt will reappear on their paws, so clean them up again and again! Rewrap the cast to care for their injuries. Place the fleas in their fur and tweeze them out again. Flip their ears up or down to go from happy to sad.

Rescue Runts include one pet, a brush, collar, tweezers and towel.
Product Images: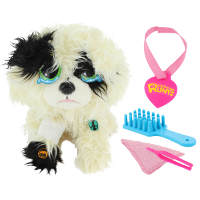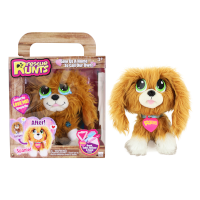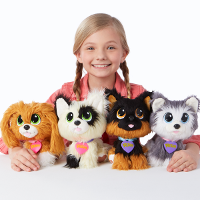 Age: 3+ years
Suggested Retail Price: $19.99
Availability: Available Now at Walmart
Company: KD Kids
Website: www.rescuerunts.com
Starshine the Bright Lights Unicorn
Description: Starshine the Bright Lights Unicorn is designed to teach children colors in a unique, fun and visually magical way.

Kids can place the seven charms on any of the magic hearts to see Starshine's horn light up and hear colors, objects and phrases in both English and Spanish

They can also squeeze the unicorn's tail to see her beautiful wings flap and hear whimsical phrases and sounds that encourage imaginative play.
Product Images: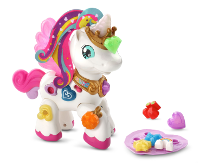 Age: 1.5 - 4 years
Suggested Retail Price: $24.99
Availability: Available Now
Company: VTech
Website: www.vtechkids.com/product/detail/18552/Starshine_the_Bright_Lights_Unicorn
Kid Trax Rideamals Scout, Play & Ride Pony
Description: Meet Scout, the interactive ride-on pony from Kid Trax Rideamals! This adorable pony combines ride-on fun with interactive play, as it comes to life with fully motorized eyes, ears, head and wheels. Scout has over 100 sounds and movements, including a special pony dance! Kids can enjoy riding Scout with two forward speed settings and one reverse speed, reaching up to four miles an hour, while songs and pony sounds play in the background! Kids can feed and care for their new pony with the included accessories. Listen as Scout makes munching noises when eating a tasty treat, watch the pony's ears move as they brush Scout's mane, and so much more! Scout creates magical moments with every touch and endless amounts of fun for kids to enjoy. Kid Trax Rideamals Scout comes with a grooming brush, carrot, apple and saddlebag. Includes rechargeable 12-volt battery.
Product Images: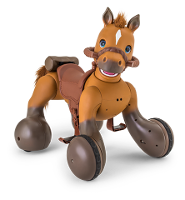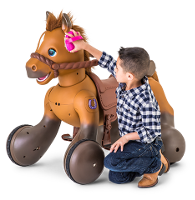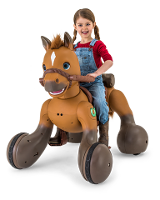 Age: 3-7 years
Suggested Retail Price: $399
Availability: Available exclusively at Walmart and on Walmart.com
Company: Pacific Cycle Inc.
Website: www.walmart.com/ip/12-Volt-Rideamals-Scout-Pony-Interactive-Ride-On-Toy-by-Kid-Trax/769580543
Cool Maker KumiKreator
Description: The Cool Maker KumiKreator is a breakthrough way to braid beautiful friendship bracelets before your eyes! Drawing inspiration from the art of Japanese Kumi bracelets (Kumihimo in Japanese means "gathered threads"), the KumiKreator makes it easy to create stylish and intricate Kumi friendship bracelets. The KumiKreator DIY kit includes 88 spools of string and everything you need to make up to 10 unique bracelets! Select one of the stylish bracelet patterns from the design booklet, or create your own pattern! Next, choose from 5 different colors of string, load the ready-to-use spools into the machine following your bracelet design and spin to create! As you turn the handle, the spools dance around the machine, magically weaving your bracelet together in minutes! When your bracelet is finished braiding, remove it from the machine and customize with a stylish clasp – no knots are needed! Stack, wrap and share your bracelets with your BFF's and mix and match to accessorize every outfit! Spin to create colorful friendship bracelets with the Cool Maker KumiKreator!
Product Images: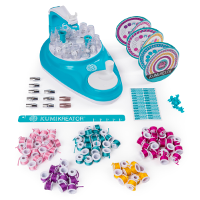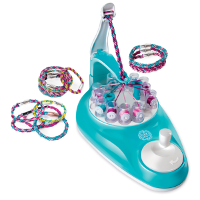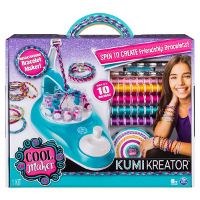 Age: 8+ years
Suggested Retail Price: $29.99
Availability: Available now at major retailers nationwide and online
Company: Spin Master
Website: shop.spinmaster.com/cool-maker-kumikreator-friendship-bracelet-maker/product/p30346
Follow on Twitter: @SpinMaster
This SMT is sponsored by KD Kids, VTech, Pacific Cycle Inc. and Spin Master.