Holiday Sneak Peek with Elizabeth Werner - November 15, 2018
Botley the Coding Robot Activity Set; Beaker Creatures Liquid Reactor Super Lab
Description: Educational toy company, Learning Resources, conducted a poll which determined that 8 out of 10 parents consider it to be important that at least one of the gifts they buy their child(ren) this holiday season has a STEM-related component.

One of my favorites is Botley the Coding Robot Activity Set which is the winner of more than 12 awards and a Toy of the Year finalist. In addition, it's the first early coding robot to be STEM Authenticated by STEM.org for children 5+.

While Botley follows looping commands and detects objects while navigating obstacle courses, kids learn early STEM skills, like critical thinking, and basic coding and best of all Botley is completely screen-free!

It's a colorful bubbling creature reaction! Extract the Beaker Creatures from the mysterious Reactor Pods with the Beaker Creatures Liquid Reactor Super Lab from Learning Resources. After placing one of two included Reactor Pods within the Super Lab's center chamber, kids send water whirling through the tubes with the help of two Hydroplungers, filling the chamber and triggering the amazing reaction. Once the reaction ends, kids can extract their Beaker Creatures collectibles and start classifying! The working lab set also comes with the equipment and instructions needed to perform amazing real-world science experiments inspired by the creatures and their home planets. The Beaker Creatures Liquid Reactor Super Lab also includes an exclusive full-size poster, two classification cards and two double-sided mini-posters: one side features a quiz filled with amazing real-world science facts, while the other features fun images of the creatures at play that combine to form a larger scene!
Product Images: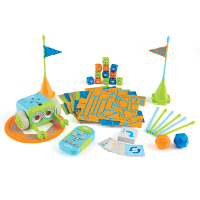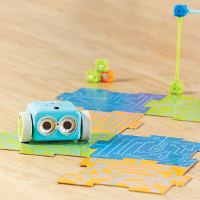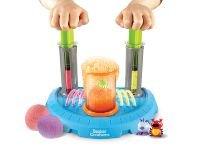 Age: Botley - 5+ years; Beaker Creatures - 5+ years
Suggested Retail Price: Botley the Coding Robot Activity Set - $79.99; Beaker Creatures Liquid Reactor Super Lab - $24.99
Availability: The 77-piece Botley the Coding Robot Activity Set is available in-stores and online at Walmart for $69; Beaker Creatures Liquid Reactor Super Lab is available on www.learningresources.com
Company: Learning Resources
Website: www.learningresources.com/text/botley/index.html
Wrapples
Description: Wrapples are your new furry friends that makes interactive pet play as portable as an accessory! Slap them around your wrist and you're ready to play.

They have 50 sounds and reactions and light-up eyes to match their mood when you interact with them.

If you talk to them, they'll talk back and when you put them together, they sing and chat with each other!
Product Images: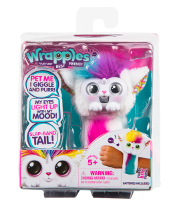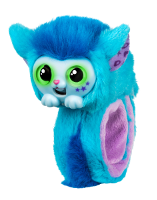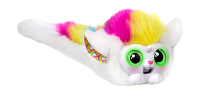 Age: 5+ years
Suggested Retail Price: $14.99
Availability: Available now at all major retailers
Company: Moose Toys
Website: www.littlelivepets.com
Xbox Game Pass Membership and Family Settings
Description: Xbox offers fun for the whole family this holiday season with instant access to over 100 great games with Xbox Game Pass, a variety of new bundles like the Xbox One S Starter Bundle, and industry-leading family settings that enable parents to manage their children's access to content.

Xbox offers comprehensive and customizable family settings that allow parents to manage their children's access to content and build responsible and positive gaming experiences. To install Xbox family settings, parents will need to set up a child account and link it to an adult's Microsoft account. This grants parents access to more than 15 features and controls that provide peace of mind across four key areas:

• Screen time management: Set time limits and view Activity Reports to keep on top of your child's activity.

• Purchase limits: Avoid unexpected surprises with online purchase management tools by setting an allowance and using our Ask a parent feature.

• Content filters: Block or allow specific websites, games or apps to ensure children are interacting with age-appropriate content.

• Privacy: Select what personal information others can see and who is permitted to engage with your children.

And when it comes to games, why give just one game this holiday when you can gift your family over 100 great games for one low monthly price with Xbox Game Pass?

• With Xbox Game Pass, you have the freedom to explore and play highly anticipated Xbox exclusives, like "Forza Horizon 4," the same day they are released.

• Plus, new games are added all the time and Xbox Game Pass has a dedicated section of family-friendly titles making it the must-have gaming membership for ultimate family fun this holiday.

For families looking to purchase a console this holiday, family settings are built right into every Xbox One console. That means bundles like the Xbox One S Starter Bundle, which comes with an Xbox One S console, an Xbox Wireless Controller, a 3-month membership to Xbox Game Pass and a 3-month membership to Xbox Live Gold, automatically include access to Xbox family settings as well as peace of mind for parents.
Product Images: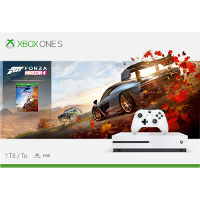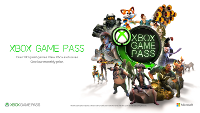 Age: All ages (check specific games for individual title ratings)
Suggested Retail Price: Xbox Game Pass Membership - $9.99/month; Xbox One S Starter Bundle - $299.99
Availability: Currently available at Xbox.com and Microsoft Store
Company: Microsoft
Website: xbox.com
Farm to Table Play Kitchen with EZ KRAFT Assembly
Description: KidKraft is a global leader in award-winning products that are MADE FOR MAKE BELIEVE™. KidKraft is committed to inspiring imaginative play creatively for children everywhere, providing spaces and places for imaginations that deliver 360-degree play; on-trend designs; and EZ Kraft technology.

The new EZ Kraft Assembly technology lets families enjoy an improved installation process, resulting in less build time for parents and more play time for kids!

KidKraft powers kids' imaginations with interactive, modern feature sets – like the Farm to Table Play Kitchen with EZ Kraft Assembly - and accessories for cooking imaginary dishes to dreaming about new adventures.

Kids can mimic mom and dad while playing with the gourmet kitchen sets. New play sets include features such as "choppable" vegetables, running lights and sounds for the faucet and stovetop, and working ice machines that dispense pretend ice cubes.
Product Images: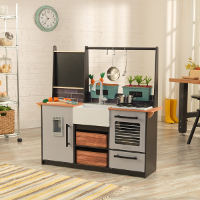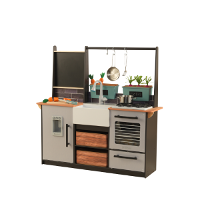 Age: 3+ years
Suggested Retail Price: $139.99
Availability: Available now at KidKraft.com, Amazon.com, Walmart.com and Target.com.
Company: KidKraft
Website: kidkraft.com
Reindeer In Here: A Christmas Friend - A book and plush gift set
Description: Reindeer In Here is a Christmas friend sent by Santa as the first gift of the Christmas season to get to know each individual child and celebrate that being different is normal.

The children take it anywhere and everywhere with them on daily adventures, so Santa can learn about each individual child and what their true Christmas wishes are.

The core message of the story is that being DIFFERENT IS NORMAL (as evidenced by the reindeers one smaller antler).

It is the MOST AWARDED Christmas tradition brand of 2018 — and there is ZERO STRESS for parents. No moving it or coming up with stories every day.
Product Images: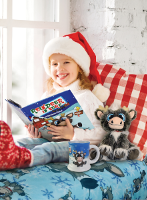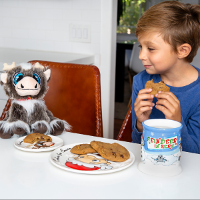 Age: 0-8 years (as long as they believe)
Suggested Retail Price: $29.99 in independent and specialty retail/$32.99 on Amazon and Reindeerinhere.com. Over 1200 stores in the U.S. including independent Hallmarks and Learning Express. You can locate stores on the store finder on our website.
Availability: Available now in retail, Amazon, and on Reindeerinhere.com
Company:
Website: www.reindeerinhere.com
This SMT is sponsored by Learning Resources, Moose Toys, Microsoft, KidKraft and Reindeer In Here.