Holiday Toy Must Haves with Elizabeth Werner - Day 1 - December 4, 2017
Kurio Watch 2.0 by KD Interactive
Description: The next generation of The Ultimate Smartwatch Built for Kids is here – Kurio Watch 2.0+! Packed with preloaded apps & games, plus, everything you need in a real Bluetooth smartwatch, Kurio Watch lets kids start the fun right out of the box. Now it comes with two (2) interchangeable bands to match your style! Kurio Watch comes loaded with games to play alone or with a friend – connect watches via Bluetooth to play on two screens or play together on one device. Motion-sensitive games like Snake & Ninja Roll use precise wrist movements, while Sports Challenge makes you feel like you're in the game! Watch-to-watch messaging via Bluetooth lets kids share texts, emojis, photos, doodles and voice recordings! Friends and family can even download the Kurio Watch Messenger app on any Android device to get in on the fun. The Kurio Watch includes a front-facing camera perfect for selfies and recording videos. Kids can make silly faces or add to the fun with photo filters & frames!

Best of all, kids can customize their watch! Personalize your watch face and choose a wallpaper from cool themes or even use a custom photo. All Kurio Watch 2.0+ bands are interchangeable, so pick your favorite color and swap it in! An included bonus band changes color right on your wrist! Plus, Kurio Watch comes with everything you need in a smartwatch – activity tracker, music player, alarm/stopwatch, calculator, calendar and so much more! Connect to a parent's smartphone via Bluetooth and Kurio Watch becomes a hands-free way for kids to make and take phone calls (no phone or contract required).

Kurio Watch is built kid-tough to be scratch resistant and splash proof, so kids can wear it almost anywhere. The watch also features an "In Case of Emergency" (I.C.E.) app where parents can enter their child's medical information, including blood type and allergies, as well as emergency contact details.

Smartwatch Specs:
Bluetooth, 1.54" Touch Screen Display & Front-facing Camera
Built-In Motion Sensor, Speaker & Microphone
256 MB Internal Memory (part of memory allocated to the OS). MicroSD Card Slot
allows for 32GB of Expandable Storage (MicroSD Card sold separately).
Micro USB Port and Micro USB Cable Included
No Phone or Contract Required
Rechargeable Lithium-Ion Battery Included

Kurio Watch 2.0+ is available in blue, lavender, black, white and Toys"R"Us exclusive pink (each sold separately) and each smartwatch comes with a bonus color-change band.
Product Images: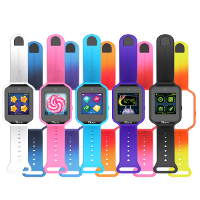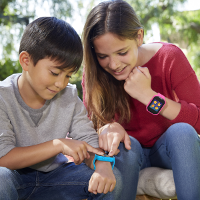 Age: 6+ years
Suggested Retail Price: $59.99
Availability: Available now at Toys"R"Us Stores and Toysrus.com
Company: KD Interactive
Website: kuriowatch.com
LEGO Friends Snow Resort Ski Lift
Description: This holiday season, the LEGO Group is helping families Shake up Imagination. With one shake of a wrapped LEGO gift a child's imagination goes wild, imagining anything and everything they can bring to life with LEGO bricks. Since its launch 5 years ago, LEGO Friends continues to be one of the LEGO Group's most popular themes offering children a rich story base and highly detailed construction toys centered on the adventures of five girls from Heartlake City. Similar to all LEGO Friends construction sets, the Snow Resort Ski Lift is packed with tons of detail and functionality, including a working ski lift, a rock climbing wall and includes a mountaintop restaurant. Complete with two LEGO Friends mini-dolls and a bear cub figure, children as young as 8 years old can enjoy hours of role play fun as they build.
Product Images:
Age: 8+ years
Suggested Retail Price: $59.99
Availability: Now at shop.LEGO.com
Company: LEGO
Website: shop.lego.com
NERF NITRO MOTOFURY RAPID RALLY Set
Description: In 2017, the iconic NERF brand introduced a whole new active play experience with the world of NERF NITRO stunt car blasters! Launch your cars to the sky with the motorized NERF NITRO MOTOFURY RAPID RALLY set. Load the car into the clip, align the high-jump ramp and pull the trigger to let it fly! Set up and customize the obstacles included to achieve epic stunt status and challenge friends! Includes one blaster, one high-jump ramp, one long-jump ramp, nine NERF NITRO foam cars, and twelve obstacles. Available at most major retailers and on HasbroToyShop.com.
Product Images: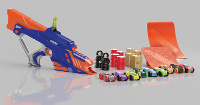 Age: 5+ Years
Suggested Retail Price: $49.99
Availability: Available at all major retailers in Fall 2017
Company: Hasbro
Website: hasbrotoyshop.com
Otrio
Description: Addicted to brainy challenges? Then fire up your competitive side with Otrio, the strategy game that's sure to make your brain say "O"! To win, get three pieces of your color in a row based upon similar size; lined up in ascending or descending order; or within the same space as three concentric pieces. The rules are simple but the game is complex! Depending on the wit of your opponent, you may need to sharpen your strategic skills and exercise critical thinking! Otrio is a unique game that is engaging, challenging and beautifully built! Show off your smarts.
Product Images: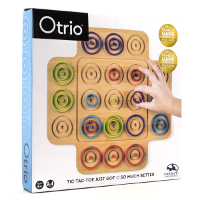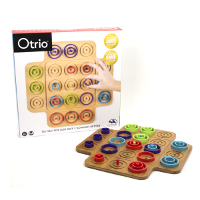 Age: 6+ years
Suggested Retail Price: $34.99
Availability: Available Target and other retailers
Company: Spin Master
Website: www.marblesthebrainstore.com/store/marbles/browse/productDetailSingleSku.jsp?productId=p21211
FashionIt USpeakers and GoLens
Description: USpeakers, the world's smallest speakers with the world's best sound. Lightweight with exceptional sound quality, this palm-sized collection is the perfect mix between a stationed speaker and one that can go with you everywhere. U Micro is coin size, can act as a selfie remote control with your phone's camera and has a pairing option for surround sound experience. U Mini (slightly larger), has incredible sound, sophisticated design, trendy colors, modern finish and the selfie remote control feature.

GloLens is a wide angle illuminating selfie lens to enhance every selfie and take it to a new level with three light settings. The light makes you look prettier! Each is available in three trendy colors.
Product Images: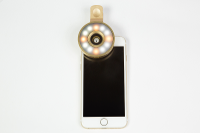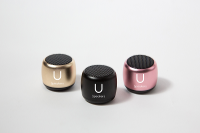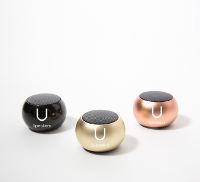 Age: Teens and Young Adults
Suggested Retail Price: U Speakers: Micro $35 and Mini $45; GloLens $22
Availability: Now, at Books A Million stores, Dillard Stores and Francesc and www.JustFashionIt.com
Company: FashionIt
Website: www.JustFashionIt.com
This SMT is sponsored by KD Interactive, LEGO, Hasbro, Spin Master and FashionIt.