Summer Fun SMT with Elizabeth Werner - May 11, 2017
Gazillion Bubbles Giant Power Wand
Description: Create massive bubbles at the push of a button with the Gazillion Bubbles Giant Power Wand! This special wand and specially formulated bubble solution produce bigger bubbles than ever before. Simply pour Giant Gazillion Bubble Solution into the provided tray, dip the wand in the solution, and push the button as you give the wand a wave to blow truly GIANT bubbles! The Giant Power Wand includes a 4 oz. bottle of non-toxic Giant Gazillion Bubble Solution. 2 AA batteries required, not included.
Product Images: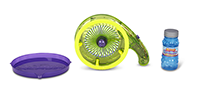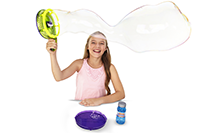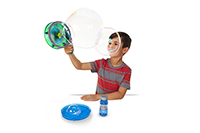 Age: 3+ years
Suggested Retail Price: $12.99
Availability: Toys R Us
Company: Fun Rise
Website: www.funrise.com/detail.aspx?id=36262
Wobbly Worm
Description: Can you hoop the loopy worm? Wobbles the Worm has fallen out of the apple tree and he's all dizzy! As Wobbles bobs and spins around, players try to get their three hoops over his head. Get rid of all your hoops first to win! Wobbly Worm is get-up-and-move-around fun for preschoolers!
New physically active game for preschoolers to play on their own or with siblings/friends.

Grows with me feature/benefit (13"-36").

Create cute, fun designs in 3 easy steps - Make, Spray, and Display!
Product Images: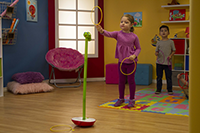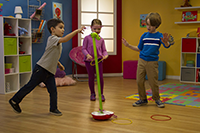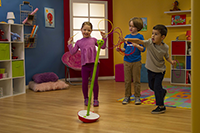 Age: 3+ years
Number of Players: 2-3
Suggested Retail Price: $19.99
Availability: Available at all major retailers
Company: Spinmaster
Website: www.spinmaster.com/product_detail.php?pid=p21082
Spinzipz
Description: The spinners craze reaches a whole new level with Spinzipz from Zing! Small enough to fit in your pocket and quiet enough to use anywhere, Spinzipz have joined the fidget craze and America is O-B-S-S-E-S-S-E-D!

These small, hand-held plastic toys are taking social media by storm. But with Spinzipz, Zing kicks it up a notch further by adding two motion-sensitive LED lights for awesome glow effects day and night.

Spin a single-blade Spinzipz individually, OR for even cooler effects, use the special stacking SpinPin to spin more than one simultaneously.

Hold Spinzipz between your index finger and thumb and flick the light to start the spin. Spinzipz is the hottest new gadget to help scratch your 'fidget itch?' Available in red, green, blue and yellow.
Product Images: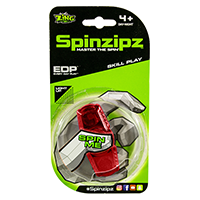 Age: 4+ Years
Suggested Retail Price: $7.99 for a single; $19.99 for a 3-pack
Availability: Spinzipz are available on Zing.store now and will be available at Target and Walmart in June
Company: Zing
Website: zing.store/products/spinzipz
Facebook: Facebook.com/Spinzipz
LEGO Juniors Andrea and Stephanie's Beach Holiday
Description: LEGO Juniors was developed to provide builders 4 and older who are beginning to build with classic LEGO bricks a fun, age-appropriate building experience.

LEGO Juniors Friends themed sets are perfect for the child who watches older sibling build Friends sets and wants to get in on the fun! Now, he or she can build their own Friends set-- without help-- and play along with the characters and stories they love. This is especially exciting as the minidoll platform is celebrating its 5th birthday this year!

Andrea and Stephanie's Beach Holiday features familiar characters for engaging role play, alongside an easy and smaller scale building experience with a ton of detail, including: a dolphin, smoothie stand, sun loungers and a floating speedboat.
Product Images: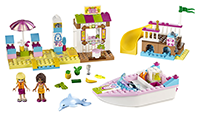 Age: 4-7 years
Suggested Retail Price: $29.99
Availability: Available on shop.lego.com and toy stores, including LEGO brand retail stores nationwide
Company: LEGO
Website: shop.lego.com/en-US/Andrea-Stephanie-s-Beach-Holiday-10747
This SMT is sponsored by Fun Rise, Spinmaster, Zing and LEGO.