Toy Fair Sneak Peeks - February 17, 2017
Friends Sportscenter
Description: LEGO Friends is celebrating its 5th anniversary this year and it is celebrating by adding more hot spots in the theme's Heartlake City for children to choose from.

Just like all LEGO Friends construction sets, Heartlake Sportscenter is packed with tons of detail and functionality including a basketball hoop with shooting function, a punching bag, yoga studio, soccer goal, bicycle and a juice bar.

Complete with two LEGO Friends mini-dolls, children as young as 6 years old can enjoy hours of role play fun as they build.
Product Images:
Age: 6+ years
Suggested Retail Price: $39.99
Availability: Available now at shop.lego.com
Company: LEGO
Website: shop.lego.com
Little Live Pets Hedgehog and Chick
Description: LLP Chick Single - The new Little Live Chick is an adorable Chick that can hatch over and over again. The fun is that kids won't know when the egg will hatch, or what the Chick looks like until the egg cracks open, and the Lil' Chick hops out and chirps "Hello!" When kids pet the Chick, it will chirp, and it can walk and play all day. Kids will be attached to the shy little Chick as soon as it hatches. There are 4 chicks in the family to collect, including Patty the Party Chick, Blossy the Daisy Chick, Tilly the Dancing Chick, and Beaky the Rainbow Chick. Kids should also be on the look out for a limited edition golden chick, Lucky Clucky.

LLP Chick Habitat - The Lil' Chick comes with a cute little Chicken house, where they sleep and eat.

LLP Hedgehog Single Pack - New Lil' Hedgehogs have rolled into town, and they love to explore. These shy guys wobble about, and when kids touch their nose they roll into a ball, like a real hedgehog. Watch them crawl back and hide away then pop out their head and continue to play! There are 6 little Hedgehogs to collect: Pinny Angel, Snowbie, Sally Seeds, Princess Pickles, Shy Guy.

LLP Lil' Hedgehog House - The Lil' Hedgehog house is the perfect place for the Little Live Hedgehog to roll around. Kids can place the Hedgehog in its home to make it feel safe, or place him on his slide and watch him roll down like a ball. The Lil Hedgehog House comes with the Hedgehog, Shy Sky.
Product Images: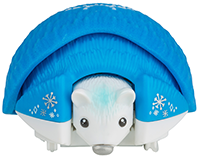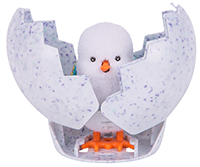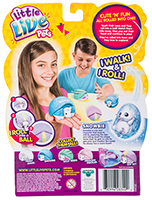 Age: 5+ years
Suggested Retail Price: Chick Single - $14.99, Chick Habitat - $24.99, Hedgehog Single - $12.00, Hedgehog House - $24.99
Availability: Chick Available in May 2017, Hedgehog available now at Target, Walmart, Toys R'Us and Amazon
Company: Moose Toys
Website: www.moosetoys.com/products/little-live-pets-s1-lil-hedgehog-house
Wonder Crew
Description: Wonder Crew is designed to empower boys to connect, nurture and build empathy through friendship, imagination and adventure; in essence to inspire boys to Go Anywhere, Be Anything.

Combining the adventure of an action figure with the emotional connection of a stuffed animal, the 15" Wonder Crew Buddies are now available; the crew includes Will (Caucasian), Marco (Hispanic), James (African American) and Erik (Asian). Each comes dressed in superhero gear, complete with matching mask and cape for kids.

Three Adventure Packs are also available: Builder includes a construction outfit and hard hat for the buddy, and a matching vest for kids; Explorer features a safari-looking outfit and hat for the buddy, and a matching hat for the child; and Snuggler is a set of pajamas for the buddy, and a blanket for kids!
Product Images: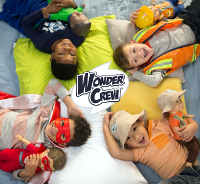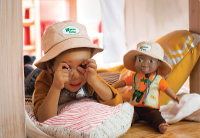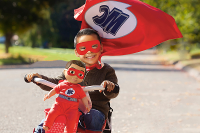 Age: Boys 3-5 Years
Suggested Retail Price: Wonder Crew buddies between $29.99 - $34.99, Gear Sets from $14.99 - $19.99
Availability: Wonder Crew is now available at mass retail across the country including Target and Toys 'R Us
Company: Playmonster
Website: playmonster.com
Facebook: www.facebook.com/PlayMonsterFun
4-in-1 Stroll & Grow Tek Trike
Description: VTech is bringing its innovation to the outdoor trike category with the new transforming 4-in-1 Stroll & Grow Tek Trike.

This sturdy trike easily transforms through four different stages, from parent-controlled stroller mode, to training mode, trike mode and drifting mode as a child grows and gains more independence.

It even features an electronic panel with content that evolves with little riders to explore directions, reinforce road safety and encourage role-play.
Product Images: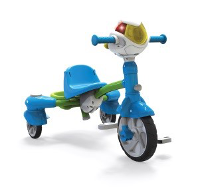 Age: 9 months - 5 years
Suggested Retail Price: $99.99
Availability: Fall 2017
Company: VTech
Website: vtechkids.com
Mickey and the Roadster Racers: Racing Adventures Mickey
Description: The Roadster Racing Adventures Mickey feature plush, based on the new Disney Junior HIT car-racing series Mickey and the Roadster Racers, sits in his car and moves his head side to side as if he's really driving!

Kids can race along with Mickey as he magically drives his car around and does 360° spins!

Mickey can stand, wave his flag, move his arms up and down, talk, sing, and make racing sounds with a touch to his light-up helmet!

He can even play a game of Race to the Flag, and when the flag is captured, he does a victory dance!
Product Images: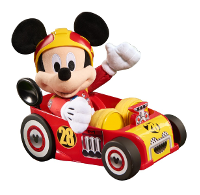 Age: 3+ years
Suggested Retail Price: $39.99
Availability: Fall 2017
Company: Just Play
Website: justplayproducts.com
This SMT is sponsored by Lego, Moose Toys, Playmonster, VTech and Just Play.