Holiday Must Haves - December 5, 2016
Star Wars Rebel U-Wing Fighter
Description: Celebrating its 17th year, LEGO Star Wars was the very first license brought to LEGO brick form and continues to be among the top 5 LEGO properties.

As we count down the final days to the upcoming Rogue One: A Star Wars Story, now is the time to experience this new storyline with this LEGO Star Wars Rebel U-Wing Fighter!

This LEGO Star Wars Rebel U-Wing Fighter has all the details you'd expect from an authentic Star Wars model, including an opening minifigure cockpit with transparent lower observation window, opening side doors, and huge wings that sweep back to create an even bigger model.

Children can keep the fun going long after the film is released by role playing with some of their favorite characters in LEGO minifigure form, such as Bistan, Jyn Erso, Cassian Andor, a Rebel Trooper and a U-wing pilot.
Product Images:
Age: 8+ years
Suggested Retail Price: $79.99
Availability: Available now at shop.LEGO.com, LEGO brand retail stores and specialty retail stores nationwide
Company: LEGO
Website: shop.lego.com
Thomas & Friends Sky-High Bridge
Description: Watch the No. 1 blue engine complete his most breathtaking and exciting stunt yet - soaring through the air - on the biggest TrackMaster set ever at 3' tall and over 8' long!

Inspired by the Thomas & Friends DVD, The Great Race, (sold separately and subject to availability) Thomas' Sky-High Bridge Jump brings the movie to life with fast-paced, flying thrills! Thomas is on his way to the Great Railway Show, but the drawbridge to the mainland is already up, so he'll need to find another route by climbing the spiral track.

Just when it seems like it's the end of the line, he gets a little help from Harold the helicopter, who flies Thomas to the top of a massive ramp. Once Thomas reaches the top he zips down the ramp and the velocity shoots him into the air, soaring through the air for nearly 2' before landing safely on the other side of the gap to continue his journey.

After touchdown, he zooms past the waving flags and returns to the railway. Tip the barrel from the hopper onto the tracks, and Thomas will push it through the crossing sign and into the loading area.

Remove Harold from the train set for even more fun-filled adventures and use him as a separate play piece.

Includes motorized Thomas train, Harold the helicopter, cargo hopper, cargo piece, and full track layout with ramp and bridge jump.
Product Images: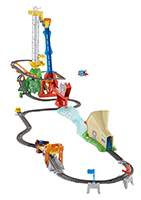 Age: 3+ years
Suggested Retail Price: $99.99
Availability: Available now at all major retailers and online
Company: Fisher-Price
Website: fisherprice.com
Singing Moana and Friends Doll
Description: Moana is an adventurous, tenacious and compassionate 16-year-old who is struggling to find her true self. But when her island is threatened by a mythical darkness, Moana breaks the rules and sets sail on an epic adventure to save her people and find the answers she's been searching for her whole life.

Girls can relive that story and adventure of Moana and her friends Pua & HeiHei.

Based off the hit move that just hit theaters over Thanksgiving.

Girls can press Moana's shell necklace to hear her say phrases from the movie and hear her sing her song "How Far I?ll Go."

Her necklace lights up.

Pua & HeiHei are included.
Product Images: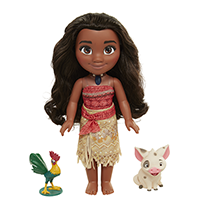 Age: 3+ years
Suggested Retail Price: $34.99
Availability: Available now at mass retailers, Target, Walmart, Amazon, etc.
Company: Jakks Pacific
Website: www.jakks.com
Evo Avengers Master Pack
Description: The Evo smart STEM robot reads colors! Enjoy "unplugged" play with nothing more than markers and paper. Use Evo's color language to control its lights, sounds and speed.

You can also control Evo from your smartphone. Compete and play games with friends. Send and receive Ozojis-emoticons that your Evo acts out!

Evo Action Skins bring your favorite characters to life. Transform your Evo into Iron Man or Captain America. Then, connect with the app to complete Stark Academy missions.
Product Images: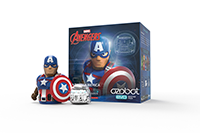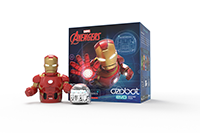 Age: 8+ Years
Suggested Retail Price: Avengers Master Pack is $124.99, Evo alone is $99.99, Avengers Skin only is $29.99
Availability: Available now on Ozobot.com and Barnes & Noble, Toys R'Us and Amazon, http://shop.ozobot.com/products/iron-man-master-pack
Company: Ozobot
Website: www.ozobot.com/products/ozobot-avengers
Simon Air
Description: The Simon Air game is a twist on the popular Simon game, the fast-action game where players need to watch, remember, and repeat patterns.

The technology in the SIMON AIR game unit recognizes when a player follows the color sequence by sensing their motions.

The Simon Air Game features both solo and 2-player play.
Product Images: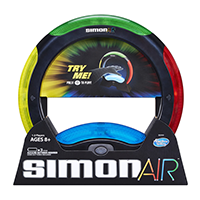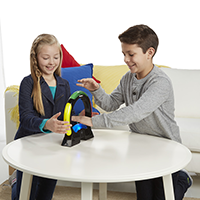 Age: 8+ years
Suggested Retail Price: $19.99
Availability: Available now at all major retailers and at www.hasbrotoyshop.com
Company: Hasbro
Website: www.hasbrotoyshop.com
This SMT is sponsored by LEGO, Fisher Price, Jakks Pacific, Ozobot, and Hasbro.