Holiday Sneak Peaks - November 15, 2016
Air Marker Sprayer
Description: The Crayola Air Marker Sprayer turns Crayola markers into spray art - just like a real artist's airbrush! The electric-powered Air Marker Sprayer allows kids to airbrush just like a professional artist, without the mess of paint. The Air Marker Sprayer provides opportunities for continuous creativty as kids can create realistic-looking airbrush art for craft projects, school projects, and more.

Kids simply plug in the unit, secure a Crayola broad line marker into the easy twist n' load nozzle, and then release the trigger to spray. The sprayer works with most Crayola broad line markers, and has a compact, convenient design for everyday use.
Product Images: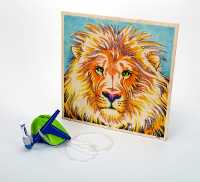 Age: 8+ years
Suggested Retail Price: $29.99
Availability: Available now at all major retailers
Company: Crayola
Website: www.crayola.com
Facebook: www.facebook.com/crayola
Air Hogs Thunder Trax
Description: This all-terrain, amphibious vehicle is strong and built rugged to tackle any environment. With a 200ft range, it's ready for indoor and outdoor use and features push-button Deep threads, handles on land, water, and even snow.

Transforms from above-ground tank to high-performance aquatic boat.

Take this land and sea RC for a test drive to experience the transformation.
Product Images: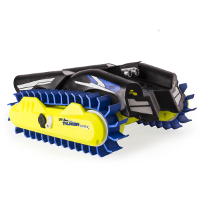 Age: 10+ years
Suggested Retail Price: $74.99
Availability: Available now at all major retailers
Company: Spin Master
Website: www.spinmaster.com/product_detail.php?pid=p20978
Friends Heartlake Riding Club
Description: Since its launch, LEGO Friends continues to be one of the LEGO Group's most popular themes offering children richly story based and highly detailed construction toys centered on the adventures of five girls from Heartlake City.

The LEGO Friends Heartlake Riding Club is packed with details and functionality including enough LEGO bricks to build a stablehouse, cafeteria, a rotating horse exerciser, feeding and drinking trough, grooming station, etc.

Complete with two LEGO Friends mini-dolls and horses, children as young as 6 years old can enjoy hours of role play fun as they build.
Product Images: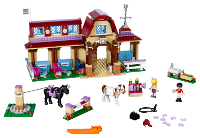 Age: 6+ Years
Suggested Retail Price: $59.99
Availability: Available now at all major retailers
Company: LEGO
Website: shop.lego.com
Cabbage Patch Kids Baby So Real
Description: Wicked Cool Toys is thrilled to introduce more adoptable love with it's groundbreaking, technology-driven Cabbage Patch Kids Baby So Real for holiday this year - never seen before!

Baby So Real has beautifully animated expressive LCD eyes that open, close and look around. This life-like baby combines traditional play patterns with groundbreaking technology.

Baby So Real Includes over 60 adorable sounds and exciting features such as giggling, talking, playing, sleeping, eating and so much more!

For advanced play, kids and parents can connect Baby So Real via Bluetooth to a free app that acts as a simulated baby monitor and allows you to earn baby points! Accumulated baby points can be used in the free app to personalize your virtual baby by choosing a new outfit, toy or even room decor!

This online mode allows you to see the virtual nursery where you can play with CPK Baby So Real, feed her, change her diaper, burp her, and share your love and care.
Product Images: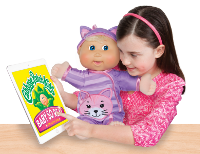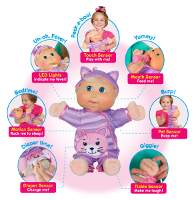 Age: 3+ years
Suggested Retail Price: $99.99
Availability: Available now at Target, TRU, Amazon, Walmart
Company: Wicked Cool Toys
Website: www.wickedcooltoys.com
Kurio Watch
Description: This real, working Bluetooth smartwatch is made specifically for kids, though there's nothing kid-like about this high-tech wearable! The sleek, modern design has smooth rounded edges, a brightly colored, adjustable soft silicone band sized to fit kids' small wrists comfortably, and a responsive touch screen with excellent resolution.

It combines all the basic watch functions (alarm, calendar, calculator etc.) with music and video players, a front-facing camera for taking selfies and videos, an activity tracker and mini games that detect precise wrist movement thanks to its built-in accelerometer.

Kids can also message friends with Kurio Watches and tablets, as well as parents and family members with Android phones and tablets, all within a safe distance using Bluetooth technology. Just download the free Kurio Watch messaging app from Google Play and share voice recordings, photos, drawings, emojis and text messages just like teens and adults do.

The next time grandma calls, let kids say "hi!" on their Kurio Watch! When connected to a parent's smartphone, Kurio Watch also becomes a hands-free way for kids to take phone calls.

Parents can also enter vital ICE (In Case of Emergency) information, including blood type, any allergies and an emergency contact.

Includes 256MB of internal memory, expandable by microSD card.

Available now in blue, purple and pink wristbands.
Product Images: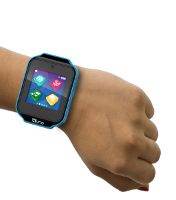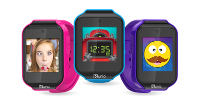 Age: 6+ years
Suggested Retail Price: $59.99
Availability: www.Toysrus.com/Kurio
Company: Kurio
Website: www.kuriowatch.com
This SMT is sponsored by Crayola, Spin Master, LEGO, Wicked Cool Toys and Kurio.