Back to School - August 3, 2016
Kurio Smart™ 2-in-1 Windows Laptop Tablet (KD Group)
Description: Kurio Smart™, the tablet for students, is the first Windows device from KD Group, maker of the Safest Android Tablets Built for Kids™. This 2-in-1 tablet computer is designed with young scholars in mind, taking them from homework to play. Combining the best of both productivity and fun, this sleek, lightweight and portable Windows tablet-and-laptop-in-one has a 9" touch screen and includes a detachable keyboard made for little hands. A great first computer and educational tool, Kurio Smart is perfect for writing papers, reading e-books, studying and safely browsing the web. It is also packed with free educational and entertainment content, so it's ready to go right out of the box.

Providing hours of after-school entertainment, the Kurio Smart also comes preloaded with more than 40 apps and games, including exclusive Kurio Motion 2.0 multiplayer body-controlled games that will have kids running, jumping and even dancing. Kids can also take photos and videos, stream music and videos from Spotify, YouTube Kids and Netflix, Skype and stay connected with kid-safe email. Parents can access hundreds of thousands more apps through the Windows Store.

Like all Kurio kid tablets, the Smart comes with powerful parental controls to put mom's and dad's minds at ease. Microsoft's Family Safety system allows parents to determine the websites, apps and games their kids can use, monitor kids' usage and also set time limits. Special easy-to-use icons were developed to access Microsoft Family Safety parental controls right from the Smart home screen.

Additional Tech specs: Windows 10, Office Mobile, Quad-core Intel Bay Trail-T processor, Wi-Fi, Bluetooth 4.0., 32GB of built-in storage (expandable by 32GB with microSD card) plus one terabyte of cloud storage, front and rear-facing cameras, micro USB port, and micro HDMI port, which allows Kurio Smart to be connected to a TV.
Product Images: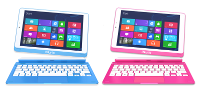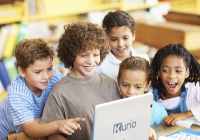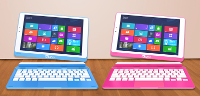 Age: 6+ years
Suggested Retail Price: $169.99
Availability: Available in blue/white and pink/white at Toys"R"Us stores and www.Toysrus.com/Kurio
Company: Kurio
Website: Toysrus.com/Kurio
LeapStart
Description: LeapFrog's new LeapStart interactive early learning system will prepare children ages 2-7 by teaching them both the core school skills they need and also these important 21st century skills to help them prepare for what lies ahead.

The LeapStart Interactive activity system comes in two versions, LeapStart for Preschool through Pre-K and LeapStart for Kindergarten through 1st grade. Each works with 16 different books that teach kids over 50 key skills per grade level and are packed with activities that bring learning to life to keep kids engaged for hours; the library of books covers key skills from school basics, like math and reading to future skills, like critical thinking & STEM.

This portable and durable device complements what children will learn in the classroom making it the perfect back-to-school learning system that complements early childhood education.
Product Images: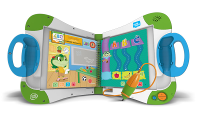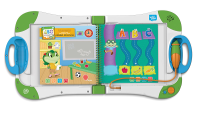 Age: 2-7 years
Suggested Retail Price: $39.99 with books costing $12.99
Company: LeapFrog
Website: www.leapfrog.com/en-us/products/leapstart
Sugar Goblin
Description: The Sugar Goblins create a fun, family tradition of Halloween tricks as The Sugar Goblins encourage kids to share their Halloween candy with them, since they need sugary treats to survive.

The mischievous and loveable Sugar Goblins provide a playful solution to parents who want to reduce the amount of sugary treats a child might consume from Halloween Trick or Treating.

Parents have various methods to control the intake of candy but the loveable Sugar Goblins encourage kids to share their candy in return for a special gift.

Kids enter the fun, imaginary world of the Sugar Goblins, who survive by eating candy but with their sugar supply low, they create funny tricks throughout the house prior to Halloween so they can gain a share of a child's Halloween candy.
Product Images: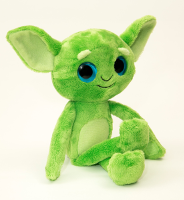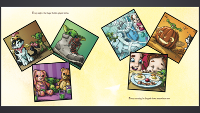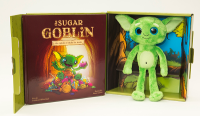 Age: 3-8 Years
Suggested Retail Price: $29.99
Availability: Now at Amazon, and both Target.com and BarnesandNoble.com
Company: The Sugar Goblin
Website: thesugargoblin.com
Gift "ems"
Description: Gift 'ems is the only collectible mini-doll line which features the universally known gift box to delight and surprise girls with a "friend" from different cities around the world.

Gift 'ems gift box opens to reveal a surprise mini-doll with the doll's name, city and country of origin.

Then the gift box can be transformed to display the doll and showcase iconic scenes from the doll's hometown and an image of the country flag.

Each Gift 'ems doll package is marked for collectability on a rarity scale of Common, Rare, Special Edition and Limited Edition.

Each mini-doll features four main components that girls can snap together to mix and match for thousands of fashion fusions to create their own unique Gift 'ems dolls for endless fun.

Pencil Topper (so kids can bring to school and trade with their friends).

Friendship Day is Saturday Aug 7th
Product Images: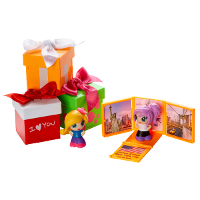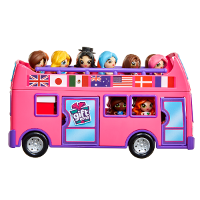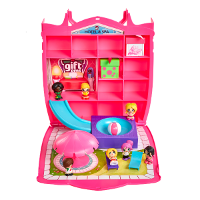 Age: 4+ years
Suggested Retail Price: Mini-dolls from $3.99 MSRP for a single surprise gift box, and $9.99 MSRP for a three-pack, the Gift 'ems Tour Bus and Hotel & Spa playsets $14.99
Availability: Product is available at all major retailers: Toys R Us, Target, Walmart, etc.
Company: Jakks Pacific
Website: www.giftemsdolls.com/
Boogie Board Scribble n' Play Featuring Colorburst
Description: First-ever color eWriter, incorporating color screen and new stylus tools to make drawing more fun.

Patented multicolor LCD screen brings color to eWriters for the first time, allowing kids to inject creativity into their drawings.

Includes set of four stylus tools to create a variety of lines and textures.

Slim and light-weight, and fits into a backpack.

Battery life lasts up to 7 years without needing a new battery.

Boogie Boards are eco-friendly.
Product Images: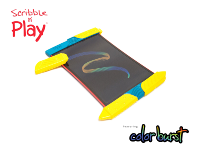 Age: 4+ Years
Suggested Retail Price: $29.99
Availability: all major retailers
Company: Kent Displays
Website: www.myboogieboard.com
Boogie Board Jot 4.5 Featuring Clearview
Description: New translucent screen transforms the original Jot 4.5 into a kid-friendly learning tool, encouraging kids to trace and play

Patented translucent LCD screen allows kids to practice writing, drawing or solving math equations.

Small, slim form factor is perfect for use in the home, at school or in the car.

Includes set of alphabet and math flash cards, with slip-in attachment and attachable stylus tool to make tracing easy.

Battery life lasts up to 7 years without needing a new battery.

Boogie Boards are eco-friendly.
Product Images: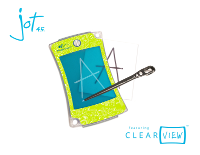 Age: 3+ Years
Suggested Retail Price: $19.99
Availability: all major retailers
Company: Kent Displays
Website: www.myboogieboard.com
This SMT is sponsored by Kurio, LeapFrog, The Sugar Goblin, Jakks Pacific and Kent Displays.