Toy Fair 2016 - February 15th 2016
LEGO Friends Adventure Camp Tree House
Description: Still one of the most popular lines from the LEGO Group, the LEGO Friends line is back again! This year, the girls from Heartlake City head outside city borders to Adventure Camp, (where they try their hand at archery and river rafting.)

The Adventure Camp Tree House features a climbing wall, waterfall with moving bridge obstacle, tire swing and a slide that takes campers down to the camp base kitchen. Includes three mini dolls, plus an eagle and a fox.

Rich with details and accessories, LEGO Friends sets allow children to build and explore the worlds they've created through storytelling and role playing. (Even when they're not building, children can continue enjoying the girl's adventures through content on Disney Channel and Netflix.)
Product Images: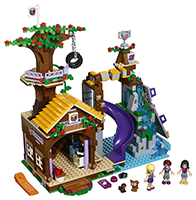 Age: 7-12 years
Suggested Retail Price: $79.99
Availability: Available now on shop.lego.com and in LEGO brand retail stores.
Company: LEGO
Website: shop.lego.com
Super Wings
Description: Jett and his friends, characters from the hit the hit Super Wings™ TV show, are articulated and transform from plane to robot mode - a fun challenge for kids of all ages and no batteries required!

Kids can re-enact their favorite missions from the popular TV show, or create their own new adventures with their imagination.

Low price point, portable, and great for on the go; kids can collect all of their favorite Super Wings characters.
Product Images: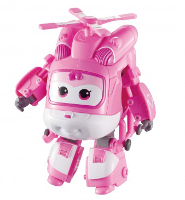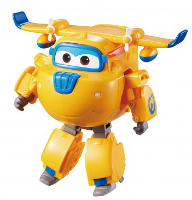 Age: 3+ years
Suggested Retail Price: $9.99
Availability: The transforming characters are currently available at Mass, with a full line of Super Wings Toys coming in March, 2016
Company: Auldey Toys
Website: www.auldeytoys.us
LEGO NEXO KNIGHTS The Fortrex
Description: Brand new this year, NEXO KNIGHTS depicts a medieval kingdom set in a futuristic world. The story follows 5 knights who "download" special powers to their shields in order to battle the royal court's evil Jestro and a cast of monsters to restore peace.

Bridges physical and digital play with (28) building sets, a TV series (on Cartoon Network) and digital gaming app that each fuel one another through story-rich game play. Scan and collect powers found in building sets, online, and directly from the TV series with the free Merlock 2.0 App (iOS and Android).

The Fortrex is hi-tech 2-in-1 castle. (Includes a crossbow flyer, 4 rapid-fire stud shooters, 2 movable double laser cannon shooters and a disc shooter.) The set also includes 5 scannable shields and 7 minifigures including 3 of the knights; Aaron Fox, Axl and Clay Moorington.
Product Images: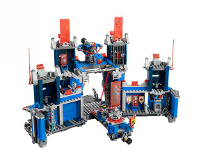 Age: 9-14 Years
Suggested Retail Price: $99.99
Availability: Available on shop.lego.com and in LEGO brand retail stores
Company: LEGO
Website: shop.lego.com
Play-Doh Town Firehouse Playset
Description: Fire-rescue missions await! This PLAY-DOH Town firefighter and her pup are ready to put out a PLAY-DOH fire at any moment! Kids can use the fire stamper to create crazy fire scenes, before filling up the water cannon and hydrant to save the day with PLAY-DOH water spray! Little ones can also press out a hot hairstyle for the firefighter figure using her stylish hat, or a variety of different hair accessories created using the half molds included in the playset. Don't forget to take the fire pup for a walk or he may have a PLAY-DOH accident right in front of the FIREHOUSE playset! To prepare for even more fiery PLAY-DOH adventures, open the garage and drive in the FIRE TRUCK vehicle (sold separately). FIREHOUSE set includes playset, firefighter, firedog, accessories and four cans of PLAY-DOH compound.
Product Images: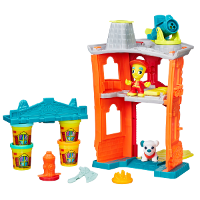 Age: 3+ years
Suggested Retail Price: $19.99
Availability: Spring 2016
Company: Hasbro
Website: playdoh.hasbro.com
Touch & Learn Activity Desk Deluxe
Description: Building on the success of the original Touch & Learn Activity Desk, the new deluxe version offers even more features parents and children will love, including educational, expandable, grow-with-me content for extended play value.

Expandable, three-in-one activity desk easily transforms into an easel and chalkboard and features an interactive desktop, LED display with letter and number stroke order and five pages of engaging learning content, including letters, numbers, music and more.

Eight affordable expansion packs (sold separately) each focus on a specific curriculum, such as nursery rhymes, reading skills, animals and numbers, and offer up to 48 additional interactive touch points for kids to explore.
Product Images: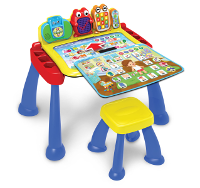 Age: 2-5 Years
Suggested Retail Price:
Availability: Fall
Company: VTech
Website: www.vtechkids.com
Madame Alexander Little Sister Babble Baby
Description: With over 80 sounds like giggling and cooing, little parents will enjoy endless hours of fun caring for their babies!

Featuring advanced response technology, Babblebaby Little Sister lets children react to the emotions and feelings of others by caring for their very own Babblebaby doll.

14 inches long, BabbleBaby Little Sister is the perfect size for little hands (ages 3 and up), and features a huggable soft body in this new "Layette" clothing.
Product Images: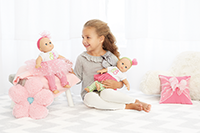 Age: 3+ Years
Suggested Retail Price: $44.95
Availability: Available now at www.madamealexander.com
Company: Madame Alexander
Website: www.madamealexander.com/little-sister-babblebabytm.html
This SMT is sponsored by LEGO, Auldey Toys, Hasbro, VTech and Madame Alexander.