Holiday Toy Must Haves - December 3rd 2015
ROSEART GRAPHIC SKINZ DESIGN STUDIO
Description: The Graphic Skinz Design Studio from RoseArt lets kids get creative and capture the hot trend of skinning, right at home - and it's under $20!

Kids can customize and personalize a variety of fun objects and even make gifts (skin picture frames or keychains, for example)

The super-suction, motorized vacuum chamber works with water-activated, adhesive sheets and applies full-color graphics to 3D objects like toys, models, cell phone cases or jewelry – just about anything that fits into the chamber.
Product Images: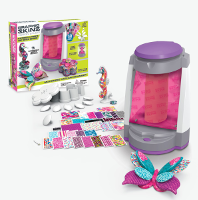 Age: 6+ years
Suggested Retail Price: $19.99
Availability: AT RETAILERS NATIONWIDE:WALMART, TARGET, AMAZON
Company: Just Play Products
Website: www.graphicskinz.com
LEAP FROG EPIC
Description: LeapFrog Epic is for kids ages 3 to 9 and is the safest Android-based tablet experience available with exclusive access to LeapFrog's educator-approved content along with hand-selected, kid-favorite Android apps – and no in-app purchases!

The full-featured tablet comes with the most comprehensive parental controls available and features the LeapSearch kid-safe web experience, so parents don't have to worry that their kid will stumble upon inappropriate content.

In a recent survey, LeapFrog found that 66 percent of parents would like a tablet with a child friendly interface and 61 percent ask for a personalized experience that's right for their child's age. The LeapFrog Epic tablet has a first-of-its-kind playable home screen where children can personalize, create, and interact with innovative features that provide a world of discovery while the tablet grows and changes as they do.
Product Images: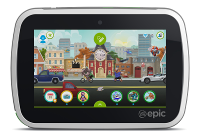 Age: 3-9 years
Suggested Retail Price: $139.99
Availability: AT RETAILERS NATIONWIDE
Company: LEAP FROG
Website: www.leapfrog.com/en-us/products/leapfrog-epic
LEGO FRIENDS POP STAR TOUR BUS
Description: Experience living like a pop star with the LEGO® Friends Pop Star Tour Bus! The Friends line offers realistic building paired with richly detailed elements and role play centered on the adventures of five girls who live in Heartlake City.

The Tour Bus has everything a pop star needs including three minidolls, DJ booth, pull-out rehearsal stage, a living area with TV and bed, bathroom, outdoor area with tables, an umbrella and more.

LEGO Friends lets builders employ their creativity to build the environment, then afterwards, have opportunities for imaginative play and endless storytelling.
Product Images: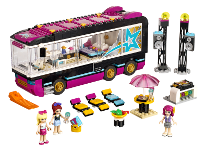 Age: 8-12 years
Suggested Retail Price: $59.99
Availability: shop.lego.com and in lego brand retail stores
Company: Lego
Website: shop.lego.com
SING ALONG ELSA
Description: Duet mode allows children to use the microphone to join Elsa in singing the full length version of the song "Let It Go".

She comes in three modes of play; instrumental version, full song, and full song with duet capabilities.

Sing-a-Long Elsa says 15+ phrases from the film.

Sing-a-Long Elsa sings in two languages, English and Spanish

Lyrics included in instruction sheet.

Doll requires three AAA batteries; microphone (included) requires two AAA batteries.
Product Images: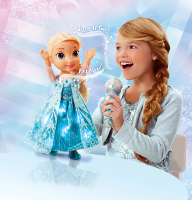 Age: 3+ years
Suggested Retail Price: $39.99
Availability: Retailers Nationwide
Company: Jakks Pacific
Website: www.jakks.com
STAR WARS R2-D2 INTERACTIVE ROBOTIC DROID
Description: Collectors and fans alike will love this Star Wars:The Force Awakens interactive 16 inch R2-D2.

Use the 10 buttons on the easy-to-use remote controller to program over 1,000 action combinations!

Command R2-D2 in all directions: forward, reverse, left and right, or turns.

Projects an image of Princess Leia on the wall!
Product Images: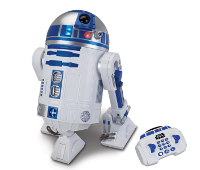 Age: 4+ years
Suggested Retail Price: $159.99
Availability: EXCLUSIVELY AT TOYS R'US
Company: Thinkway Toys
Website: www.thinkwaytoys.com
This SMT is sponsored by Thinkway Toys, Leap frog, Jakks Pacific, Lego, Rose Art