Sneak Peek - November 20th 2015
Doc McStuffins Pet Vet Checkup Center
Description: Equipped with everything a preschooler needs to pretend to take care of animals, the Doc McStuffins Pet Vet Checkup Center is an impressive and thrilling centerpiece for doctor role-play.

Future veterinarians will love reenacting pet checkups, just like Doc McStuffins does on the current season of the top-rated Disney Junior series.

With lights and sounds, the Checkup Center features over 25 exciting vet accessories and tools, including Findo (figure), light & sound x-rays, electronic stethoscope, treat dispenser, play scale, bath, kid-powered EKG, otoscope, bandage dispenser and more.
Product Images: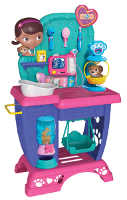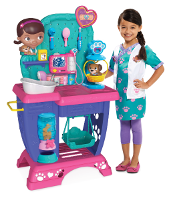 Age: 3+ years
Suggested Retail Price: $79.99
Availability: Available now at all major mass retailers (Toys R Us, Target, Walmart, Kmart)
Company: Just Play Products
Website: www.JustPlayProducts.com
Sit-to-Stand Ultimate Alphabet Train
Description: Designed to grow with children, this learning train can be used for floor play or as a ride on and transforms into a walker. When little conductors get older, the caboose converts into a wagon they can fill with toys and pull along to develop gross motor skills. Kids can play activities while learning letters, numbers, colors and more; build motor skills with manipulative features; and build vocab.
Product Images: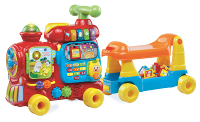 Age: 12-36 months
Suggested Retail Price: $49.99
Availability: VTechKids.com, Amazon.com, TRU, Target, Walmart
Company: VTech
Website: www.vtechkids.com/alphabettrain
Olaf Tsum Tsum Playset and Frozen Mega Figure Playset
Description: Frozen is still hot. The Disney store is the place to find it. Adorable plush toys that are stackable. Lift the lid to reveal many tsum tsum plush Elsa, Anna, Sven, snowgie , handles provide on the go Frozen mega figure playset, 20 piece mega figure set featuring Anna, Elsa, Christophe, laugh, sven and more perfect for inside play snowy day!
Product Images: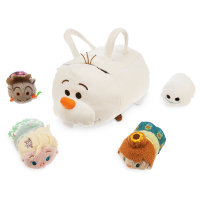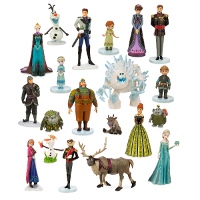 Age: Olaf - Any age; Frozen - 3+ years
Suggested Retail Price: Olaf Tsum Tsum $34.99; Frozen Mega Figure Playset $44.95
Availability: The Disney Store
Company: Disney
Website: disneystore.com
World of Nintendo Antigravity RC Racer
Description: This year, Nintendo celebrates 30 years of fanatical fun for the Super Mario franchise. To mark this monumental day in Mushroom Kingdom, Mario gets a new ride sure to impress Princess Toadstool. The two-in-one Anti-Gravity RC Racer speeds straight off the video game screen driving like a racecar and then shifts into "anti-gravity" mode. With the flick of a switch on the remote, the tires turn to the side, parallel to the floor, for a ground defying "hovering" effect mimicking Mario's best video game moves. The Racer can drive forward, backward and side-to-side in the "hover" and drift mode. The Mario figure sports his signature overalls, hat and mustache and can be controlled from up to 100 feet away.
Age: 8+ years
Suggested Retail Price: $99.99
Availability: Now at Target, Walmart, Kmart, ToysRUS, Amazon
Company: Jakks
Website: www.jakks.com
Guitar Hero Live
Description: Guitar hero live, the pop-culture phenomena is back. Two powerful ways to play. Including, a first person point of view where you were up on stage is the star of the live concert. Also includes GH TV, a 24 hour playable music video network. Allows fans to play along to continually updated collection of official music videos. Players compete with their friends as well as players from across the globe to battle for the highest score on any given song. Game includes a more authentic and completely redesigned you guitar controller, now featuring six buttons.
Product Images: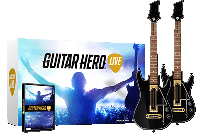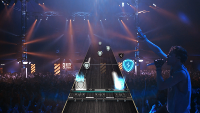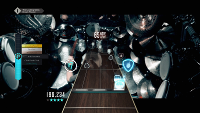 Age: Teen
Suggested Retail Price: $99
Availability: Retailers Nationwide
Company: Activision
Website: www.guitarhero.com