Summer Fun - June 8th 2015
Bestway Inc H20GO! Water Slides
Description: Designed to take the "ouch" out of backyard water slides, the innovative H2OGO! slides are the world's first line of water slides to feature the patent-pending Speed Ramp, a tough, inflatable launch pad that creates a smooth, big splash belly-flop landing while propelling riders into a superfast ride down the 18-foot slide. The addition of a Splash Lagoon beneath the Speed Ramp creates a drenching good takeoff, and funnels water throughout the entire slide, reducing friction and increasing speeds as riders skim their way through a gushing cascade towards the final deluge in the drench pool.

Easy to set up in just minutes, the H2OGO! water slides come in a single, double and triple model, adding a new level of interactive outdoor fun by allowing kids to compete against their friends for the title of neighborhood champion, while keeping cool all summer long.
Product Images: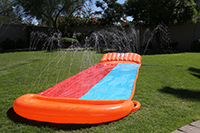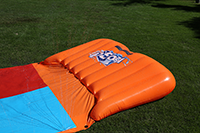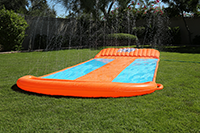 Age: 5-12 years
Suggested Retail Price: $9.99 for Single Slide; $14.99 for Double; $24.99 for Triple
Availability: Available now at Toys R' US, Amazon.com, Target.com and Walmart.com.
Company: Bestway Inc.
Website: www.h2ogoslides.com
Air Hogs Hyper Disc
Description: It Hovers! It Floats! It's the Air Hogs Hyper Disc, an inflatable flying disc that you can fill with helium or air!

Measuring 2 feet in diameter, the Hyper Disc flies like a Frisbee and floats like a blimp.

Its lightweight design makes it incredibly agile and easy to toss, roll, flip, and bounce!
Product Images: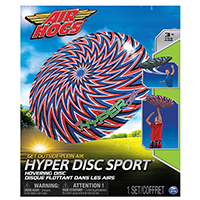 Age: 5+ years
Suggested Retail Price: $11.99
Availability: Available now at Major Retailers like Walmart and TRU
Company: Spin Master
Website: airhogs.com
Kidizoom Action Cam
Description: Following the huge success of the Kidizoom Smartwatch, one of the hottest tech toys of 2014, the Kidizoom Action Cam allows kids to play and capture their adventures with videos and photos on-the-go. The Action Cam is a great first video and photo camera for kids and is durable enough to handle drops and tumbles. It can go anywhere kids go, and do anything kids do with two included mounts so they can attach it to their bike, skateboard or scooter, making it perfect for interactive play and capturing life's adventures. It also comes with a waterproof case so they can take videos and pictures up to 6' underwater - perfect for budding snorkelers and splashing fun. The Action Cam features a 1.4" color LCD screen and can take stop-motion videos and time-lapse photos in addition to regular videos and photos. Children can also explore their creativity with fun effects, frames and photo filters. It's easy to upload their photos and videos to a computer using the included micro USB cable so parents can choose to share them with family and friends. For even more fun, they can also play three exciting games.
Product Images: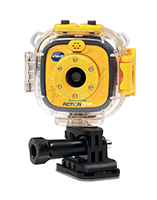 Age: 4+ years
Suggested Retail Price: $59.99
Availability: Available Now at Walmart and Walmart.com
Company: VTech
Website: www.vtechkids.com/ActionCam
LEGO Ningago Airjitsu Flyer and Dojo Showdown
Description: The very popular LEGO Ninjago line is back this year with some great new sets featuring popular characters such as Kai, Lloyd and Cole, and even some new characters.

In addition to construction sets, the Cartoon Network series, Ninjago: Masters of Spinjitzu is also back and coming soon, continuing the saga of one of the highest rated children's program on air today.

New Airjitzu action toys send LEGO minifigures airborne. Kids can launch ninjas into the air performing crazy spinjitzu moves with the new collectible Airjitzu sets.

Kai is in a thrilling tournament against the elements at the Dojo where he has to show off speed and agility to dodge dangerous obstacles.

Features trapdoor, fire prison, poison darts, spinning blade bot and 4 minifigures.

Detailed sets give and extremely rich storyline give children the chance experience role play and storytelling play based on building.
Product Images: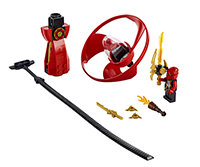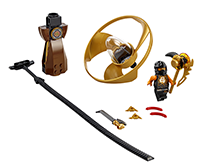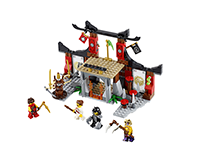 Age: Flyer 6+ years; Dojo 6+ years
Suggested Retail Price: Airjitsu Flyer - $9.99; Dojo Showdown - $24.00
Availability: Available now at shop.lego.com
Company: LEGO
Website: shop.lego.com
Tumblin' Talking Stuart Animatronic Plush
Description: Tumblin' Talking Stuart Animatronic Plush falls forward and back, but somehow always makes it back on his feet.

Has Talking & Talkback features that allow him to react to your voice by laughing and by talkingin the original movie voice with SFX!

Has plush body + plastic eye, goggle & feet!
Product Images: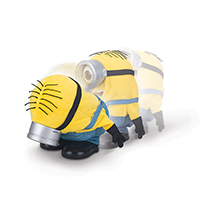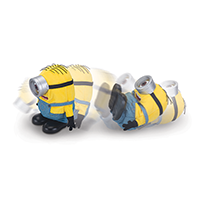 Age: 4+ years
Suggested Retail Price: $54.99
Availability: Available now at Walmart, Target, Toys"R"Us, Amazon
Company: Thinkway Toys
Website: www.thinkwaytoys.com
This SMT is sponsored by Bestway Inc., Spin Master, VTech, LEGO and Thinkway Toys