Toy Fair Sneak Peeks - February 13th 2015
Mutations: Pet Turtle to Ninja Turtle
Description: Fresh off a wildly successful 2014 in which the Teenage Mutant Ninja Turtles action figures were ranked the #1 selling toy according to the NPD Group, Playmates Toys, the company behind the popular toy line, is thrilled to reveal its all-new 2015 offerings during North American International Toy Fair. Inspired by Nickelodeon's hit TV series, Playmates Toys will introduce a new segment called Mutations, which is the company's biggest extension to date in its Turtles line. Part of the Mutations line includes the Pet Turtle to Ninja Turtle action figures.

Everyone knows the story - four baby Turtles fall down into a storm sewer, are doused with ooze and mutate into the Teenage Mutant Ninja Turtles. Now, kids can recreate the mutation over and over again with the Pet Turtle to Ninja Turtle action figures. Fun and easy, kids can transform the four Heroes from pet turtles to 5.5", fully articulated Ninja Turtle action figures, each coming with their signature weapon and ready to fight evil everywhere! The collection includes the 4 Turtles; Leonardo, Donatello, Michelangelo and Raphael. The figures, available now at major retailers, are recommended for children ages 4 and up for a SRP of $12.99 each.

In just a few easy steps, kids can transform the four heroes from pet turtles to realistic 5.5", fully articulated Ninja Turtle action figures.

Provides kids with a unique Ninja play experience, where they can bring their favorite Turtles to life.

Encourages open-ended play, as kids can use their imaginations as they re-create the ooze mutating process.
Product Images: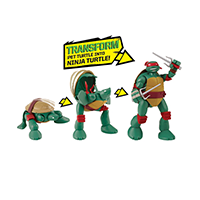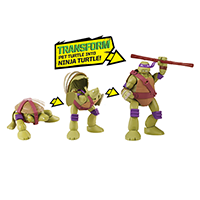 Age: 4+ years
Suggested Retail Price: $12.99 each
Availability: Now at major retailers
Company: Playmates Toys
Website: www.playmatestoys.com
LEGO Friends, Heartlake Grand Hotel
Description: LEGO Friends is one of the most popular LEGO themes in America.

LEGO Friends offers realistic building and role play inspired by the adventures of girls and boys who live, work and play in Heartlake City.

This year, there is a fun travel & tourism theme that includes this amazing Heartlake Grand Hotel!

The details in the Heartlake Grand Hotel are endless, including the a working LEGO elevator, a lobby with chandelier and baby grand piano, fountain and five figures. There's even a great taxi cab to build!

What's even cooler is that each of the rooms of the hotel can be rearranged, so builders can literally build the hotel of their dreams and then role play their ultimate vacation!
Product Images: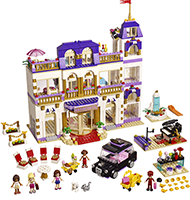 Age: 8+ years
Suggested Retail Price: $129.99
Availability: August 2015 at shop.lego.com
Company: LEGO
Website: www.shop.lego.com
GO! GO! Smart Friends Busy Sounds Discovery Home
Description: The interactive house features seven MagicPoint locations that encourage imaginative play and emphasize cause-and-effect relationships. Simply place Miss Norah on one of the MagicPoint locations to experience her friendly personality, motion, lights and more. Put Miss Norah in the elevator and watch as it magically moves up and down. Activate the MagicChat feature in the playroom, and hear Miss Norah and other MagicPoint characters (sold separately) chat and sing with each other. Develop fine motor skills while exploring Miss Norah's home and playing with the rocking swing, light-up fireplace and flushing toilet. Miss Norah also responds to other MagicPoint locations on Go! Go! Smart Friends accessories and playsets.
Product Images: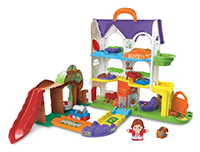 Age: 1-5 years
Suggested Retail Price: $49.99
Availability: Available now at Toys "R" Us and at other retailers later this year
Company: VTech
Website: www.vtechkids.com
Dohvinci Color Mixer Kit
Description: Let your creativity flourish with DOHVINCI design kits; a unique art experience from the makers of PLAY-DOH brand modeling compound. DOHVINCI features a unique design compound and an innovative Styler tool that together deliver a creative experience that is highly intuitive, enjoyable and completely engrossing for kids of all ages! Simply pop your favorite color into the Styler and squeeze to easily create your own beautiful 3D designs. With so many colors and application techniques, no two designs will be the same, and since the design compound sticks to other surfaces such as wood, glass, ceramic, and paper - the creative possibilities are endless!

This Spring, it is time to remix your creativity with the introduction of new DOHVINCI COLOR MIXER Kit! Kids can now create their own custom color blends and add personal flair to new design kits such as the BUTTERFLY WALL ART Kit! Then this Fall, the DOHVINCI brand focuses on the "Show" and the "Glow" with the SPOTLIGHT SPIN STUDIO Kit. This motorized design-and-display turntable allows you to add even more style to 3D objects such as Flower Vases, Mirrors, Frames, and more! Once done designing, turn on the light show to watch your creations glow!

Remix your creativity by creating custom color mixes with the DOHVINCI COLOR MIXER kit.

Now any DECO POP tube can be refilled into a unique color mix. Simply pop the plug out of an empty tube, twist the wheel to choose a color, then press. Add as many colors as you'd like!

Once the mix is created, pop the tube into the Styler, then aim, squeeze, and design with swirls of color.

This complete kit includes three different-colored Deco Poptubes, one empty tube, and a Pop-Up art project to keep and display.
Product Images:
Age: 6+ years
Suggested Retail Price: $14.99
Availability: Spring 2015 at most major toy retailers nationwide
Company: HASBRO
Website: www.hasbrotoyshop.com
Little Live Pets Owl and Baby Bird
Description: Little Live Pets Owl and Baby Bird are the new tweet talking birds to join the flock of Little Live Pets. These adorable new owl families sing and talk to each other. The mother owl even teaches baby bird how to sing! The closer they are, the happier they become. Help the mother owl feed and nurture her baby! There are three Owl families to collect.
Product Images: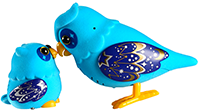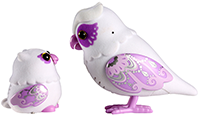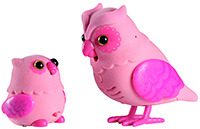 Age: 5+ years
Suggested Retail Price: $19.99
Availability: Spring 2015
Company: Moose Toys
Website: www.littlelivepets.com
This SMT is sponsored by Playmates Toys, Moose Toys, Hasbro, VTech, LEGO