Holiday Toys Sneek Peaks - November 11th 2014
Sit-to-Stand Smart Cruiser
Description: The Sit-to-Stand Smart Cruiser provides a 2-in-1 play experience so kids can cruise into the learning zone.

It features an interactive steering wheel that is removable so it starts as a floor play toy, then grows with a child and transforms into a ride-on toy.

Kids can turn on the engine, move the gear shifter, press the horn and hear more than 80 songs, melodies, sounds and phrases that introduce animals, opposites and more.
Product Images: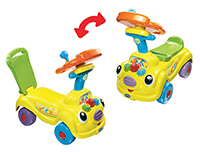 Age: 6-36 months
Suggested Retail Price: $39.99
Availability: Available now online and at major retail locations nationwide
Company: VTech
Website: www.vtechkids.com
Tsum Tsum
Description: Disney's iconic characters are cuter than ever with the "Tsum Tsum" Plush Collection.

Fans of all ages can collect these soft and stackable characters including Disney favorites like Mickey and Minnie Mouse, Dumbo, Stitch, Chip and Dale and many more.

With the holiday season upon us, these mini Tsum Tsums retail for $5, making them the perfect stocking stuffer.
Product Images: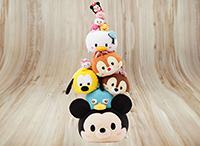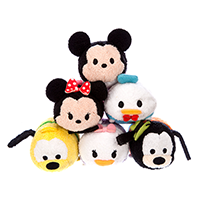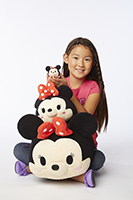 Age: 3+ years
Suggested Retail Price: Mini $4.95, Medium $12.95, Large $24.95
Availability: Available now online at DisneyStore.com, in select Disney Store locations
Company: Disney
Website: disneystore.com/TsumTsum
Mega Bloks SpongeBob SquarePants - Krusty Krab Attack
Description: All-new this Fall for kids 5 and up, is the Mega Bloks SpongeBob SquarePants construction line, which includes this set, inspired by the show's iconic eatery, the SpongeBob SquarePants Krusty Krab Attack by Mega Bloks.

The Mega Bloks Krusty Krab Attack comes with familiar characters - SpongeBob, Plankton, Mr. Krabs, Squidward, and evil robot minions micro action figures - and action-reaction features like manual dish and patty launchers and a collapsing sign, for hours of building and reenacting fun storylines!

Combine the Krusty Krab Attack with other playsets from the Mega Bloks SpongeBob SquarePants line to build your very own wacky world of fun in Bikini Bottom.
Product Images: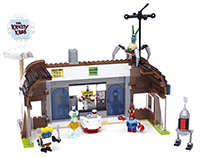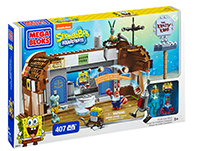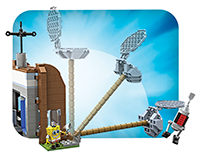 Age: 4+ years
Suggested Retail Price: $29.99
Availability: Now at major retailers including Wal-Mart, Target, Toys R Us and Amazon
Company: Mega Brands
Website: www.megabloks.com
Simon Swipe Game
Description: This bold new game is a modern take on the classic recall challenger SIMON game.

With hypnotic colors, flashing lights, cool sounds, and gameplay based on a smooth swipe action, the SIMON SWIPE game starts easy and then speeds up with patterns you'll have to move quickly to repeat.

Tap or swipe, but don?t get it wrong! For one player or a party of friends. Four games, 16 levels of frantic fun!
Product Images: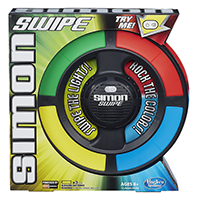 Age: 8+ years
Suggested Retail Price: $19.99
Availability: Now at all major retailers
Company: Hasbro
Website: www.hasbro.com
Infinity Marvel Super Heroes
Description: In Disney Infinity 2.0, players use real-world interactive figures to activate original storylines in the virtual game worlds of popular Marvel franchises - called the playsets.

Additionally, players can create new adventures with Disney Infinity characters in the Toy Box mode - where imaginations can run wild!

The Disney Infinity: Marvel Super Heroes starter pack is available for all major video game systems and features the 2.0 game software, the Disney Infinity 2.0 Base, Marvel's The Avengers Play Set with three character figures (Iron Man, Black Widow and Thor), two Toy Box Game Discs, a web code card and countless hours of creative play in the all-new Toy Box 2.0.

This year, more than 20 Marvel Super Heroes will join the Disney Infinity universe including Iron Man, Black Widow, Thor, Spider-Man, Hulk and Rocket Raccoon.

The game features true-to-property stories, called Play Sets and an enhanced Toy Box mode with new tools that make it easier than ever for players to create unique games featuring any combination of Marvel characters, gadgets and locations.

Every character and power discs from the original Disney Infinity game is playable in this year's Toy Box, which means players can create amazing stories featuring Marvel Super Heroes and some of Disney and Pixar's most iconic characters.

Marvel's Spider-Man and Guardians of the Galaxy Play Sets, along with additional figures from those worlds, will be sold separately.
Product Images: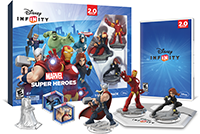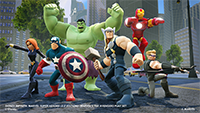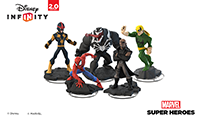 Age: 10+ years
Suggested Retail Price: Starter Pack $74.99, Play Sets $34.99, Disney Infinity Figure $13.00, Power Disc Pack $4.99
Availability: Now at all major retailers and online
Company: Disney Interactive
Website: www.disney.com/infinity
This SMT is sponsored by VTech, Disney, Mega Brands, Hasbro, Disney Interactive