Holiday Toys Sneak Peeks - 10 November 2014
LeapTV
Description: LeapTV has been identified as one of the must-have holiday items for kids this year by Toys R Us, Walmart, Target and many others.

LeapTV gets kids into the action while teaching a range of skills across reading, mathematics, science and problem solving.

Provides first-time players with three ways to play, motion control, pointer play, and a classic controller mode. Using LeapTV's camera, children are put right into the game seeing themselves dance, play sports and more while they experience curricular challenges along the way.

Leap TV also includes a transforming gaming controller that has been specifically designed for children's small hands and limited dexterity. In its regular configuration, it enables classic gameplay, but with the simple press of a button it easily transforms into a motion controller and LED pointer controller.

Library of 100 game cartridges, game downloads and videos (by the end of the year) all designed or approved by LeapFrog's team of gaming and learning experts.

The LeapTV system includes console, motion-sensing camera, camera mount, transforming controller with wrist strap, HDMI cable, 16GB of memory and built-in Wi-Fi for downloading apps (sold separately).
Product Images: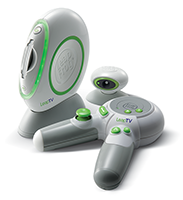 Age: 3-8 Years
Suggested Retail Price: $149.99
Company: LeapFrog
Website: www.leapfrog.com/en-us/products/leaptv
Imaginext® Supernova Battle Rover
Description: Here's the ultimate Imaginext® space experience - the Battle Rover that's a giant vehicle playset with an amazing, removable space shuttle in one! It has everything a young space explorer needs to create the most out-of-this-world imaginative adventures again and again. Playset includes: projectiles; disk launchers; an alien-detecting chamber that lights up; 19 lights and over 200 unique sound effects and phrases; a transforming and removable space shuttle with its own projectile launchers and sounds; a kid-activated control panel; pull-out drill, saw blade and crane; three figures and a small vehicle. With so much to hear, see and do, this colossal vehicle will take kids' imaginations into another galaxy!
Product Images:
Age: 3-8 Years
Suggested Retail Price: $119.99
Availability: September 2014, available at Toys R Us
Company: Fisher-Price
Website: www.fisher-price.com/en_US/brands/imaginext/products/83058
Kurio Xtreme
The Ultimate Tablet Built for Kids
Description: Kurio Xtreme is a 7" Wi-Fi enabled Android 4.4 (KitKat) kid tablet that delivers ultimate fun with ultimate safety. It includes 10 exclusive Kurio Motion games - the first body motion games on a tablet - that get kids jumping, running and moving as they play sports, racing and learning games. But, that's not all. This tablet is fully loaded with more than $300 worth of free content - premium games, e-books, music, apps and more. Thousands of more kid-safe apps can be accessed through the curated Kurio Store, and with this Google Certified tablet parents can choose age appropriate content from the millions of apps available through Google Play™. New COPPA-complaint, kid-safe social content includes an e-mail application monitored and filtered by parents, as well as social networking apps. Parent-friendly added features include: 24/7 customer care right from the tablet through the Kurio Support and Kurio SOS apps, including live chat with tech experts and remote support; a Common Sense Media app and guide to help parents pick the right content for children; and more customizable app management, time control and advertisement control features. Plus, everything parents expect and trust from Kurio: a robust Kurio Genius Internet filtering system covering 500+ million websites in 170 languages to block inappropriate content; a password protected Parent Area; and the ability to create up to eight individual user profiles. Features an Intel© Atom™ processor, Bluetooth technology and 16 GB of internal memory (expandable to 40GB with Micro SD Card). Includes a blue protective bumper and Kurio Motion stand. Additional accessories sold separately

Techno Source's award-winning original and licensed product portfolio includes Kurio, the Ultimate Android Tablet Built for Kids, NFL Rush Zone board games, 20Q®, Tetris®, Electronic Touch-Screen Sudoku™ and Where's Waldo? ®.
Product Images: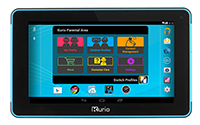 Age: 6+ years
Suggested Retail Price: $129.99
Availability: Available October 2014 in store and online at Best Buy, Kmart, Target and Toys'R'Us, as well as at Walmart.com
Company: Techno Source
Website: www.TechnoSourceUSA.com
Beados Quick Dry Design Station
Description: The Beados Quick Dry Station is the all-in-one kit for creating plenty of Beados fun! The included 500 beads, two display trays, six design templates, spray bottle and quick dry fan give kids everything they need to create cute designs and dry them in half the time. Bead Pod storage makes organizing beads by color easy and clean up a breeze, while the included suction cups, display stand and connector give kids a way to play with and display their creations.
Product Images: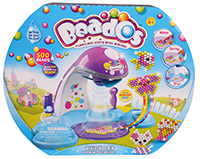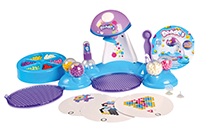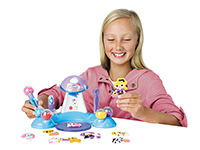 Age: 4+ years
Suggested Retail Price: $19.99
Availability: Currently available at all major retailers in-store and online
Company: Moose Toys
Website: www.beadosbeads.com
DUPLO Batcave Adventure Set
Description: The LEGO DUPLO line introduces children to the world of construction play with bigger bricks and fun.

The expanded line offers a variety of preschool play options such as role play, creative play and learning play.

Open-ended sets and loose bricks encourage free form building.

Stories and characters that children love, such as Superman and Batman, help inspire storytelling.

The perfect sets to begin a child's building career because DUPLO bricks are 100% compatible with classic LEGO bricks.
Product Images: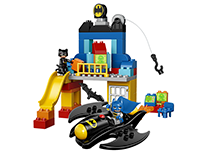 Age: 18 months - 5 years
Suggested Retail Price: $49.99
Availability: Currently available at all major retailers in-store and online
Company: Lego
Website: shop.lego.com/en-US/DUPLO-ByTheme
This SMT is sponsored by Leap Frog, Moose Toys, Fisher-Price, Lego, Techno Source