Holiday Toys In-studio November/December
Y Fliker LIFT Scooter
Description: Y Fliker LIFT, the newest addition to Yvolution's Y Fliker range of innovative, three-wheeled self-propelling scooters, offers kids the most extreme ride yet. Riders can carve, drift, spin 360-degrees, and now, pop wheelies like never before-forwards and even sideways! Thanks to the scooter's patent-pending, revolutionary lift technology, all kids need to do is pick up speed, then simply lean back and "Lift." Like other Y Fliker scooters, this scooter is all kid-powered. Using the same motions as downhill skiing, riders only need to move their hips and legs from side to side to get going and keep moving. This cool ride features a sleek design, steel frame with internal break cables, free-spinning trick handle bar and an angled steering column for more extreme riding stance. It also has polyurethane wheels for a smooth ride, anti-vibration rubber hand grips for comfort, a quick response hand brake for safety, and a twist & fold mechanism for easy transport and storage.
Product Images: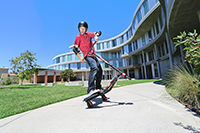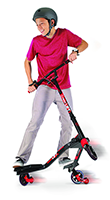 Age: 7+ years (max weight 220 lbs)
Suggested Retail Price: $149.99
Availability: Available exclusively at Toys'R'Us stores nationwide and online at www.Toysrus.com/Yvolution
Company: Yvolution
Website: www.Toysrus.com/Yvolution
Twista 2-in-1 Training Bike
Description: The Twista is the latest advancement in balance bikes. This 2-in-1 training bike to balance bike grows with a child as they build confidence and develop their steering and balance skills. It features innovative wheel adjustment technology that gives kids two ways to ride. Stage 1, Training mode, allows the bike's double rear wheels more separation to give toddlers extra stability as they learn to balance and ride. As a child gets older and their motor skills advance, parents can easily switch to Stage 2, Balance Bike mode, using Yvolution's "Twist & Click" feature. The rear wheels will move closer together, allowing the child to progress with their balance skills as they run and cruise. Kids who ride balance bikes are more likely to start riding regular two-wheeled pedal bikes without the use of outdated training wheels or stabilizers. Twista features a height-adjustable cushioned seat and adjustable handle bars with comfortable rubber hand grips, as well as shock-absorbing rubber wheels.
Product Images: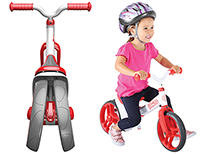 Age: 1.5-4 years (max weight 44 lbs)
Suggested Retail Price: $79.99
Availability: Available exclusively at Toys'R'Us stores nationwide and online at www.Toysrus.com/Yvolution
Company: Yvolution
Website: www.Toysrus.com/Yvolution
LeapTV
Description: LeapTV has been identified as one of the must-have holiday items for kids this year by Toys R Us, Walmart, Target and many others.

LeapTV gets kids into the action while teaching a range of skills across reading, mathematics, science and problem solving.

Provides first-time players with three ways to play, motion control, pointer play, and a classic controller mode. Using LeapTV's camera, children are put right into the game seeing themselves dance, play sports and more while they experience curricular challenges along the way.

Leap TV also includes a transforming gaming controller that has been specifically designed for children's small hands and limited dexterity. In its regular configuration, it enables classic gameplay, but with the simple press of a button it easily transforms into a motion controller and LED pointer controller.

Library of 100 game cartridges, game downloads and videos (by the end of the year) all designed or approved by LeapFrog's team of gaming and learning experts.

The LeapTV system includes console, motion-sensing camera, camera mount, transforming controller with wrist strap, HDMI cable, 16GB of memory and built-in Wi-Fi for downloading apps (sold separately).
Product Images: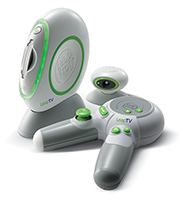 Age: 3-8 Years
Suggested Retail Price: $149.99
Company: LeapFrog
Website: www.leapfrog.com/en-us/products/leaptv
Little People Photo Discovery
Description: A love of learning starts with play! The Fisher-Price™ Little People™ Photo Discovery is an educational matching game for the little photographers in your family. Kids can go on an adventure with their favorite Little People™ friends and discover a world of cute animals.

Little People™ Photo Discovery Game encourages thinking, problem solving, sharing and cooperation. The game includes a Discovery Camera, 20 photo slides, four frames and a spinner.
Product Images: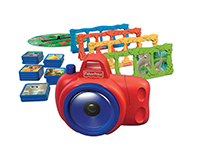 Age: 3+
Suggested Retail Price: $19.99
Availability: Exclusively at Toys 'R' Us
Company: Fisher-Price
Website: www.tcgtoys.com
Record & Learn KidiStudio
Description: Now children can perform and record like a rock star with the Record & Learn KidiStudio. Kids can explore a variety of musical instruments, adjust the tempo and sing-along to the music while recording a musical masterpiece to share with family and friends. The light-up keyboard lets them follow the lights and learn to play their favorite melodies. Kids can choose an instrument and use the keyboard to play that instrument's different sounds, or press the cymbal or tap along on the drum to add a beat to the song. They can even pretend to be a DJ with the scratch disc sound effect and speed up or slow down the tempo to match their style. Sing along to 20 melodies in Rock, Hip Hop, Jazz and Techno styles with a real voice-changing microphone.
Product Images: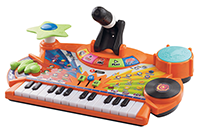 Age: 3-6 years
Suggested Retail Price: $39.99
Company: VTech
Website: www.vtechkids.com/product/detail/15462/Record_and_Learn_KidiStudio
Kidizoom Smartwatch
Description: The innovative, multi-function VTech Kidizoom Smartwatch is packed with robust features such as a camera, video recorder, fun photo effects and built-in games, in a wearable, kid-friendly, take-anywhere gadget.

It features a large, easy-to-use color touch screen, as well as more than 50 digital and analog clock displays, making it perfect for kids learning to tell time.

Other features include a rechargeable battery, alarm clock, timer, stopwatch, voice recorder and parental game controls, and it's available in four vibrant colors.

Parents can access the Learning Lodge app store to download even more games and watch displays.
Product Images: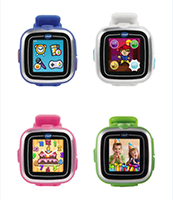 Age: 4+ years
Suggested Retail Price: $59.99
Availability: Now
Company: VTech
Website: www.vtechkids.com/brands/brand_view/smartwatch
Kurio Xtreme
The Ultimate Tablet Built for Kids
Description: Kurio Xtreme is a 7" Wi-Fi enabled Android 4.4 (KitKat) kid tablet that delivers ultimate fun with ultimate safety. It includes 10 exclusive Kurio Motion games - the first body motion games on a tablet - that get kids jumping, running and moving as they play sports, racing and learning games. But, that's not all. This tablet is fully loaded with more than $300 worth of free content - premium games, e-books, music, apps and more. Thousands of more kid-safe apps can be accessed through the curated Kurio Store, and with this Google Certified tablet parents can choose age appropriate content from the millions of apps available through Google Play™. New COPPA-complaint, kid-safe social content includes an e-mail application monitored and filtered by parents, as well as social networking apps. Parent-friendly added features include: 24/7 customer care right from the tablet through the Kurio Support and Kurio SOS apps, including live chat with tech experts and remote support; a Common Sense Media app and guide to help parents pick the right content for children; and more customizable app management, time control and advertisement control features. Plus, everything parents expect and trust from Kurio: a robust Kurio Genius Internet filtering system covering 500+ million websites in 170 languages to block inappropriate content; a password protected Parent Area; and the ability to create up to eight individual user profiles. Features an Intel© Atom™ processor, Bluetooth technology and 16 GB of internal memory (expandable to 40GB with Micro SD Card). Includes a blue protective bumper and Kurio Motion stand. Additional accessories sold separately

Techno Source's award-winning original and licensed product portfolio includes Kurio, the Ultimate Android Tablet Built for Kids, NFL Rush Zone board games, 20Q®, Tetris®, Electronic Touch-Screen Sudoku™ and Where's Waldo? ®.
Product Images: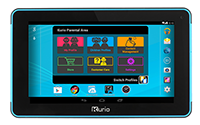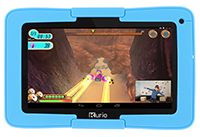 Age: 6+ years
Suggested Retail Price: $129.99
Availability: Available October 2014 in store and online at Best Buy, Kmart, Target and Toys'R'Us, as well as at Walmart.com
Company: Techno Source
Website: www.TechnoSourceUSA.com
Sponsors include Yvolution, Leap Frog, TCG, VTech, Techno Source