Ultra-Clean Washable Markers
Description: Ultra-Clean Washable Markers are the latest technology in washability and wash clean from skin, clothing and now from painted walls.

These markers also introduce a new generation of color - ColorMax colors - which provide the brand's brightest, truest colors yet.

Designed with educators and parents in mind, Ultra-Clean Washable Markers clean easily from most common household surfaces and are designed to wash out of clothing with only one cold water fabric wash.
Product Images: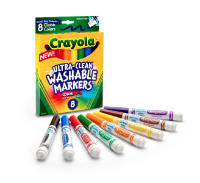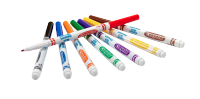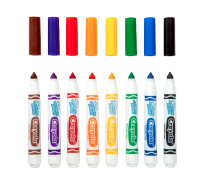 Age: 4+ Years
Suggested Retail Price: $3.99
Company: Crayola
Website: www.crayola.com/splash/products/ultra-clean/
Visi-Max Dry Erase Markers
Description: Visi-Max Dry Erase Markers are ideal for both students and teachers when utilizing any common whiteboard surface for class. These durable broad-line markers feature chisel tips that create a larger average line width for better classroom visibility. These low-odor markers erase easily and completely, minimizing staining or ghosting. The four count Crayola Visi-Max Dry Erase Markers includes vibrant red, green, blue and black. The eight count markers includes vibrant red, green, blue, black, orange, yellow, purple and black.

With Visi-Max Dry Erase Markers, teachers can help maximize the learning experience within a classroom by enhancing classroom visibility of notes written on a whiteboard surface during class. The markers offer larger average line width and noticeably bold, bright colors, with the added advantage of low-order and easy erase.
Product Images: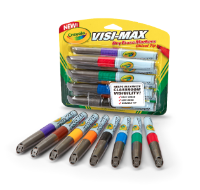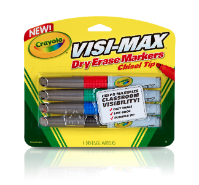 Age: 4+ years
Suggested Retail Price: Four count is $4.99; Eight count is $9.99
Company: Crayola
Website: www.crayola.com/products/visi-max-dry-erase-markers-broad-line-4-count-product/
Stride Rite
Description: Whether it's great style for the first day of school or comfort in a traditional school uniform shoe, Stride Rite stores and StrideRite.com have everything moms and kids need for this back-to-school season.

A new pair of shoes helps support kids staying healthy and active, while remaining comfortable, as they start school this year. And Stride Rite has the top styles and high quality sneakers, fashion flats and boots to help your kids rule the school in style this year. With over 400 different styles in the must have back to school trends, Stride Rite has your kids covered. Plus, we will help you make sure you find your size and get the right fit.

Stride Rite shoes are made just for kids; how they play, walk and run. They feature breathable materials like leather; many with anti-stink linings and soles are sturdy, lightweight and flexible for comfort giving mom piece of mind of a great looking shoe with even better value. Stride Rite has shoes starting at $30 and is great for kids up to big kid size 3.
Product Images:
Age: 3-8 years
Suggested Retail Price: Stride Rite Propel ($49), Stride Rite Osmond ($38), Stride Rite girls Propel sneaker ($49), Stride Rite Josette ($30), uniform shoes (starting at $46)
Availability: Local Stride Rite retailer, available now
Company: Stride Rite
Website: www.striderite.com
LEAP BAND
Description: 75% of children do not get the recommended 60 minutes of physical activity on a daily basis.

LeapBand is the first wearable activity tracker designed just for children that encourages active play and healthy habits while nurturing their very own personalized virtual pet - the perfect combination of the adult fitness wearable trend and the very engaging pet nurturing play pattern.

The LeapBand activity tracker gets kids moving and having fun with 50 different activities and challenges, tracking a child's physical moves so the more active a child is, the more points they earn with their virtual pet.

As the child earns points through active play, they can unlock additional games, challenges, levels of play and virtual rewards for their on-screen pet.

LeapBand has an aspirational fit-band style designed with children in mind, and high-tech features including a built-in accelerometer, a high-resolution color screen, a rechargeable battery and water-resistant design, making it the ultimate activity wearable for kids.
Product Images: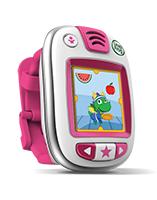 Age: 4-7 years
Suggested Retail Price: $39.99
Availability: Available online and at all retail locations
Company: LEAP FROG
Website: www.leapfrog.com/en-us/products/leapband
Mabel's Labels
Description: Our awesome kids' labels for school are a must have on your back-to-school shopping list. The pack includes 4 of our top sellers, Skinny Minis (great for lunch containers and school supplies), Tag Mates (our peel & stick clothing labels), Shoe Labels and Teeny Tags (perfect for the lunch bags and pencil cases).

All of our labels are dishwasher and microwave safe, waterproof and laundry safe, which means they are guaranteed not to peel, crack or fade when you wash them.

Stylish Scholars Combo: Our brand new label combo pack for back to school features a range of modern, refined, stylish designs perfect for scholars of all ages. Use these sophisticated labels on school supplies, water bottles, electronics - like tablets, chargers or cell phone cases - and much more!
Product Images: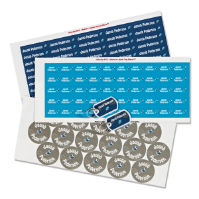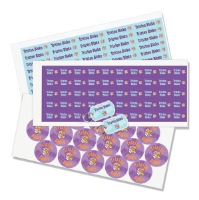 Age: Ultimate Back to School Combo: 0-8, Stylish Scholars: 10-30
Suggested Retail Price: Ultimate BTS Combo ($42), Stylish Scholars Combo ($42)
Availability: UBTSC and SSC: Available onmabelslabels.com until September 30, 2014; Walmart.com and Amazon.com
Company: Mabel's Labels
Website: www.mabelslabels.com/
Innotab 3S
Description: InnoTab 3S Plus is a value-packed children's learning tablet that lets kids learn, create and connect to the Internet using a kid-safe Wi-Fi connection, all for under $80!

The included VTech Premium Kid Connect app lets children can exchange text and voice messages, photos, drawings and fun stickers in real time with parents' smart phones and other InnoTab Wi-Fi tablets, as well as search VTech and parent-approved websites.

In addition to a Rechargeable Power Pack and 16 included apps, children will have access to more than 650 additional educator-endorsed, age and stage appropriate cartridges, software and apps that can be downloaded from VTech's Learning Lodge app store.
Product Images: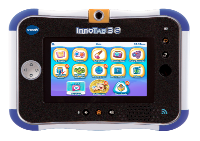 Age: 3-9 years
Suggested Retail Price: $79.99
Availability: Hitting shelves end of August
Company: VTech
Website: www.vtechkids.com/IT3SPlus
This SMT is sponsored by Leap Frog, Crayola, Mabel's Labels, Stride Rite, V-Tech