LEGO Friends, Jungle Rescue Base
Description: One of the best selling lines for The LEGO Group, LEGO Friends expands this year's line with the addition of the new Jungle theme.

LEGO Friends offers realistic building and role play focused on the adventures and stories of the girls who live, work and play in Heartlake City.

In 2014, the girls head out on new adventures in the jungle for expanded building, role play and storytelling opportunities for children.

The LEGO Friends line is 100% compatible with all other LEGO system brick sets so children can take characters into other worlds, combine sets and create their own environments for endless building.
Product Images: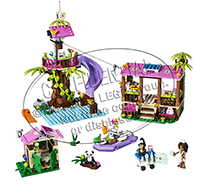 Age: 7+ years
Suggested Retail Price: $59.99
Availability: August 2014
Company: LEGO
Website: friends.lego.com/en-us?icmp=COUSFR4Friends
VTech Sit-to-Stand Smart Cruiser
Description: VTech develops award-winning infant and preschool learning toys, and they work with Educational Experts to ensure that they are appropriate for children as they reach age and developmental milestones.

The Sit-to-Stand Smart Cruiser provides a 2-in-1 play experiences and enhances sensory and language development, imaginative play and helps develop motor skills.

The interactive steering wheel is removable so it starts as a floor play toy, then grows with a child and transforms into a ride-on toy, and includes driving, learning and music modes.

Kids can turn on the engine, move the gear shifter and press the horn to hear realistic driving sound effects. They can also choose a destination from one of six places.

The cruiser features more than 80 songs, melodies, sounds and phrases and teaches animals, first words, sounds and more.
Product Images: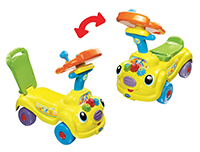 Age: 6-36 months
Suggested Retail Price: $39.99
Availability: Fall 2014
Company: VTech
Website: www.vtechkids.com/milestones
NERF N-SPORTS BASH BALL
Description: Grip it, whip it, slam it, kick it - the N-SPORTS BASH BALL is designed to play hard, no matter the game!

The durable, versatile BASH BALL features a unique hollowed NERF foam core with grip-able holes, allowing fans to make perfect passes and kicks with ease.

Innovative design makes the BASH BALL perfect for dodge ball, handball, volleyball, freestyle soccer, kickball and more!

Fans can choose between two colors, silver or navy.
Product Images: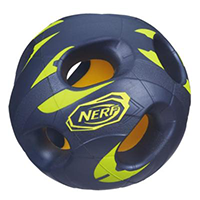 Age: 5+ years
Suggested Retail Price: $12.99
Availability: Spring 2014
Company: Hasbro
Website: www.hasbro.com/nerf/en_US/shop/details.cfm?R=BE3FCDF4-5056-9047-F5F0-26C2A9C7F562:en_US
Spirograph Design Sets (Spirograph Deluxe Set, Spirograph Design Tin, Super Spirograph)
Description: The Original Spirograph is back and better than ever! Precision engineered wheels and rings work with most all Pens, Markers and Pencils. Spirograph makes it easy for anyone to create Millions of intricate and beautiful designs.

Available in 3 sizes, Design Tin, Deluxe Set and the new Super-Spirograph, which features a "Golden", die-cast #50 wheel to commemorate the upcoming 50th anniversary of the invention of Spirograph

The Reusable Spiro-putty holds the pieces in place so there aren't any holes in your paper. Spiro-putty lets you draw Spirographs on all sorts of surfaces, like envelopes & cards.
Product Images: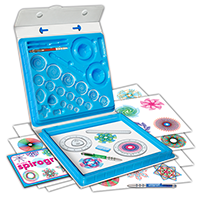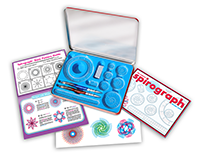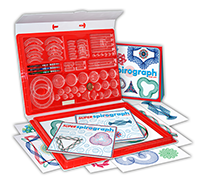 Age: 8+ years
Suggested Retail Price: Spirograph Deluxe Set - $24.99, Spirograph Design Tin - $14.99, Super Spirograph - $39.99
Availability: The Deluxe and Tin are available now. The 50th Anniversary Super Set with the metal gear will be available in August. Spirograph products are available at over 1,100 Specialty Toy Stores, Toys R Us , & Several On-line establishments.
Company: Kahootz Toys
Website: www.OriginalSpirograph.com
Toca Lab
Description: Toca Lab allows kids to explore the periodic table of elements like never before, breaking down the complexity and abstract nature of science, specifically chemistry, into a fun play experience. Each of the 118 elements come "alive" with their own unique personality that is both humorous and entertaining.

Toca Lab combines the periodic elements with all the equipment one might need to conduct electrifying experiments - a Bunsen burner, centrifuge, oscilloscope, cooling agent, and test tubes - to take kids' imagination, creativity and discovery to a new level.

For the youngest scientist, exploring the whimsical 118 elements and concepts like consistency, temperature, and the reaction of blending things together will provide hours of fun while older kids might like digging in a bit deeper to figure out things like...Is Gold heavy or light? What color is Carbon? Is Nitrogen squishy or hard? What does Neon sound like?

Toca Boca characters are gender neutral.

Toca Boca digital toy apps inspire creativity and collaboration through open-play.

Toca Boca digital toy apps have no rules, levels, narration, ads or in-app purchases micro-transactions.
Product Images: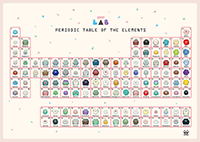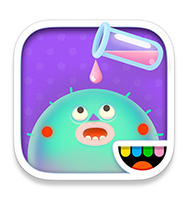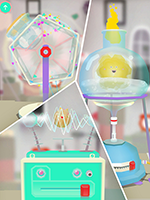 Age: 3-8 years
Suggested Retail Price: $2.99
Availability: Available now at App Store and Amazon App Store
Company: Toca Boca
Website: tocaboca.com/game/toca-lab/