Werner Last Minute December
Lego City Coast Guard Patrol
Description: CITY is one of the oldest, most beloved lines across the world.

This year's line features a combination of classic CITY downtown heroes, including fireman, police and coast guard patrol.

The line is a great bridge from younger play sets to more directed play by incorporating directions and strong role play story.

Coast Guard Patrol set includes multiple vehicles and minifigures for an immersive role play environment - helicopter, submarine, dinghy, coast guard boat and lighthouse!

Includes 6 minifigures with accessories - pilot, captain, crew member, rescuer and man and woman.

Coast Guard Patrol boat and dinghy really float!

Spinning helicopter rotors and submarine turning propeller.
Product Images: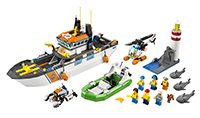 Age: 5-12 years
Suggested Retail Price: $79.99
Company: Lego
Website: shop.lego.com/en-US/Coast-Guard-Patrol-60014
MY LITTLE PONY FEATURE PRINCESS TWILIGHT SPARKLE Pony
Description: PRINCESS TWILIGHT SPARKLE pony is the most interactive MY LITTLE PONY friend to date.

This magical pony will respond to touch and motion; simply touch her cutie mark and she will move her head and blink her eyes as she awakens.

Her iridescent turquoise wings and unicorn horn illuminate with a touch, creating enchanting patterns of light.

Push her along and watch as PRINCESS TWILIGHT SPARKLE pony's wings flutter as if she was getting ready to take flight!
Product Images: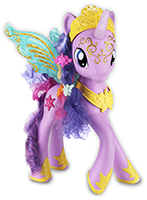 Age: 3+ years
Suggested Retail Price: $49.99
Availability: All mass retailers
Company: Hasbro
Website: www.hasbro.com/mylittlepony/en_US/ponies/twilight-sparkle.cfm
529 College Savings Plan
Description: With the rising cost of tuition, saving for college has become a family affair.

This holiday season, why not consider investing in your kids' and grandkids' future by giving them the gift of higher education. Just $25 or $50 invested can make a big difference over the long term. This year, consider the gift that keeps on giving - a 529 college savings plan in the form of a gift certificate. It's the equivalent of stuffing their stockings with big dreams.

And here's a bonus...leading financial services provider TIAA-CREF is offering one lucky winner the chance to win $100,000 towards a 529 college savings plan through its Big Dreams Start Small Contest. No catch. All you have to do is submit a photo and a caption, showing how your loved one dreams big for the future. Go to https://bigdreams.aarpcollegesavings.com to learn more and enter. Imagine how $100,000 could jump start your loved one's future!
Product Images: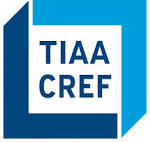 Age: n/a
Suggested Retail Price: n/a
Company: TIAA-CREF
Website: bigdreams.aarpcollegesavings.com/
Ariel's Musical Light Up Dress, Ariel's Musical Instrument Set, Ariel's Musical Surprise App
Description: When the "Ariel's Musical Surprise" app is played with select Little Mermaid toys from JAKKS Pacific, Ariel's beautiful underwater world and iconic music from the film come to life! The app is FREE to download in the Apple Store and uses 2D and 3D recognition technology to take play to the next level.

On its own, the Ariel dress features a motion sensor that triggers magical lights and "Under the Sea" begins to play when little girls dance around. When the app is used while wearing the dress, an enchanted school of fish appear to lead girls in Little Mermaid dance lessons - including a Calypso, the Waltz and more.

With the Instrument Set featuring bongos, a tambourine, 2 maracas, a trumpet and microphone, kids can create their own crustacean band. By using the app with the bongo drums, Sebastian the crab magically appears creating an interactive mimic game. Additionally, children can invite all of the fish from Ariel's grotto to join them in their under-the-sea band.
Product Images: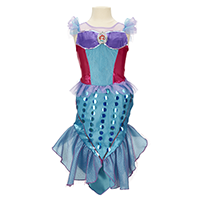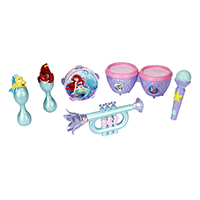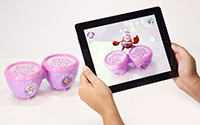 Age: 3+ years
Suggested Retail Price: Light Up Dress - $34.99, Instrument Set - $19.99, Surprise App - Free to download
Company: Jakks Pacific
Website: www.jakks.com
InnoTab 3S Wi-Fi Learning Tablet
Description: InnoTab 3S is the ONLY children's learning tablet with VTech Kid Connect.

Kid Connect is a unique, ground-breaking family communication app that brings families together and helps parents stay connected to their kids - anytime, anywhere!

With easy-to-use tablet-to-mobile communication, preschoolers as young as three can send voice messages to parents' smartphones, from a kid-safe, kid-friendly tablet.

Kids can also send text messages, animated stickers, photos and drawings.

In return, parents can send messages back to their child's InnoTab 3S, opening up an interactive dialogue.

Plus, kids can stay connected to their friends and siblings by exchanging messages safely between two InnoTab 3S tablets anywhere in the world, regardless of how far apart they are.

Premium Kid Connect subscription, available on VTech's Learning Lodge app store, offers the enhanced features of voice messages, photos and drawings.

InnoTab 3S also features a kid-safe web browser, rechargeable battery and 20 free apps.

As a special for the holiday season, the price on the InnoTab 3S has dropped from $99.99 to $79.99.
Product Images: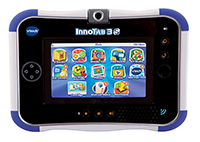 Age: 3-9 years
Suggested Retail Price: $79.99
Company: VTech
Website: www.vtechkids.com/brands/brand_view/innotab3s