Werner Holiday Toys November/December
LeapPad Ultra by LeapFrog
Description: LeapPad Ultra, the ultimate learning tablet for children, is the only tablet designed for kids from the ground up.

This is the tablet that moms want and kids will love.

Not only is LeapPad Ultra kid-tough but works with a library of 800+ fun and engaging games, interactive apps, eBooks, videos, music and more, all designed or approved by LeapFrog's own full-time, in-house team of learning experts.

Only LeapPad Ultra features a kid-safe web content experience, LeapSearch™, created in partnership with Zui™, a leading children's browser developer. LeapSearch is kid-ready out of the box and delivers an experience that parents can trust. Children can use LeapSearch to watch and explore a controlled selection of 100% kid-appropriate web content that has been reviewed and approved by LeapFrog's Learning Team.
Product Images: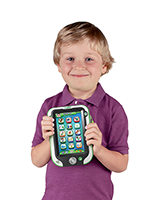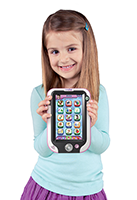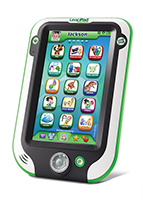 Age: 4-9 years
Suggested Retail Price: $149.99
Availability: Available at leapfrog.com and major online and retail locations
Company: LeapFrog
Website: www.leapfrog.com/LeapPadUltra
The Original World's Softest Brand Stuffed Animals
Description: Kids want tech toys and tablets, but nothing replaces the warmth from hugging the world's softest teddy bear. Kids have an emotional attachment to their very first stuffed animal. Many people still have theirs today.

Thousands of people in malls across the country recently participated in the World's Softest Teddy Bear Blindfold Challenge. Kids and adults of all ages took the teddy bear hug test and nine out of 10 people agreed that The Original World's Softest Brand stuffed animals are indeed, the softest!

For plush, not only are these incredibly soft, but very lightweight and a great value for the size.
Product Images: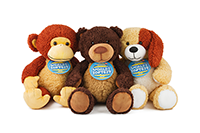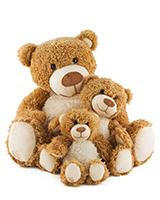 Age: 0+ years
Suggested Retail Price: Assorted sizes available: 8" ($4.99), 12" ($9.99) and 20" ($19.99)
Availability: Available now exclusively at Toys"R"Us and Toysrus.com
Company: Toy Island
Website: toysrus.com
VTech 2-in-1 Shop & Cook Playset
Description: The VTech 2-in-1 Shop & Cook Playset(tm) transforms from a shopping cart to a kitchen in only a few simple steps.

The cart responds with fun phrases and sounds when food is placed inside, and when kids are ready to cook their meal, the cart easily transforms into a play kitchen complete with a sink, oven, stove burner, and cutting board.

The playset encourages pretend play and exploration while teaching about food, colors, numbers, music, following directions and more.
Product Images: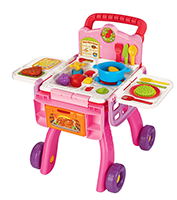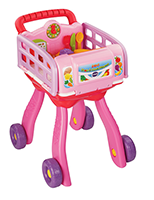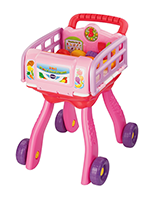 Age: 2-5 years
Suggested Retail Price: $49.99
Availability: Available now at all major retailer.
Company: VTech
Website: www.vtechkids.com/product/detail/13424/2_in_1_Shop_and_Cook_Playset___Pink
RoseArt Magic Fun Dough
Description: Dough just got a magic makeover with all-new Magic Fun Dough by RoseArt. Kids ages 3 and up will love squashing, rolling, decorating and playing with Magic Fun Dough. Easy-to-apply, full-color transfers help kids bring their ideas to life as they practice imaginative play in themed environments. Once they're done creating colorful characters, they can smash the art back into the dough for endless play. The dough won't change color or texture!

While playing with dough never gets old, new Magic Fun Dough introduces a new way for kids to play with dough. They combined the fun of traditional dough play with the appeal of playing with temporary tattoos. Only with this product, kids put the transfers on their dough to create new characters.

Magic Fun Dough is specially formulated to absorb the colored transfers back into the dough without changing the color or texture of the dough, that's part of the magic!

This is a great battery-free, screen-free, under $20 gift item for any young children on your list.
Product Images: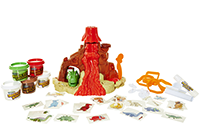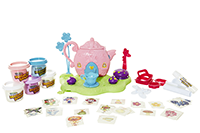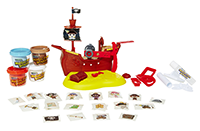 Age: 3-7 years
Suggested Retail Price: $9.99, $14.99, and $19.99
Company: RoseArt
Website: www.roseart.com/products/magic-fun-dough
Little Pim
Description: Little Pim makes it easy for kids to learn a foreign language. The award winning children's language learning program is available in 11 languages including Spanish, French, Chinese and Italian on videos, music, books, flash cards, gift sets and more. Additionally, Little Pim has introduced a special-edition product line now available exclusively at select Toys"R"Us stores nationwide. The new Spanish, Chinese, and English "Discovery Sets" each include three DVDs and a Little Pim plush panda toy, which are sure to make learning a new language fun and easy for kids everywhere.

Little Pim's award-winning portfolio of language learning tools makes it fun and easy for children to learn a second language.

Kids learn best and soak up new languages before age 6! Little Pim helps families take advantage of this brief window, by making language learning easy, fun and effective.

Little Pim is available in 11 languages including Spanish, French, Chinese and Italian on videos, music, books, flash cards, gift sets and more.

Get Little Pim on Leapad too!
Product Images: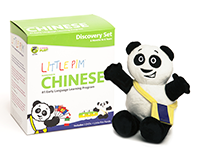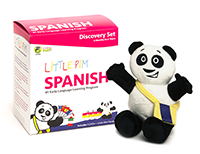 Age: 0-6 years
Suggested Retail Price: The Little Pim special edition Discovery Sets retail for $39.95 exclusively at select Toys"R"Us nationwide and at toysrus.com. But they have a whole portfolio of language learning tools like flash cards, books, apps and more. All this is available online at Littlepim.com
Company: Little Pim Corporation
Website: www.littlepim.com
POPAR Interactive 3D Charts
Description: Hang this Human Anatomy 3D Chart from Popar (pronounced "pop") Toys on your wall. Then use the free app on any Android or Apple smart device to make the human body come to life! You can see the muscle structure, strip that off to see the skeleton, zoom in to organs, even go down the throat to see the digestive system!

With the Interactive Periodic Chart, let's say you want to learn about hydrogen and what elements and can bond with. The app will light up all the elements that Hydrogen works with and you can pair up a Hydrogen and Oxygen and the app will show you it makes water. All the elements that do not work with Hydrogen go dark. What an amazing way to learn the Periodic Chart and truly understand elements! If only they had this when we were in school!

And the Interactive Solar System Chart literally makes the planets leap off the wall, spin around and explain about their moons, orbit, distance from other and other amazing facts. Even watch videos and play games right on the chart. It's like having a planetarium right in your own room!

The 3 charts available are: 1. Interactive Human Anatomy; 2. Interactive Periodic Table; 3. Interactive Solar System.

Size 42" x 32"
Product Images: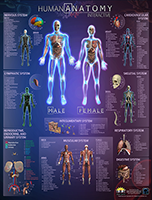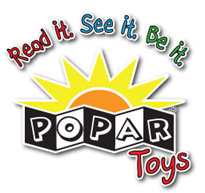 Age: 0-6 years
Suggested Retail Price: $10.99
Availability: Exclusively at Costco
Company: POPAR
Website: www.costco.com