Back to School - August 5th 2013
InnoTab® 3S Wi-Fi Learning Tablet
Description: InnoTab 3S offers kids their very own Wi-Fi tablet, opening up a world of interactive game play and learning fun for under $100, perfect to get kids ready to head back to school.

The VTech Kid Connect app lets kids stay connected to parents and friends by sending messages via tablet-to-mobile and tablet-to-tablet communication, while a new kid-safe web browser lets them visit pre-selected and parent-approved websites.

InnoTab 3S comes with a rechargeable battery pack and 20 exciting free apps, including an MP3 player, camera, video recorder, art studio, games, e-book and much more.

Kids can also wirelessly browse VTech's Learning Lodge app store, featuring a library of more than 600 downloadable titles with engaging, educational content, endorsed by VTech's team of educational experts.
Product Images: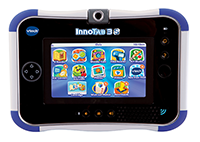 Age: 3-9 years
Suggested Retail Price: $99.99
Availability: Available August 5th at all retailers nationwide
Company: VTech
Website: www.vtechkids.com
LeapReader
Description: Children learn to read and write better when experienced together. LeapReader allows these skills to be practiced concurrently using physical books along with related skills like listening comprehension.

With LeapReader's three essential experiences – learn to read, learn to write and learn through listening – children sound out words and read sentences, write letters with interactive guidance, and develop comprehension skills through audio books, music and more.

With LeapReader, as children touch letters to hear their sounds and listen to words pronounced and sounded out, they build phonics and word recognition skills. Additionally, as they trace and write letters, they learn about proper stroke order and writing fluency.
Product Images: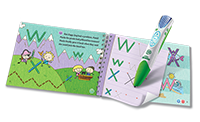 Age: 4-8 years
Suggested Retail Price: $49.99
Availability: Available at leapfrog.com and major online and retail locations
Company: LeapFrog
Website: www.leapfrog.com
Zulily
Description: Zulily offers daily deals for moms, babies and kids on apparel,gear, toys and home goods at up to 70% off. Daily events feature hand-picked, boutique items as well as national brands, for a convenient way for every mom to find something that fits her individual style.

You can find everything you need on zulily to send your kids back to school with special deals on apparel, backpacks, educational toys,lunch fixings and tools and more.

You can sign up for free at zulily.com to start enjoying the daily deals. The zulily apps for Android, iPhone and iPad allow you to get deals directly to your phone and tablet.
Product Images: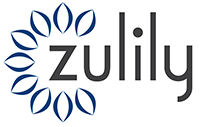 Age:
Suggested Retail Price:
Availability: Available on zulily.com
Company:
Website: zulily.com
Sara Lee Snack Cakes
Description: This fall, the delicious New! Snacks that will be debuting in lunch boxes everywhere are Sara Lee Snack Cakes from Bimbo Bakeries.

American icon Sara Lee is introducing a variety of pre-portioned, individually wrapped Snack Cakes for anytime snacking.

Just in time for back-to-school, the new, baked fresh to go treats are a tasty addition to a well-balanced lunch box with the quality and heritage of the Sara Lee brand that Moms trust.

Whether kids love the Devil's Food Crème Cakes, the Chocolate Crème Cupcakes or the Buttery Sunshine Cakes, they're easy for on-the-go Moms to throw into packed lunches.

They're available for a suggested retail price of $3.99 for a box of 8 or 6 Snack Cakes at participating retailers across the country, including WalMart and Target stores.

You will find these Sara Lee Snacks in the Fresh Snack Aisle of the store. Make sure you check out their Facebook page, Sara Lee Snacks, for some great coupons and more information.
Product Images: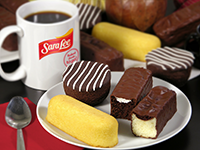 Age: all ages
Suggested Retail Price: $3.99 for a box of 6 or 8
Availability: They are available now in most markets
Company: Sara Lee
Website: www.facebook.com/SaraLeeSnacks
Kawaii Crush
Description: In the Kawaii Crush world each girl shares her one true love by expressing her love through her fashions, lifestyle & accessories.

Collect all of the cutest dolls from the Cuddly Pet Collection. Each girl comes with two fashionable outfits to dress up and show off their crush – even their pets are fashionable! Fashions and accessories can always be shared with other dolls.
Product Images: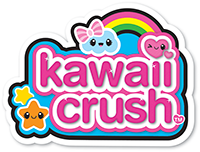 Age: 4-8 years
Suggested Retail Price: $5.00 - $29.99 (Hyper Happy Mall)
Company: Kawaii Crush
Website: http://www.kawaiicrush.com/
WOW PACKS
Description: WOW PACKS are the perfect playmates for long car rides, trips to grandma's house and after school play dates with friends. Bags of character loaded with fun, WOW PACKS are the first ever R/C animated backpacks that magically come to life right before your eyes. Each WOW PACK has a controller seamlessly built into its shoulder strap. When kids press different buttons, their backpack buddy will make funny expressions and sound effects to surprise their friends and family. The initial assortment includes two main characters, each packed with personality: Snot the Zombie has large spooky eyes that spin round at the press of a button. He also likes to blow raspberries and even drips his snotty nose. Cutezee the Kitten, a very cute kitty, has large bright eyes and gorgeous lashes that open and close at the press of a button. She's also known to giggle, laugh, and, of course, meow for attention. WOW PACKS also have a built-in proximity sensor, so if friends and family get too close they'll be in for an even bigger surprise. Snot the Zombie and Cutezee the Kitten will go wild with excitement! These packs are lightweight, splashproof, have comfortable adjustable shoulder straps, and plenty of storage for kid essentials like coloring books, toys or even a snack. Requires three AA batteries (not included).

First animated radio controlled back packs: There's a controller built into the strap. Press different buttons to make Snot the Zombie and Cutezee the Kitten magically come to life.

Plus they are lightweight, splashproof, have comfortable adjustable shoulder straps, and plenty of storage for kid essentials.

Great for after school play dates, trips to grandma's house, long car rides and fun for younger kids to role play like big brother and sister who are headed off to school.
Product Images: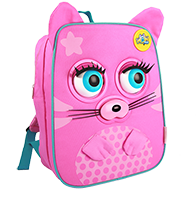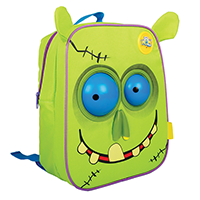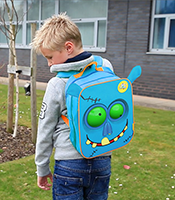 Age: 3+ years
Suggested Retail Price: $34.99
Availability: Available at Toys"R"Us stores nationwide and Toysrus.com just in time for Back to School
Company: Wow! Stuff
Website: http://www.wowstuff.com/