Spring and Summer Toys - May 13th 2013
Scanimalz
Description: These are the Scanimalz! The hottest new collectible plush toy from Wicked Cool Toys.

These cute, cuddly plush animal characters have QR codes on their soft bellies.

Kids and parents can download the free Scanimalz App with tons of fun games for the iOS or the Android. This bridges the gap between soft cuddly collectible toys, technology and playing games on any smart device!
Product Images: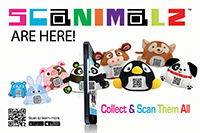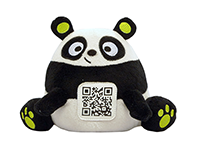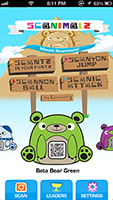 Age: All Ages (game/app 4-10)
Suggested Retail Price: $9.99
Availability: Series One just launches at specialty stores and Toys "R" Us
Company: Wicked Cool Toys
Website: www.scanimalz.com
Y Glider and Y Fliker
Description: Summer is a great time to get the whole family up and active and outdoors.

Yvolution is all about living "Life through Motion." They make really great durable and safe ride-ons for toddlers through adults.

This is the Y Glider, perfect for our very first riders. It helps with coordination, balance and has a special "lean to steer" method unlike any other scooter (FYI patent-pending).

For older kids, they have the Y Fliker family of self-propelling scooters that will have the whole family wiggling as they ride.

Y Glider is for age 3+ (max weight 44 lbs.)
Y Fliker F1 is for age 5+ (max weight 105 lbs.)
Y Fliker F3 is for age 7+ (max weight 220 lbs.)
Product Images: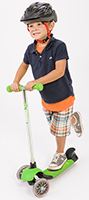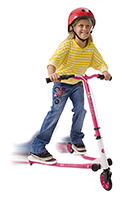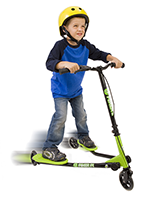 Age: 3+
Suggested Retail Price: Y Glider $59.99 | Y Fliker F1 $99.99 | Y Fliker F3 $129.99
Availability: Available now at Toys "R" Us stores nationwide and online at www.Toysrus.com/Yvolution, Target.com, FAO Schwarz and FAO.com, Sport Chalet and SportChalet.com.
Company: Yvolution
Website: www.yvolution.com
VTech InnoTab® 2S Wi-Fi Learning App Tablet
Description: When traveling with kids, it's always a good idea to bring something to keep them occupied, and VTech's InnoTab 2S is a great option.

It offers children their very own tablet to keep them entertained and puts them on the fast track to learning.

From downloads to software cartridges, it opens up a world of educational content.

Kids can wirelessly connect to VTech's Learning Lodge and browse through a variety of e-books, apps, games, music, videos and more.

They can even pick their favorites items wirelessly on the InnoTab 2S and send their wish list to Mom and Dad's e-mail.

Mom and Dad can approve kids' picks, buy them and they appear wirelessly on kids' InnoTab 2S.

Also comes equipped with rotating digital camera and video recorder, MP3 player, e-reader, microphone and built-in apps like an augmented reality game and more.

Parents can also track their child's progress on a variety of educational milestones and lessons.
Product Images:
Age: 3-9 years old
Suggested Retail Price: $99.99
Availability: Now at all retailers nationwide
Company: VTech
Website: www.vtechkids.com
The Wiggles
Description: 2013 is an historic time for The Wiggles, the world's most popular children's entertainment group!!

They are in the U.S. for the debut of the new Wiggles lineup-with three new Wiggles, including the very FIRST female Wiggle, Emma Watkins! Emma, Lachlan Gillespie and Simon Pryce will all join founding member and Blue Wiggle Anthony Field for this exciting new era.

There's also a new US tour they're announcing, which is expected to be THE hottest concert ticket of the summer, a new CD launching when they are here in May, and a new DVD, also coming this summer.

The Wiggles have touched the lives of millions of children and families around the world for 21 years! They've sold more than 23 million DVDs and videos, 7 million CDs and 8 million books worldwide!

Especially GREAT for summer - The Wiggles are all about getting kids eating healthy and getting them up and moving through dance. They're known for delighting generations of children and families who are captivated by their unique brand of music, fun and learning!
Product Images: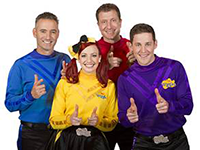 Age:
Suggested Retail Price:
Availability: Now
Company:
Website: www.wiggles.com