Toy Fair Must Haves - February 11th 2013
Lego Duplo
Lego Duplo
Description: LEGO DUPLO bricks are two times the size of traditional LEGO bricks, making them the perfect size for toddlers' small hands.

The 2013 collection allows children to be creative and role play as they build, and includes more play options than ever to help contribute to every stage of learning.

NEW Toddler items, like this LEGO DUPLO Pull Along set, feature bright colors and patterns to engage even the youngest of builders.

There tends to be a gap in toys for children between the ages of 12months and two years old but a lot happens in this time. This set fills that gap and is recommended for children as young as 18 months.
Product Images: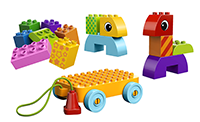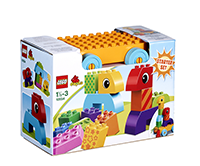 Age: 1.5 years old
Suggested Retail Price: $14.99
Availability: NOW at most major and specialty toy stores including Toys R Us, Target, WalMart, Amazon.com and at LEGO Brand Retail stores and LEGO.com/shop
Company: LEGO
Website: shop.lego.com/en-US/Toddler-Build-and-Pull-Along-10554
Hasbro Bejeweled Board Game
Hasbro Bejeweled Board Game
Description: This year, PopCap's incredibly popular Bejeweled game® will jump off the digital screen and into families' homes with the introduction of new face-to-face games from Hasbro.

With 91 three-dimensional gems, Hasbro's BEJEWELED game brings PopCap's incredibly popular digital game to life.

Players swap gems to create matches of three or more to collect coins and win!

The game also comes with a free download of the Bejeweled 3 online game.
Product Images: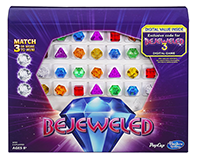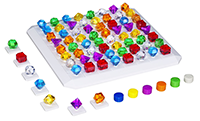 Age: 8+ years
Suggested Retail Price: $19.99
Availability: Available now at hasbrotoyshop.com, Target, Toys R Us and Kmart.
Company: Hasbro
Website: www.hasbro.com
Dancing Dave Action Figure
Dancing Dave Action Figure
Description: Dancing Dave is a lovable 8-inch talking Minion action figure from Thinkway Toys that grooves to music and sounds. He talks, he sings and he dances. Put on your dancing shoes, Dave will be your new best friend to boogie with! The entire toy line for Despicable Me 2 is very exciting and ranges from $2.99 for Minion Surprise Figures to Collector's Edition DM2 Action Figures that talk and move for $59.99. Everyone's inner kid will love the classic View Master and not mention the special Fart Gun! Family will have play time with Hasbro's OPERATION and MONOPOLY Despicable Me 2 Edition Games. All set to hit retail this May.
Product Images: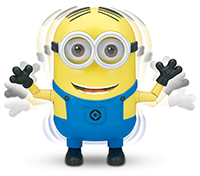 Age: 4+ years old
Suggested Retail Price: $34.99
Availability: Everywhere May 2013
Company: Thinkway Toys
Website: despicableme.com
VTech 2-in-1 Shop & Cook Playset™
VTech 2-in-1 Shop & Cook Playset™
Description: The VTech® 2-in-1 Shop & Cook Playset™ transforms from a shopping cart to a kitchen in only a few simple steps.

The cart responds with fun phrases and sounds when food is placed inside, and when kids are ready to cook their meal, the cart easily transforms into a play kitchen complete with a sink, oven, stove burner and cutting board.

Interactive food and kitchen utensil pieces are recognized, by both the cart and kitchen, and play realistic sound effects and music.

The playset encourages pretend play and exploration while teaching about food, colors, numbers, music, following directions and more.
Product Images: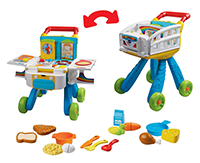 Age: 2-5 years old
Suggested Retail Price: $49.99
Availability: Fall 2013.
Company: VTech
Website: www.vtechkids.com
Kixi® Scribble™ three-wheel chalk scooter by Razor
Kixi® Scribble™ three-wheel chalk scooter by Razor
Description: Move over finger paints, preschool art just got a lot more exciting!

The Kixi Scribble invites little ones to cruise the sidewalk and color it at the same time!

The Kixi Scribble is sized perfectly for small children with tilt-to-turn steering and three wheels design for greater stability.

Parents lock in the refillable chalk bar and kids leave a trail of color behind them.

Available in Green/Blue and Pink/Purple.
Product Images: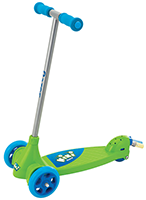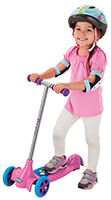 Age: 3+ years old (up to 45 pounds)
Suggested Retail Price: $39.99
Availability: Spring 2013 at Major retailers
Company: Razor
Website: www.razor.com