Holiday Toys November/December 2012
WINX CLUB Deluxe Believex Fashion Dolls
Experience the adventure, friendship, music and fashion of the Winx Club with fashion dolls from JAKKS Pacific
Description: Winx Club, the hot new Nickelodeon show, is an animated modern fantasy adventure series that follows six best friends - Bloom, Stella, Flora, Musa, Tecna and Aisha - enrolled in Alfea College, the finest fairy school in all the realms. When trouble arises, the Winx Club transform into beautiful fairies who use their unique magical powers to fight villains and save the world from evil.

Now you can collect all the Winx Club fairies and relive their magical adventures. The 11.5" Deluxe Believix Fashion Dolls feature the six friends with eleven points of articulation, super deluxe trend-setting outfits and spectacular hinged wings showcasing beautiful Believix style.
Product Images: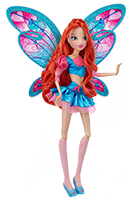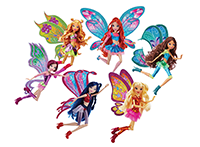 Age: 4+ years old
Suggested Retail Price: $19.99
Availability: Available now at all major retailers nationwide including Target, Toys R Us, Kmart and Walmart
Company: JAKKS Pacific
Website: www.winxtoys.jakks.com
Perplexus Twist
The world's first 4D marble maze game
Description: Perplexus Twist™ from PlaSmart Inc. is the hotly anticipated new addition to the popular Perplexus marble maze game family.

Perplexus Twist will challenge and excite players like no other brainteaser has before with the addition of an exciting new 'twist' - a new fourth dimension - that requires a player to twist and realign the tracks to escape traps, decoys, and cliffhangers. A fascinating new dimension for the Perplexus family!

Perplexus is the world's first 3D and 4D marble maze games where players maneuver a small marble around challenging barriers inside a large-sized transparent sphere. Unlike traditional flat-surface mazes that are composed of one path, Perplexus challenges players with numerous paths to choose from and dozens of barriers to overcome offering hours of entertainment and fun. Players can race each other or the clock.
Product Images: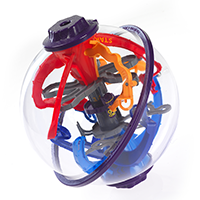 Age: 6+ years old
Suggested Retail Price: $29.99 each
Availability: Fall 2012
Company: PlaSmart Inc.
Website: www.plasmarttoys.com
KURIO7
KURIO7
Description: Kurio7 is the ultimate Android tablet for families.

It's a fully functional Android 4.0 Ice Cream Sandwich 7" tablet that mom and dad can use, but also hand over to their kids with peace of mind. (And we know they want them!).

Parents can really easily create up to eight different profiles for each member of the family and control everything from internet and app access, to how much time they can spend on the device.

Pre-loaded with tons of great content, from the most popular apps, like Angry Birds and Fruit Ninja, to read-a-long books, and educational games from Mr. Nussbaum.
Product Images: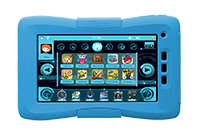 Age: 3+ years old
Suggested Retail Price: $149.99
Availability: Available at Wal-Mart, Best Buy, and Toys R Us stores nationwide, and online at Toysrus.com, Target.com, Kmart.com, Walmart.com, and Bestbuy.com
Company: Kurio
Website: www.kurioworld.com/us/features.php
Tagamoto
Motorized Vehicles and Road Sets from Innovation First
Description: Tagamoto is the first fully interactive and customizable motorized vehicle line from Innovation First Labs, Inc., targeted to boys' ages 4 to 7. Tagamoto motorized vehicles are capable of reading and reacting to codes placed on the road. When powered on, Tagamoto cars zoom around the customizable track, as lights, sounds and vehicle movements are activated by codes placed on the road. Users can modify their track layout and placement of the codes so that each Tagamoto driving experience is different every time! Tagamoto motorized vehicles are powered by patented HEXBUG Nano technology, bringing play to life like never before for fans worldwide. You control the road, if you've got the codes.
Product Images: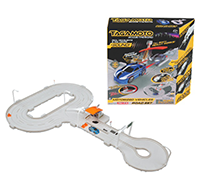 Age: 4+ years old
Suggested Retail Price: $14.99
Availability: Tagamoto is set to launch Mid-October, 2012 as a Target Exclusive; the product line will open up to other retailers in 2013
Company: Innovation First, Inc.
Website: www.target.com/s/tagamoto
Chuggington Die-Cast Railway Wilson's Wild Ride Playset
Chuggington Die-Cast Railway Wilson's Wild Ride Playset
Description: The awesome new track design featured in this playset allows little conductors to build a spiral more than 2 feet tall! Pull the lever when Wilson enters the storm machine to activate storm sounds and to launch Wilson. Wilson shoots down the 360 degree spiral, past the spinning sign, past the popping cones, and onto the turntable, where he whips around 720 degrees! Set can create four different track layouts.
Product Images: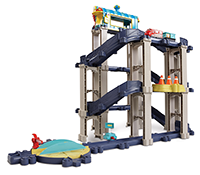 Age: 3+ years old
Suggested Retail Price: $49.99
Company: TOMY
Website: www.stackyourtrack.com
Touch Magic Learning Bus and Counting Train
Touch Magic Learning Bus and Counting Train
Description: LeapFrog's Touch MagicTM, a new line of interactive toys that encourage learning and exploration through intuitive touch technology.

These unique and innovative touch-enabled toys bring colorful graphics and popular kid themes together to deliver a fun, interactive experience.

Developed with LeapFrog's highly experienced team of learning experts to ensure the curriculum is age-appropriate for preschoolers, the Touch Magic line introduces early literacy, musical creativity, numbers and early vocabulary.
Product Images: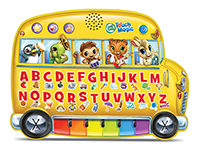 Age: 2-4 years old
Suggested Retail Price: $21.99 each
Company: LeapFrog
Website: shop.leapfrog.com/leapfrog/jump/Touch-Magic%22-Learning-Bus/productDetail/All-Toys/TOUCHMAGIC19203/cat800014