"Toy Fair Must Have Toys" February 13th 2012
Kinect Sesame Street, Kinect Nat Geo TV
Full Body Interactive Fun
Description: "Kinect Sesame Street TV": Through the magic of Kinect for Xbox 360, this two-way TV experience places children in the actual Sesame Street television show and allows them to interact with their favorite characters in a fun, enriching playful learning experience. Count with Cookie Monster, learn letters with Bert & Ernie and explore Elmo's World with voice, gestures and full body play. "Kinect Nat Geo TV": "Kinect Nat Geo TV" blends world-renowned Nat Geo WILD TV show episodes with intuitive Kinect for Xbox 360 technology, transporting kids and their families around the world to inspire a sense of wonder and excitement about nature. With Kinect, kids do more than just watch episodes - they engage with the content and learn through play. Product provides a two-way TV experience in which kids can become part of their favorite shows and storybooks, allowing them to engage and learn in an entirely new way.
Product Images: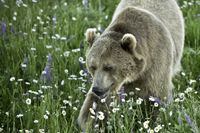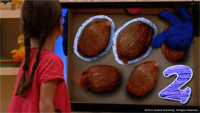 Age: Kinect Sesame Street 4-6 years, Kinect Nat Geo TV 7-11 years
Number of Players: 1
Suggested Retail Price: TBD
Company: Microsoft Corp
Website: www.xbox.com
Facebook: www.facebook.com/pages/Xbox360/188610817818992?ref=ts
Follow on Twitter: @xbox
VTECH SWITCH & GO DINOS
Description: For the first time ever boys will get to bring two of their favorite things together in one toy. VTech Electronics' Switch & Go Dinos bring cars and dinosaurs together to create a unique 2-in-1 play experience. In a matter of minutes boys can transform their ferocious dinos into sleek vehicles. Each toy features a ton of modern technology, including a customizable LCD screen, that helps bring their creation to life. They can also personalize their play experience by choosing dinosaur eyes (when in dino form) and their driver (when in vehicle form). Dino and vehicle sound effects are also included, as well as educational facts about each dinosaur.
Product Images: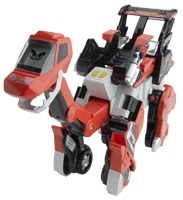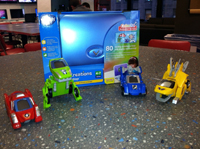 Age: 3-8 years
Number of Players: 1+
Suggested Retail Price: $15.99 to $49.99
Company: VTech Electronics
Website: www.vtechkids.com
Facebook: www.facebook.com/vtechtoys
Follow on Twitter: @vtechtoys
BobbleBots Moshi Monsters
From the creators of HEXBUG® comes this cute and cuddly collectible line of bobble-head mini robotic pets
Description: These small pets each come with customizable playsets from the online world of Moshi Monsters. Kids can bring their own Monstro City to life with collectable and connectable flower gardens, stores and Moshling houses. Each one of these items can be customized and accessorized for their Bobble Bots Moshlings. One important thing to know is that all Bobble Bots Moshlings aren't created equal. Each one has its own unique bubbly personality and some are rarer than others. To unlock some of their secrets, each Moshling package comes with secret codes that give life to fresh, new content in the online virtual world. This content can be found at www.moshimonsters.com.
Product Images: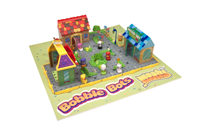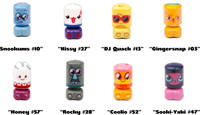 Age: 3+ years
Number of Players: 1
Suggested Retail Price: $5.99 to $29.99
Company: Innovation First Labs, Inc.
Website: www.bobblebots.com
Facebook: www.facebook.com/MoshiMonsters
Skylanders Giants
Bring your Toys to Life
Description: This novel premise takes a monster step forward with the worldwide unveiling of Skylanders Giants, the follow-up to the most successful kids' IP launch of the year. Skylanders Giants builds upon the breakthrough fundamentals of the first game. It allows toy figures to have "brains". Players everywhere can magically bring these brains" to life in the world of Skylands. This next installment of the franchise features a variety of new characters, new challenges, a thrilling new story-driven adventure, and advanced integration across console, handheld, mobile and online: It also introduces eight new highly collectible figures that are more than twice the size of the main skylanders. Their in-game powers and abilities reflect their colossal scale. It also includes a set of characters that feature spectacular new light technology integrated into the toys, allowing the figure to light up when near or on the Portal of Power™. Another unique feature is that every beloved character from Skylanders Spyro's Adventure is 100% compatible with Skylanders Giants, leveled-up stats and customizations intact. The final wrinkle in the game allow Portal Masters to see all new arenas and more gameplay options in Battle Mode for exciting head-to-head play, as well as enhanced Elemental Zones, new Hero Challenges, and other features that encourage players to collect and level up every character. Activision will debut the sequel at the North American International Toy Fair at the Javits Center in New York City from February 12-15.
Product Images: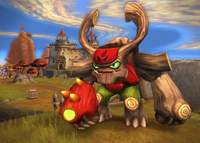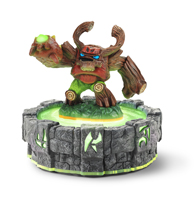 Age: 6-12 years
Number of Players: 2 at a time
Suggested Retail Price: $69.99 for starter pack
Company: Activision Publishing, Inc.
Website: www.skylandersgame.com
iBounce Kids Trampoline
iBounce is a fun and engaging way for preschoolers to exercise and learn
Description: Around fifteen minutes after taking the mini trampoline out of the box kids will have a toy that will provide them with years of fun and learning based bouncing activities. Every iBounce also comes with the 12-minute exercise adventure video cartoon, "Hop-Along with RompyRoo -Where Is Mr. Fuzzy?" This cartoon allows preschoolers to bounce along with RompyRoo as they help him search for his lost teddy bear. This video, which can be downloaded on an ipad or a similar tablet device, introduces basic movement skills and counting concepts as your child bounces through the woods, over logs and across lily pads. To keep exercise activities fresh, the company will introduce a new RompyRoo adventure every few months. The IPads or other tablet device can be attached to the kid-tough, universal tablet mount that's included. If you don't have a tablet, don't fret the adventures are also available on DVD. Besides the obvious fun that a mini trampoline can give a child, the iBounce is a great way for kids to stay active and learn while remaining safe. JumpSport has 15 years of experience in making trampolines. The iBounce uses a bungee cord system that gives a soft and lively bounce. Plus, the sturdy handle bar adds stability so little ones can safely develop their balance, coordination, endurance and motor skills.
Product Images: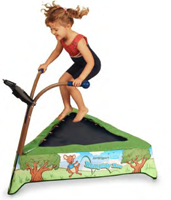 Age: 2-5 years (up to 80 lbs)
Number of Players: 1
Suggested Retail Price: $129.95
Company: JumpSport, Inc.
Website: www.ibouncekidstrampoline.com
Facebook: www.facebook.com/RompyRoo